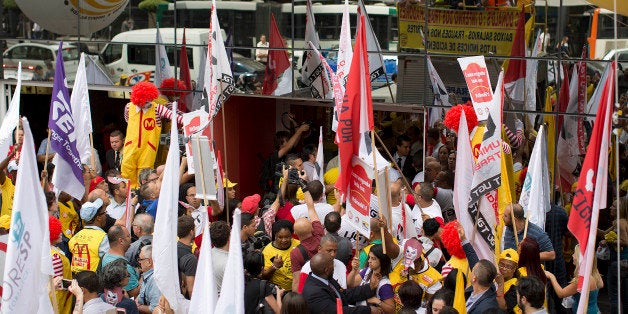 SAO PAULO, BRAZIL -- I'm 57 years old and I've worked for McDonald's for seven years, getting paid a few pennies above the federal minimum wage. For a long time, I felt like I had no choice but to accept $7.65 an hour and the daily struggles that come along with that poverty wage. But in the last year, all that has changed.
In the March of 2015, I started joining together with my coworkers in the Fight for $15. I've gone on strike, spoken before the St. Louis City Council urging them to raise the city's minimum wage to $15, marched to McDonald's corporate headquarters, and listened along with a hall full of other fast-food workers as Hillary Clinton told us she wanted to be our champion.
I've watched as workers who joined together in cities like Los Angeles, New York and even Kansas City (in my home state of Missouri!), won life-changing pay increases.
For the first time in a long time, I have hope.
When I started working at McDonald's seven years ago, I'd just turned 50 years old. My mother had recently died after a prolonged illness and my father was dying of lung cancer. If that wasn't enough, my then seven-year-old son was diagnosed with autism and needed costly attention and care. Needless to say, I was desperate.
I took the McDonald's job knowing that the two-hour commute both ways would keep me from my dying father and son. I also knew that the minimum wage they were paying me wouldn't even scratch the surface of the debt that had mounted while I was trying to care for my ailing and aging parents and provide for my family. What I didn't know was that, after more than a decade of working for the same wealthy company, I'd only be earning a few more cents than when I started.
At $7.65 per hour, I bring home around $280 on a good pay week. As a single parent earning such a low wage, every month is a struggle. Often I have to make insane choices about whether to pay my electricity bill or my water bill; buy food to feed my family or buy basic toiletries like toilet paper, toothpaste, and soap. At this point, I've also exhausted all of my credit options and have even resorted to pay day loans to help pay my bills. They too are now in default. I can't even begin to think about the interest building up on them.
August is especially hard. With school starting back, I want to do what's best for my son but often that comes with grave sacrifice. After I buy his uniforms and supplies for school, I'm usually only left with enough money to keep the water on and take the bus to work. I rarely ever buy anything for myself and when the food stamps run out at the end of the month, I'm forced to go without eating to ensure that my son is fed.
I'm not alone in my struggle. My coworkers are also trying to balance making at or near minimum wage with the high cost of living in a city like St. Louis. Some of them work two jobs to make ends meet while others are forced to go without many of the things most would regard as basic necessities. Since I've joined in the Fight for $15, I've heard the same stories from workers across the country.
And this week, I've learned that it's not just us in the United States who are struggling. I've been in Brazil since Sunday, along with 100 McDonald's workers from five continents. We traveled here to share our stories with each other and with Brazilian senators, who on Thursday are holding the first-ever hearing into McDonald's and its business practices around the globe. Workers from places like Korea, Argentina and New Zealand will talk about what it's like to work at the world's second biggest private employer. Politicians from around the world will talk about how McDonald's low wages come at taxpayers' expense, and how the company has been accused of dodging taxes all over Europe.
I came to tell my story of seven years at McDonald's without a raise, a story of unyielding struggle, but also, now, one of undying hope.
Popular in the Community