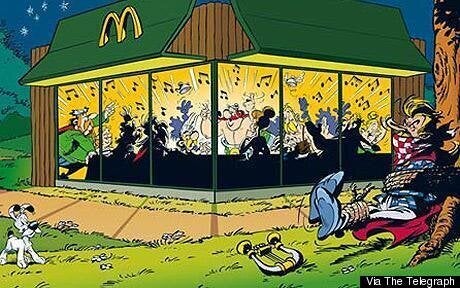 French comic fans are crying foul after a McDonald's ad featuring iconic characters from a phenomenally successful series hit the streets this week.
The new advertisement shows animated Gallic hero Asterix and his merry band of warriors reveling inside a McDonald's franchise. The illustration is essentially a send-up of feast scenes as seen in the popular series, yet without the traditional wild boar and ale. Despite reports which implied the characters were seen eating Big Macs and fries, the ad does not actually include any depictions of food. Designed by Euro RSCG, the billboard's slogan reads, "Come as you are."
Still, the posters sparked outrage among Internet commentators when they hit French streets this week, with some implying the character -- an illustrated version of a first century BC warrior -- had been "sacrificed to the Roman hordes" his real-life counterpart had historically defeated, according to reports.
"I don't know what to say except express my deep disgust," wrote Georges Abitbol on the veilleurs.info website. "If this doesn't cause traffic accidents..."
Wrote another blogger: "Are they going to do a boar-burger? Magic potion shakes? (These McD people are crazy)."
Still, the accusations that the character -- created by Albert Uderzo with the late Rene Goscinny over 50 years ago -- had "sold out" to the fast food chain seem a bit late.
"It's not that much of a shock. It's hardly the first time our Gauls have put money first," wrote another blogger. Not only did Asterix previously appear in a McDonald's campaign for a movie promotion back in 2001, but Parc Asterix -- a theme park with attractions dedicated to the characters -- rivals nearby Disneyland Paris for attendance.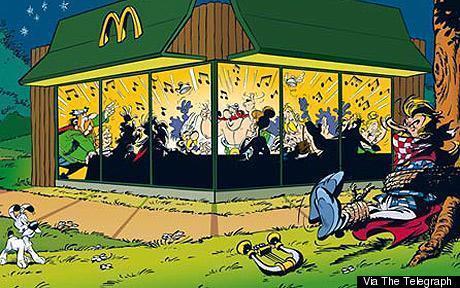 Related
Popular in the Community