Beginning May 26, McDonald's will roll out new medium and large fry boxes worldwide decorated with World Cup-themed artwork commissioned from artists around the world. By the time the soccer competition begins in Rio de Janeiro, Brazil, on June 12 (concluding on July 13), the boxes will be in 119 markets. In addition to sporting artwork, the boxes function as the portal to digital augmented-reality game.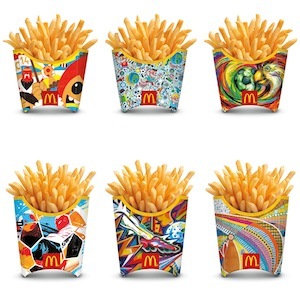 The impetus was McDonald's desire to better communicate with Millennials, Matt Biespiel, McDonald's senior director of global marketing told BurgerBusiness.com in an interview before the announcement. "It's a generation that loves art, loves unique customization, loves expressing itself and, of course, loves McDonald's french fries," he said. "The idea was to use art in a way we hadn't before, using the french fry box as a canvas. Once we had that idea, it sort of took on a life of its own." He credits agency The Marketing Store with initially developing the artwork concept.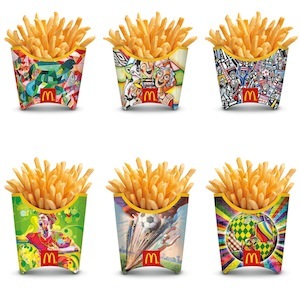 McDonald's began by reviewing the work of 500 artists around the world, before commissioning 24 of them to create "exceptional interpretations of the glory of the beautiful game," Biespiel said. Ultimately the company chose 12 artists and artworks. Representing the United States is Tampa, Fla.-based artist Leon Bedore.
Biespiel says that a bit of hesitation was voiced internally about making any changes to the McDonald's fry box, so well known and such a part of the brand. "But we felt the time was right to be bold."
Once the fry-box artwork concept had been hammered out, "We started to think, 'What else can we do with the box?'" said Biespiel. "Millennials also love gaming and technology so we looked at how we could bring those in."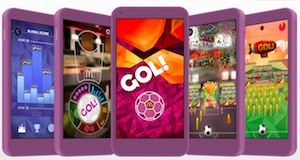 The answer is "McDonald's GOL!," an augmented reality game to which the fry box serves as the portal. Beginning on May 26, 2014, customers can download the McDonald's GOL! mobile app (for Android and iPhone) via instructions on the box or at on gol.mcd.com. Once the app is downloaded, customers hold up their digital device and scan the fry box to launch the game. A football pitch (i.e. soccer field) appears in an augmented reality scene on the device with the fry box as the goal and other built-in objects as obstacles. A flick of a finger "kicks" the ball.
Scoring requires perfecting trick shots off or around obstacles. Better shots earn more points and points are aggregated and tallied daily by country. Individual players can share their best trick shots via social media.
McDonald's worked with agency Tribal DDB on the game aspects of the promotion. Biespiel said McDonald's GOL! is powered by the Qualcomm Vuforia mobile vision program. It also employs "Smart Terrain functionality that has never been used before," he said. The game is expected to become one of the largest augmented-reality games ever created, he added.
Also available through the mobile app will be a video showing real people executing amazing trick shots with soccer balls. Biespiel told BurgerBusiness.com that McDonald's GOL! will get heavy digital-media marketing support through Twitter, Facebook and YouTube. In-store merchandising also supports.
McDonald's will have an on-site presence at the World Cup, for which it has been a sponsor since 2002. Its Player Escort Program gives 1,408 children (ages 6 to 10) from 69 countries the opportunity to walk hand-in-hand onto the field with World Cup players.
As reported here earlier, McDonald's also has created World Cup-themed menus in two of its most important markets, Brazil and Australia.