Writing at Mashable about the Olympic sponsors' social media "war rooms," T.L. Stanley suggested that "sponsors such as Visa and McDonald's also may consider logging time to answer their critics, who have hijacked the sponsors' Olympics-themed Twitter hashtags to protest Russia's anti-gay crackdown."
There is yet another way human-rights and LGBT activists can leverage an Olympics sponsor's existing social media campaign to speak both words of protest and words of support for LGBT equality in Russia and worldwide. This Achilles' heel of Russia's censorship policy has been hiding in plain sight since the McDonald's #CheersToSochi hashtag was first hijacked in January.
And although McDonald's has abandoned the use of the #CheersToSochi hashtag, the Cheers to Sochi campaign website is still up and functioning and, according to their press and social media updates, still a conduit to talk to Olympic athletes and teams who are, right now, behind Putin's Lavender Curtain.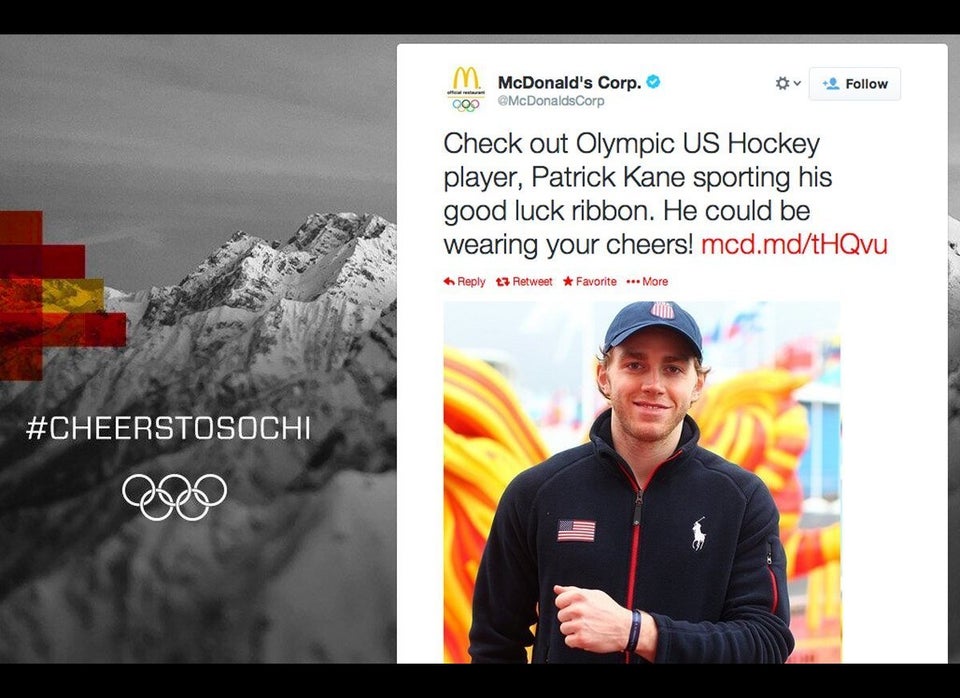 13 McDonald's-Sponsored Cheers To Sochi
They also have been showing their fans that Olympians check in to read these messages, like bobsledder Lolo Jones, pictured below:
It would be so easy for the collective human-rights supporters to virtually crash this party (or crash this virtual party?). McDonald's even made a video explaining how your messages get to Sochi.
So I decided to use the McDonald's Cheers to Sochi website to send my own message to Sochi:
"Speak out on human rights in Russia! Support Russian gays! Please!"
If you're familiar with the Internet, you should be able to use the McDonald's Cheers to Sochi site pretty easily. It is pretty self-explanatory and as easy as signing your average Internet petition. You just need an email address or a Twitter account. It asks you to allow access to your Twitter account, or to register with an email. You're given the option to select an individual or a team. I selected Team USA because they're there to represent me. But if you have a favorite Olympian, by all means, ask them personally. The International Olympic Committee has made it easy to find your favorite athlete at the Olympic Athletes' Hub. (There are also apps for iPhone and Android.)
The language of the message you send is entirely your prerogative. After you've sent your message to Sochi, like many sites, it asks you to spread the word by providing easy links to let you tweet and post to Facebook about it. The default language can be edited, and I would suggest you do so to incorporate themes of LGBT equality and respect for human rights -- and of course the #CheersToSochi hashtag.
If you're a novice, there is a short video below that walks you through the steps as the #CheersToSochi protest campaign creates an example message. As of this writing, there have been almost 5,000 messages sent through the McDonald's site, according to their counter. How about we double that this week?
In addition to this site being your opportunity to speak directly to an Olympian, McDonald's is offering athletes the opportunity to print out fan messages on ribbons and wear them! So your request to end the Olympic silence on Russia's human-rights abuses could possibly be worn by your favorite Olympian!
The demonstration video above is 3 minutes long. That's more time than it takes to send a cheer to Sochi in support of basic human rights.
Popular in the Community