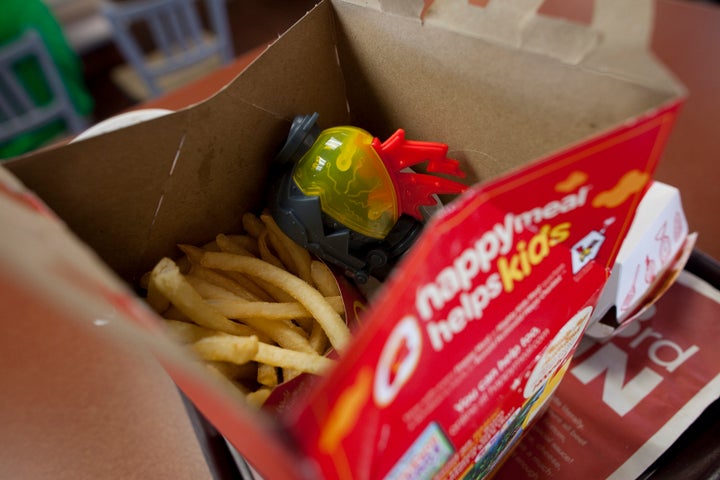 We all know what's always included in a McDonald's Happy Meal: a burger or chicken nuggets, french fries, a toy, a soft drink. And fruit?
McDonald's announced today (June 26) that it will automatically include both produce AND french fries in every Happy Meal, meaning parents and kids no longer have to opt for either fries or fruit.
And because produce will be included in all Happy Meals, french fry-holder sizes will get smaller -- from 2.4 to 1.1 ounces, ABC News reported.
The revamped Happy Meals will be introduced in September 2011, and will be available in all 14,000 McDonald's restaurants by spring 2012.
While apples will be the main produce option, some McDonald's restaurants may offer carrots, pineapple slices, raisins or mandarin oranges depending on the region and time of the year, according to ABC News. Customers can also request two bags of apple slices instead of apple slices and french fries.
In addition to the Happy Meal changes, McDonald's also plans to reduce sodium in all of its menu items by 15 percent by 2015.
McDonald's has offered apple slices as a substitute for fries in its Happy Meals since 2004, but while 88 percent of customers know about this option, only 11 percent actually choose it, according to McDonald's.
The addition of produce to the meals could save 49 billion calories in U.S. kids' diets each year, ABC News reported.
Despite the changes, there will be no increase in Happy Meal costs, the Los Angeles Times reported. In addition, the apple slices in the new meals will not include the low-fat caramel dipping sauce that was included before.
McDonald's isn't the first to make a move to make kids' meals healthier. Other chain restaurants, including Burger King, Chili's, Friendly's and IHOP, announced earlier this month that they will include healthier options on kids' menus, including more lean proteins, vegetables, low-fat dairy and whole grains.
Happy Meals have come under fire before because they included toys -- meant to be marketed to kids -- while not providing adequate nutrition, the LA Times reported.