McDonald's has begun testing a Sriracha Big Mac burger in the Columbus, Ohio, market, the same location for the earlier test of the Mac Jr. And Grand Mac that it will introduce nationally in early 2017.
In addition to having exclusive access to a Sriracha Big Mac, Columbus diners can order Sriracha Mac Sauce on any item on McDonald's menu and/or get the spicy sauce in a mini tub for dipping fries or Chicken McNuggets.
"We're always trying new creations and we wanted to innovate with an on-trend flavor like Sriracha to give our customers in Columbus a new and exciting taste," McDonald's Chef Mike Haracz said in a statement announcing the test.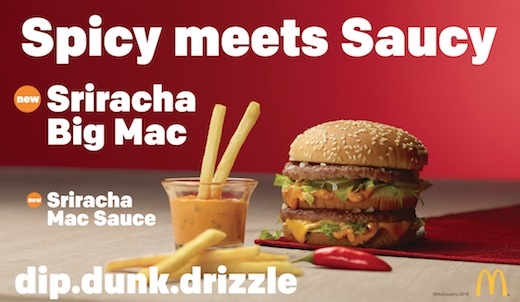 This is the first time McDonald's has tried Sriracha Mac Sauce on the Big Mac itself, but it continues a love-affair with sriracha that began in early summer, as BurgerBusiness.com has documented:
June 2016: McDonald's offers a "Signature Sriracha" toppings combination (Sriracha Big Mac sauce, white Cheddar cheese, crispy onions, a new spinach/kale blend and tomato) in San Diego as part of its test of the Signature Crafted Recipes platform in San Diego.
July 2016: McDonald's expands the Signature Sriracha test to Washington State.
August 2016: McDonald's introduces two LTO sriracha burgers in Canada. The Spicy Sriracha Mighty Angus burger was a100% Canadian Angus beef patty topped with hickory-smoked bacon pieces, lettuce, processed Cheddar cheese, sliced jalapeňos, sriracha sauce and an applewood-smoke seasoned sauce on a sesame-and-poppy-seed bun. The Spicy Sriracha Country Chicken sandwich had a seasoned Canadian chicken breast topped with lettuce and white processed Cheddar cheese, sliced jalapenos, sriracha sauce and applewood-smoke seasoned sauce served on the same sesame-and-poppy-seed-glazed bun.
September 2016: BurgerBusiness.com reported exclusively that on Sept. 23, 2016, McDonald's Corp. filed a federal trademark registration for "Mac Sauce." Not Big Mac Sauce, just Mac Sauce. And that's the term being used now for the Columbus Sriracha Big Mac test.
I speculated then that McDonald's might be eying taking bottled Mac Sauce to supermarket shelves--as it did with McCafé coffee--and I still think that's a reasonable possibility.
Popular in the Community