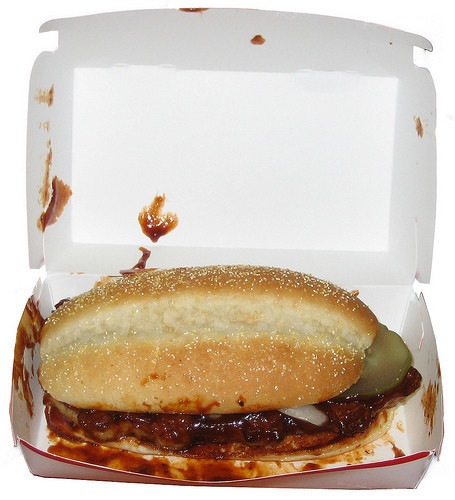 Photo from Flickr: theimpulsivebuy
After a 16-year hiatus (with a scattered, brief return in 2006) the McDonald's McRib sandwich officially returns today to all 14,000 McDonald's locations, only to be yanked away again from its adoring fans in four weeks on December 5.
AdAge writes:
That's by design, of course. The McRib -- a sandwich with a boneless pork patty molded into the shape of ribs and topped with barbeque sauce, pickles and onions -- has achieved cult status thanks in part to its scarcity. The brand typically pops up for a limited time on a regional or local level and has only been rolled out nationally twice before: in 1982, when it was introduced after a 1981 test-market run; and in 1994, for a McDonald's tie-in with the Flintstones movie.
For today's McRib (Mc)Re-reveal, McDonald's is unveiling a bizarre "The Legends of McRib" contest at mcdonalds.com/mcrib that asks fans to submit their stories of the McRib's legend, "which don't necessarily need to be true, or even possible," AdAge writes. The winner will receive a trip to Germany, the only country where the McRib is available year-round, and their story will be animated into a motion comic that may be used by McDonald's.
How's the sandwich, 16 years later? Slashfood gave it a taste recently and awarded it a solid 'B'.
Stephen Colbert is an even bigger fan:
"As much as I love ribs, there's one part that I hate: the ribs. Those bones are taking up precious meat space! That's why I've always loved the McDonald's McRib Sandwich. You see it's shaped like a slab of ribs, but it's just the good parts. And possibly the bad parts -- I don't know what's in it, but it's delicious. ...

It's like a phoenix rising from the ashes! Then being deboned, mechanically separated, and reformed into a tasty sauce-slathered McPatty."
Here's his recent segment on the famous sandwich:
Calling all HuffPost superfans!
Sign up for membership to become a founding member and help shape HuffPost's next chapter