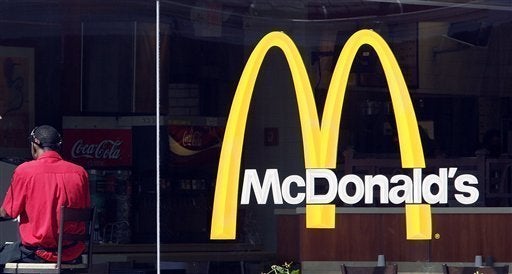 A Huffington Post commenter has received the following email from McDonald's:
Thank you for taking the time to contact McDonald's to let us know your thoughts on this unfortunate incident.

This restaurant is an independently owned McDonald's and an insurance claim is still pending. As such, it is not appropriate for us to comment on it, however, the owner/operator, Ray Nosler, has shared the following statement publicly about this case:

February 24, 2009
My highest priority is the safety and security of my customers and employees.

I stand behind Nigel Haskett. I believe he acted as a Good Samaritan. Concerning the critical matter of his medical expenses, it is important to note that the Arkansas Worker's Compensation Commission ultimately decides the outcome of his claim. As part of this process, Nigel's case will be presented to a Worker's Compensation judge, who will review all of the facts and decide on the case's merits.

McDonald's supports Nigel's claim, and fully anticipates the judge in this process will find in Nigel's favor. As a safeguard, if for some reason his claim is denied, and other insurance options are unavailable, I intend to cover the cost of his medical expenses.

I'm doing this because it's the right thing to do for Nigel.

Ray Nosler, McDonald's Owner/Operator

Kayla
McDonald's Customer Response Center

ref#:5808350
Hopefully it won't come down to Mr. Nosler paying for Haskett's medical costs out of pocket, but regardless, this is an incredible gesture by the franchise owner.
***

Original McDonald's McScrews Hero Out of Money post:
Eyebrows are raised as high as golden arches at the colossal cold-heartedness that McDonald's has shown in regards to the treatment of its employee, Nigel Haskett.
Last summer Haskett was working at a McDonald's in Little Rock, Arkansas when he jumped from his post to take down a man who was abusing a woman in the fast-food joint. As the two men tussled, Haskett was shot multiple times. His recovery has required several operations amounting to $300,000 in medical bills. A hero? Not according to Mickey D's.
No, instead the company is pushing to deny Haskett any worker's compensation that could go towards paying down his medical debt and moving on with his life.
Haskett filed a claim with the state Workers Compensation Commission. Misty Thompson, a claims specialist with McDonald's insurer, Ramsey, Krug, Farrell and Lensing, said in a letter to the Commission that "we have denied this claim in its entirety as it is our opinion that Mr. Haskett's injuries did not arise out of or within the course and scope of his employment."
I'll admit that I do understand the argument McDonald's is making: their employees are told not to play hero and that they should let the cops deal with any problems, so therefore Haskett should never have gotten involved in the first place. But Haskett denies that he was ever informed of this policy, and frankly, having seen how well-trained most fast food employees are, I'm gonna believe him. And anyway, what kind of message does that send to your employees, let alone to the customers? "Come to McDonald's, We'll Always Turn A Blind Eye!"
Chances are McDonald's will be shamed by the press into playing nice with Haskett. That would be wonderful for him, I'm sure. But it's incidents like this that should be eye-opening to all Americans. Lately we've been asking people to do their part and pitch in, that we need to look out for each other no matter the personal cost. A 21-year-old kid heeded that call and nearly died in the process. Corporations, apparently, haven't gotten the message yet.
Popular in the Community