It may be that necessity is the mother of invention, but surely that's not what spawned this meal-holder "condo" idea depicted on McDonald's New Zealand Facebook page. This makes KFC's new "Go Cup" look like a shanty.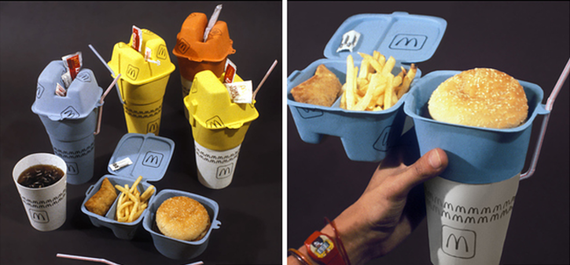 Designed to rest on top of a drink, the elaborate construction encases a burger in its lower level, holds a straw on the side and accommodates condiment packs in a valley up on its roof. When it's mealtime, the second story unhinges and opens to reveal where fries have been hiding (with space for a second side, if desired). It all seems too lopsided to make efficient sense, but perhaps it really is "McGenius," as suggested on McD's/NZ's Facebook page. But McDonald's says this is not something it plans to introduce to its restaurants.
In other New Zealand news, Burger King has introduced a Lamb Burger there, made with 100% locally raised lamb and topped with lettuce, tomato, onion, tomato sauce and aïoli. This follows McDonald's addition last August of a Serious Lamb Burger and smaller Serious Lamb Taster wrap LTOs in New Zealand and Australia.
To herald the Lamb Burger's arrival BK agency Colenso BBDO has created two posh twits who look like they got lost on their way to a Gilbert & Sullivan rehearsal. Sir Roger Poppincock (at left, below) and Baron von Cravat delight over the Lamb Burger in 15-second TV spots. This won't be their only appearance: The duo reportedly will continue as spokesmen for Burger King's premium-price menu items in New Zealand.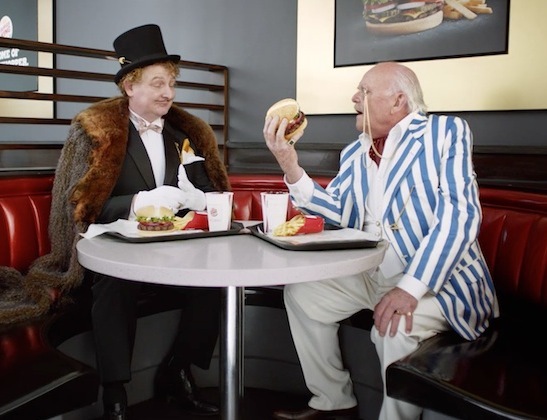 Note to readers: This is an updated version of this article. It has been amended with McDonald's assurances that this is not a product it actually intends to offer in its restaurants.
Popular in the Community