The McDonald's of today could learn a lot from the McDonald's of yesterday about how to run a burger joint.
Check out this 1950s-era McDonald's menu board: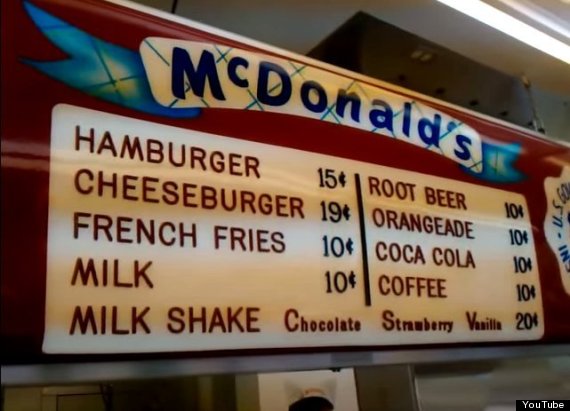 There were just nine items! Today the multibillion-dollar chain offers more than 100 items, from Big Macs to McWraps to berry smoothies and several salads. The company has been publicly fretting about its overwhelming menu and getting blown away by competitors like Shake Shack and Five Guys, which offer simple menus with the modern-day twist of customization.
At Five Guys, for example, diners choose from just two burger sizes and a few burger types (plain, cheese, bacon, and bacon and cheese). The variety comes in because people can add as many other toppings as they want from a list of 15 that includes everything from grilled onions to jalapeño peppers.
By contrast, McDonald's now offers a long list of its own burger-topping combos, including classics like the Big Mac and variations like the grilled-onion cheddar burger, the bacon clubhouse burger and the BBQ ranch burger.
"When you have that kind of choice, execution becomes much more complicated and complex," said Tom Frank, a restaurant industry consultant who was on the founding team of Chinese restaurant chain P.F. Chang's. In 2013, McDonald's clocked its slowest average drive-thru time since 1998, according to QSR Magazine, a fast-food industry trade publication.
Business analysts agree that the long menu (and changing American taste buds) is killing sales. Monthly sales at U.S. McDonald's restaurants open more than a year have been flat or declining for the past 13 months.
"We are focused on continuing to evolve to meet the changing needs of our customers today and in the future," a McDonald's spokeswoman told HuffPost in an email.
The fast-food chain is also going to try its hand at Five Guys-style customization, giving diners the chance to choose from toppings like guacamole, creamy garlic sauce and and pepper jack cheese to create their own custom burgers at 2,000 locations.
"If you want to stay relevant, you almost have to move in this direction," said Darren Tristano, executive vice president at Technomic, a food research firm.
Customization comes with some big pitfalls, though. When diners design their own meals, they're more likely to focus on the quality of each ingredient, said Gregg Rapp, a menu engineer who has worked with eateries like Taco Bell and California Pizza Kitchen. For McDonald's, which is already battling a reputation that it serves pink slime, pushing customers to zero in on the freshness and quality of each ingredient may end up hurting the chain. Right now, McDonald's is waging a huge public relations effort to rebuild its reputation for fresh food:
A video about the making of McDonald's chicken nuggets. It's part of the chain's transparency campaign, "Our Food. Your Questions."
Meanwhile, that menu isn't really getting much smaller. Removing just eight items is hardly a return to McDonald's roots. Take a look at a 2007 drive-thru menu, when the chain offered fewer items than it does today: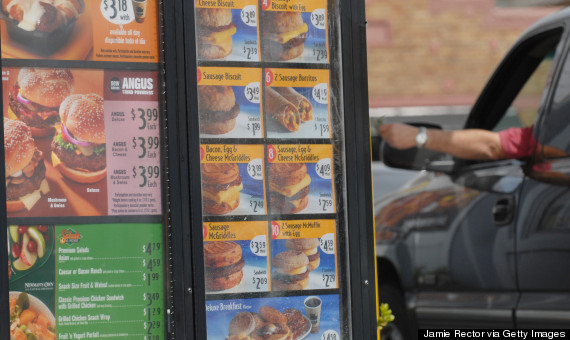 Fast-food diners are easily overwhelmed by a menu board cluttered with options, said Rapp. That anxiety only increases if there's a long line behind them. By contrast, a limited menu makes decisions much easier, Rapp said, and people tend to be more satisfied with their choices when choosing is easy.
Another benefit of a small menu is that it may encourage people to order more expensive items. Flummoxed diners typically default to the simplest order or whatever they had the last time they walked in, and that's rarely a specialty item, Rapp said.
"You don't want a customer to be confused as they're coming through the drive-thru, especially if you're advertising a premium-based sandwich," McDonald's CEO Don Thompson said in discussing the plan to pare down the menu during an investor briefing earlier this month. Customers won't buy the item if they're confused, he said.
McDonald's would be better served by focusing on what originally made the chain successful -- consistent burgers and fries delivered quickly -- instead of trying to fight off its many competitors by adopting elements from all of them, according to Aaron Allen, founder of the restaurant consultancy firm Aaron Allen & Associates. The Golden Arches vision for the future, he said, "smells more of desperation than of inspiration."
Related
Before You Go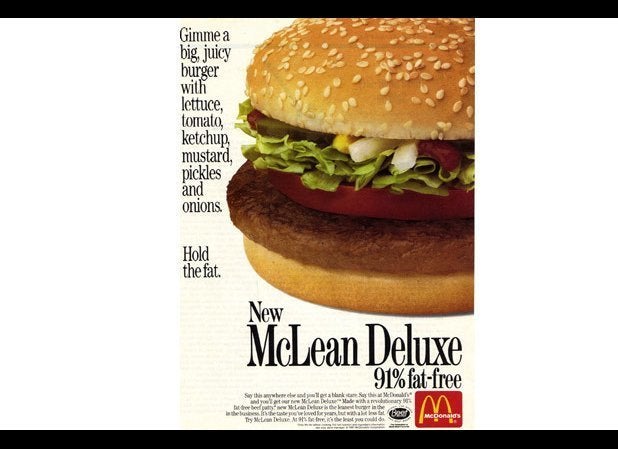 McDonald's Most Spectacular Menu Flops
Popular in the Community