McDonald's has enlisted professional skeptic and former "MythBusters" co-host Grant Imahara (below) for its latest attempt to counter what it says are some of the persistent myths about the quality of its food. The "Our food. Your questions" campaign begins today (10/13) with TV spots showing real people's questions and an invitation to consumers to pose questions via social media. Imahara is featured in a series of webisode videos addressing consumers' persistent doubts and questions.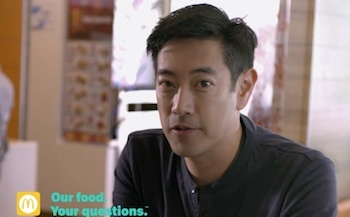 "We know some people--both McDonald's fans and skeptics--continue to have questions about our food from the standpoint of the ingredients or how food is prepared at the restaurant. This is our move to ensure we engage people in a two-way dialogue about our food and answer the questions and address their comments," Kevin Newell, EVP-chief brand and strategy officer for McDonald's USA told BurgerBusiness.com in an exclusive interview.
"The work we've done in the past has been one-way. We've made nutrition information about our food available for a number of years. But people had to go find it. Now we're inviting consumers to go on a journey with us to get those questions answered."
McDonald's earlier launched an "Our food. Your questions" website in Canada and then in Australia. Newell says the ongoing Canadian effort has seen "some very good results from the standpoint of how people perceive McDonald's food." Why will this effort succeed better than past campaigns? Newell says the key differences are its "two-way dialogue, the behind-the-scenes view into what really happens from farm to fork and the opportunity to bring in a MythBuster with great credibility in getting to the truth."
Consumers are encouraged to pose questions via a new webpage, Twitter and Facebook. Webisodes will appear on all those media, along with YouTube. Newell said the company has set up a "command center" where "as questions come in we'll have our people addressing them in real time."
The first webisodes take Imahara to a Cargill plant where the McDonald's beef supplier shows what goes into the chain's burger patties. Just beef. No "pink slime." The flash freezing of those patties is explained and defended as a way to retain rather than lose flavor. "Ask your questions and I'll find out the answers," Imahara says at the episodes' close. He will visit other McDonald's suppliers to answer questions about McNuggets, McRib and other food products.
"We get more questions about our beef than anything else; that's why we're starting off with beef," said Newell. "This is the topic that gets the most energy with our customers so we're taking it on right away."
"What frustrates us is that when people don't know us they tend to judge us," Newell added. "We're saying don't judge us before you know us, and we're giving you an opportunity to know us like you've never had before."
Support HuffPost
A No-B.S. Guide To Life
Related
Popular in the Community