The essential social media review to know and understand the world top market. #FrenchinChina is a weekly column from FRED & FARID agency reviewing Chinese social networks to identify big social trends. It is the essential tool to understand and love today's China.
Thanks to Zhuomin Qin, Feng Huang, Jalila Levesque, Jules Chaffiotte, Radouane Guissi, Ying Zhang, Aliou Maro, Louis Caudevilla, Dushan Karageorgevitch, Mathieu Jolivet, Jing Qian, Antoine Robin, Émilie Ohana, Zhejun Li, Vincent Arassus and Green United Music Asia for their participation to this chronic.
McDonald's new name in China leaves a bad taste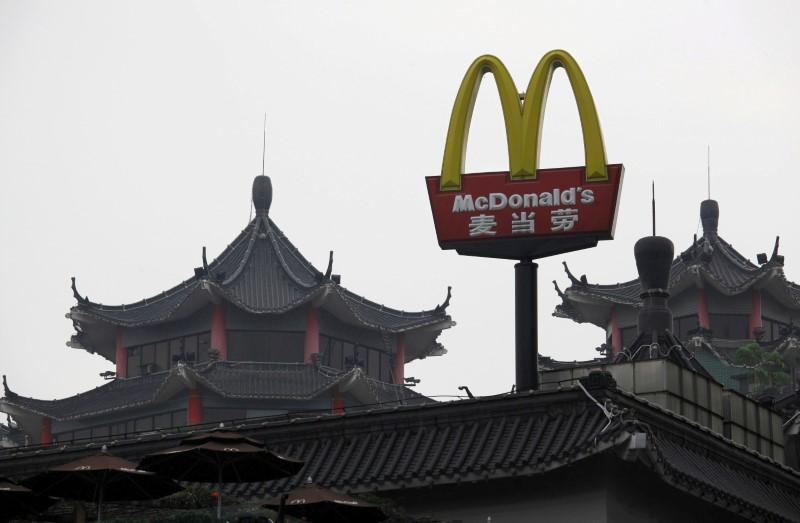 McDonald's changed its name from Mai Dang Lao, a transliteration of the English name, to Jingongmen, or Golden Arches, on Oct. 12. Although the fast food chain reassured its fans on its Weibo that stores in China will still bear the old name, the new moniker was immediately ridiculed by net users for sounding unsophisticated.
McDonald's opened its first restaurant in China in 1990, and the brand, closely associated with a Western lifestyle, took off. Long lines formed whenever a new location opened. However, in recent years the fast food chain has struggled to maintain its growth momentum in China as more prosperous, health-conscious consumers seek alternative dining options. The fast food giant sold a bulk of its China and Hong Kong operations to financial conglomerate CITIC Group and American investment company Carlyle Capital in January. The official explanation of the name change is to meet "the needs of business development".
Picking a Chinese name can be tricky for foreign brands. U.S. home-sharing company Airbnb earlier this year chose "Aibiying," or "welcome each other with love," for its Chinese operations, but the name was badly received for being difficult to pronounce. Many people think the name is too countrified and that is decreasing the brand value.
A girl becomes famous after dissing her ex-boyfriend during a concert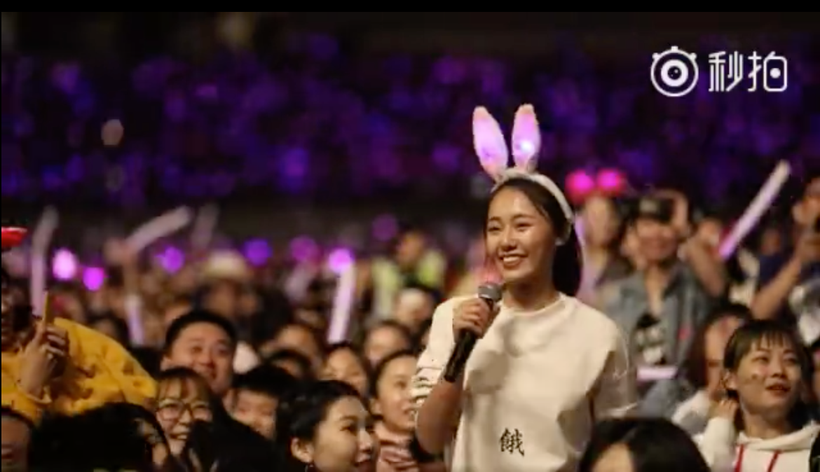 Jay Chou, the famous Taiwan singer, held his concert in Hangzhou on October 28th. During the song request session' of the concert, a female fan was chose by Jay. She called herself "Little Fairy" and requested a song called "What Kind of Man" for her ex-boyfriend who is going to get married soon.
"Although he (the ex-boyfriend) is ugly and blind, I still want to give him my best wishes, so I want you to sing 'What kind of man' to him." She said, then she asked a close-up on her so that her ex-boyfriend and his fiancée "can see how beautiful I am and how stupid he break up with me".
Soon, the video of the unexpected event spread fast on the internet. The day after, "Little Fairy" posted her apologise on her Weibo account to her ex-boyfriend and said "I will say sorry to him in his next wedding" - a provocation rather than a sincere apology. Also, someone found a interview video of this "Little Fairy" before the concert. In the video, she said her former boyfriend was in the concert and she can't forgive the breakup so she wishes her former boyfriend infertile and impotent.
After the "ex-boyfriend diss", her Weibo followers surged from 8,000 to 29 million. Thus many people doubt her behaviour is a planned hype to increase her followers amount. Two polarised views appear on social media towards this girl's behaviour. Many people think she is very cool and cute to having dissed her ex-boyfriend, and they support her.
However, many others think this behavior is very selfish and not appropriate; because what she did is actually calling up for a public cyberbullying to her ex-boyfriend and fiancée - actually many people already found the Weibo of the fiancée and start to accusing her for "destroy other people's relationship".
Mo Yan Emoji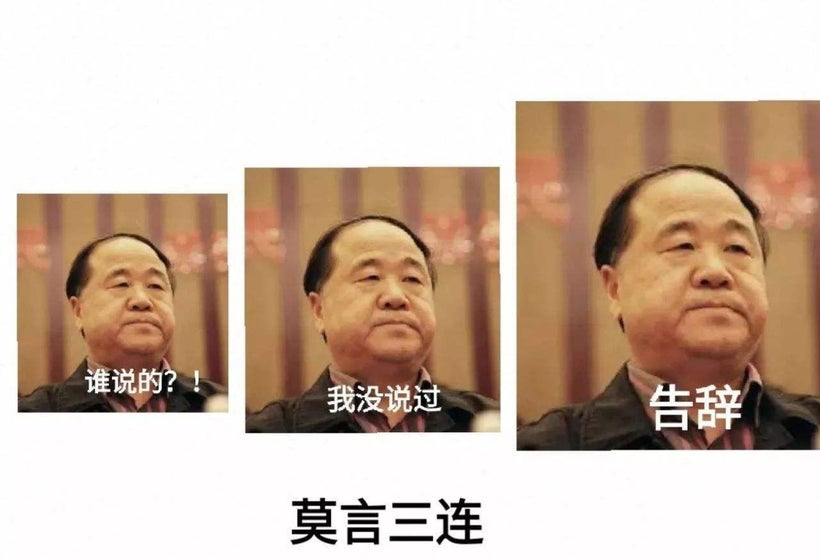 Mo Yan (pen name for Guan Moye), is a Chinese novelist and short story writer who was awarded the Nobel Prize in Literature in 2012, for his work as a writer "who with hallucinatory realism merges folk tales, history and the contemporary". Recently, the triplet of Mo Yan emoji becomes a hot topic on social media and soon becomes the latest trend of emoji format.
The story begins at someone post a "famous quote of Mo Yan" on Weibo, and he mentioned Mo Yan at the end of his post. After the post being forwarded 50 thousand times, Mo Yan forwarded the post and asked "although the saying makes sense, but I also want to know who wrote it?" Then, Mo Yan posted other two post to clarify - "The article is good. The writer should take back his own work." and "He wrote very well, but there is no need to put my name on."
Many people thought the so called famous quote online is unreliable and joking about this phenomenon.
Calling all HuffPost superfans!
Sign up for membership to become a founding member and help shape HuffPost's next chapter
This post was published on the now-closed HuffPost Contributor platform. Contributors control their own work and posted freely to our site. If you need to flag this entry as abusive,
send us an email
.