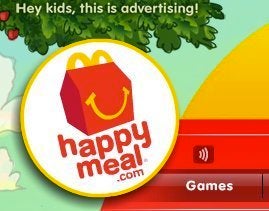 Months after McDonald's was accused of violating child online privacy laws in a complaint filed with the Federal Trade Commission, the fast food giant deleted social networking features from some of its online games for kids, reports the Washington Post.
On Friday, McDonald's announced that it had taken the "forward-to-a-friend" options at HappyMeal.com, the chain's online destination for kids to redeem codes that come with all children's meals, off the site's menu. That function enabled users to email ecards, links and photos to friends and family. The beef of the Center for Digital Democracy, a privacy advocacy group, was that the fast food giant was asking small fries to list the email addresses of friends while spreading advertising, all without the consent of their parents. The center said McDonald's disregarded the Children's Online Privacy Protection Act through deceptive viral marketing.
"We continuously review and enhance our sites as appropriate," McDonald's spokeswoman Danya Proud said in a statement.
The restaurant chain hasn't been the only company to draw the ire of children's and consumer advocates for possibly flouting the privacy protection measures. In August several groups, including Digital Democracy and the Center for Science in the Public Interest, announced plans to file complaints with the FTC against General Mills, Subway, Nickelodeon and the Cartoon Network as well, reported the San Francisco Chronicle. All were using "refer-a-friend" strategies, according to the complaints.
"These companies are trying to make an end run around Coppa," Laura Moy, an attorney representing Digital Democracy, told the Chronicle. "They're getting kids to facilitate viral marketing campaigns."
Amusingly, HappyMeal.com features a message in the upper left-hand corner that reads, "Hey kids, this is advertising!"
According to the New York Times, unless more companies like McDonald's act on their own, the FTC will do the cracking down for them. The commission is on the verge of overhauling its rules to further safeguard children from being tracked online, reports the Times.
As corporations and app developers further refine their methods of gathering intelligence on young Internet users without their parents' permission, the FTC wants to stem the tide, notes the Times.
"Today, almost every child has a computer in his pocket and it's that much harder for parents to monitor what their kids are doing online, who they are interacting with, and what information they are sharing," the FTC's Mary K. Engle told the paper.