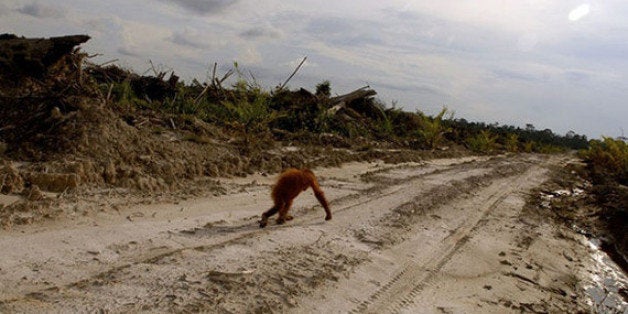 In the face of declining sales, McDonald's has been making a number of moves to bolster its market share -- and its reputation. Over the last few months, the world's most profitable fast food chain announced that it will stop selling chicken raised with antibiotics, raise its U.S. employees' salaries by at least $1 an hour, and bring back "third pounders" to compete head-to-head with its premium burger rivals.
But the company saved what could amount to be its most important announcement for today. It pledged to only buy food and raw materials from around the world that don't contribute to deforestation, a significant contributor to global warming. Given McDonald's reach, that's a potential game-changer.
Two other top fast food chains -- Dunkin' Brands, parent of Dunkin' Donuts and Baskin-Robbins, and Yum! Brands, owner of KFC, Pizza Hut and Taco Bell -- have made commitments to stop buying palm oil linked to deforestation. That's a big deal. Palm oil, which is used in a wide range of baked goods, packaged foods and personal care products, is the world's most popular vegetable oil, mainly because it's cheap, naturally saturated, and free of trans fat. But oil palm trees only grow in the tropics, where unscrupulous growers have been leveling forests for oil palm plantations, releasing massive amounts of carbon into the atmosphere. In Southeast Asia, where 85 percent of the plantations are located, those forests provide critical habitat for elephants, orangutans, rhinoceros and tigers.
McDonald's commitment could be an even bigger deal. The company pledged to eliminate deforestation from its entire global supply chain. Specifically, the company singled out beef, coffee, fiber-based packaging, palm oil and poultry. Like palm oil, cattle production is a major driver of deforestation.
The company is expected to announce a timetable for its product procurement later this year, but there is room for skepticism given it has made similar promises before. For some time, its website has stated that its goal is for 100 percent of its palm oil to be "verified as supporting sustainable production by 2020," for example, but its plans to meet that goal were inadequate.
"As that old Russian proverb goes, 'Trust but verify,'" said Lael Goodman, an analyst with the Union of Concerned Scientists (UCS). "If McDonald's wants its golden arches to become a symbol of environmental sustainability, it needs to become a lot more ambitious and provide details on how it is going to fulfill its pledge."
McDonald's announcement comes less than a month after UCS released a report, co-authored by Goodman, analyzing top international companies' palm oil commitments. It was a follow-up to the organization's March 2014 scorecard rating the 10 largest companies in the packaged food, personal care and fast food sectors on their plans to use deforestation-free palm oil that is traceably and transparently sourced. At the time, the packaged food companies had the strongest standards. Fast food companies had the weakest.
The new report tracked the 30 companies' progress over the last year and added a fourth category, the house brands sold by the 10 largest supermarket, pharmacy and discount store chains. Only eight of the 40 companies surveyed this year have adopted palm oil commitments that fully protect forests and peatlands, swampy areas that store even more carbon. Those companies are ConAgra, Danone, Kellogg's, Nestlé and PepsiCo from the packaged food sector, and Colgate-Palmolive, Henkel and Procter & Gamble from the personal care sector.
Despite the Yum! Brands and McDonald's announcements, which they made after the UCS report was published, fast food chains are still lagging far behind. And Yum! Brands only pledged to buy deforestation-free palm oil for oil it uses for frying. That leaves out the oil in its sauces and biscuits and other baked goods, which the chain buys from other suppliers.
None of these three fast food Goliaths -- Dunkin' Brands, Yum! Brands or McDonald's -- would have made deforestation commitments without public pressure. Over the last year, hundreds of thousands of people petitioned them to buy only deforestation-free palm oil. But that still leaves seven other fast food chains in UCS's survey without a responsible palm oil procurement policy. It's time to step up pressure on Burger King, CKE Restaurants (owner of Carl's Jr. and Hardee's), Domino's Pizza, Dairy Queen, Starbucks, Subway and Wendy's. To send them a message, click here.
Elliott Negin is a senior writer at the Union of Concerned Scientists.