The new-and-improved Artisan Grilled Chicken sandwich already is included on the McDonald's USA website's food lineup, suggesting that it is going to be introduced nationally and soon.
The seasoned "better chicken" patty was first tipped earlier this month in a client report from Janney Montgomery Scott analyst Mark Kalinowski. Blog The Impulsive Buy spotted it on the McDonald's site this week. McDonald's did not respond to a request for guidance on the schedule for rolling out the new chicken.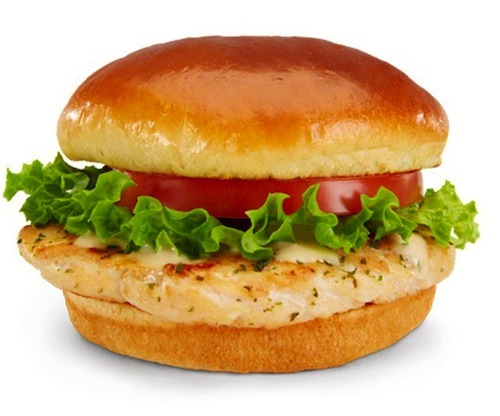 Certainly all this is part of McDonald's determination to be what the company recently called "a modern, progressive burger company." Unfortunately, the path it has chosen is well trod to the point of being trite. According to Chicago researcher Mintel, the incidence of "artisan" to define a dish on foodservice menus grew 74 percent between Q4 2011 and Q4 2014. In other words, almost everything now is artisan, just as every cocktail now is "hand crafted."
Specifically with sandwiches, Mintel says incidence on menus of "artisan" has increased 33% over the past four years. Pizza and flatbread are the foods most likely to be described as "artisan," but there's no reason a chicken sandwich can't join the fun.
As listed on the McDonald's website, the Grilled Artisan Chicken burger is described as a "100 percent grilled chicken breast filet seasoned to perfection with ingredients like salt, garlic and parsley -- seared in our kitchens, no preservatives added. Crisp leaf lettuce, fresh tomato, and a vinaigrette dressing. All atop our delectable artisan roll."
Preservative-free chicken is a step toward healthier food, with the chain saying in March that over the next two years it intends to phase in chicken free from antibiotics used to treat humans. The 50-unit Elevation Burger chain said this week it is adopting organic chicken systemwide.
The adoption of healthier chicken is significant since Mintel data showed that in 2011 chicken sandwiches passed burgers to become the most commonly menued sandwiches on American menus.
As Kalinowski explained earlier this month, the new chicken is not restricted to sandwiches. It also will appear in the Premium Grilled Chicken Bacon Clubhouse as well as other Premium Chicken sandwiches, McWraps and salads.
But despite what some have suggested, McDonald's isn't walking away from burgers. In fact, in 99 stores in Kentucky and Indiana, McDonald's is testing a Spirit of Kentucky Burger, according to the Jeffersonville, Ind., News & Tribune. In addition to a bourbon-flavored sauce, the burger has thick-cut applewood smoked bacon, tomato, crisp leaf lettuce, slivered onions and white Cheddar on a quarter-pound pure-beef patty. It's served on the same artisan roll that McDonald's developed last year for the Bacon Clubhouse burger.
Related