Since its founding 60 years ago, McDonald's has played a near-ubiquitous role in pop culture. At times, it can feel like there's an ad for or reference to Ronald McDonald or the golden arches at nearly every turn.
That's what's made so many criticisms of the $100 billion chain's controversial nutritional, labor and advertising practices so memorable. In protest of this overwhelming "McDonaldization" of society, a term first coined in 1993 by sociologist George Ritzer, artists around the world have created some highly vivid pieces that assail the symbols of McDonald's omnipresence.
On vacant walls and in galleries from New York to Sydney, artists have adapted the well-known symbols of the brand to express their antagonism towards McDonald's (or with the broader impacts of multinational corporations more generally).
As one of the most recognizable brands in the world, McDonald's, which did not respond to The Huffington Post's request for comment, offers its detractors a way to transcend languages and borders. Here are some of the most stunning forms of McDonald's-inspired art:
McSupersized (with Cow Girls)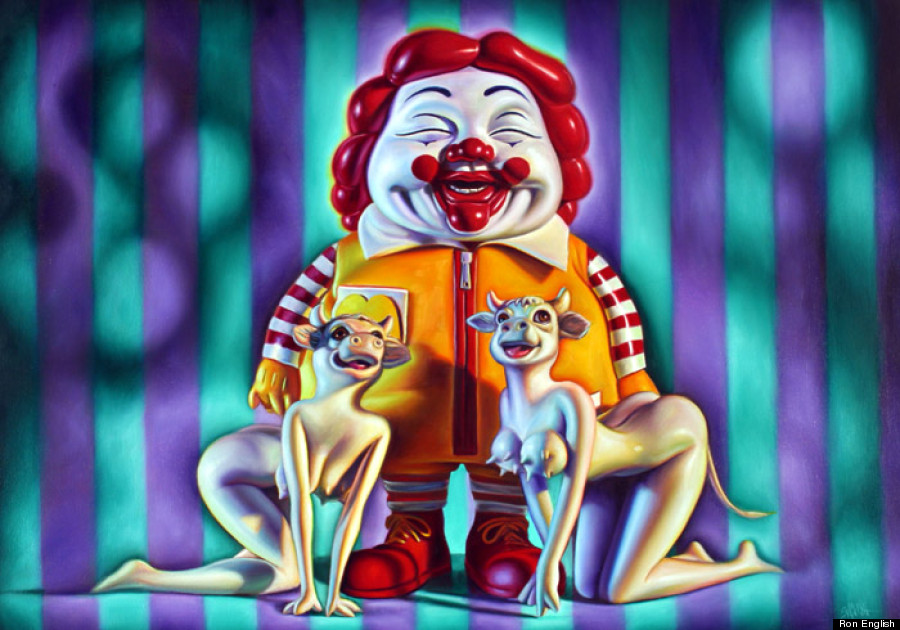 Artist:Ron English
Year:1993
Location:Hoboken, New Jersey.
Ron English, a contemporary American artist, has created many versions of "McSupersized" paintings and figures, and his art was featured in the 2004 documentary "Super Size Me."
"I wanted to expand the consumerist story told by advertising into something more honest," English told HuffPost. "A more urban and realistic version of Ronald McDonald -- a Ronald that looked like he actually ate at McDonald's over an extended period of time."
English added that the branding of the chain has seemingly followed religious principles.
"The golden arches are very spiritual, especially in their earlier forms," he said. "If I were an alien I would probably mistake McDonald's as a church and Ronald as a savior. Otherwise it would be too hard to comprehend why a society so overtly and passionately celebrated the production of unhealthy cuisine."
Ronald McDonald Shoe Shine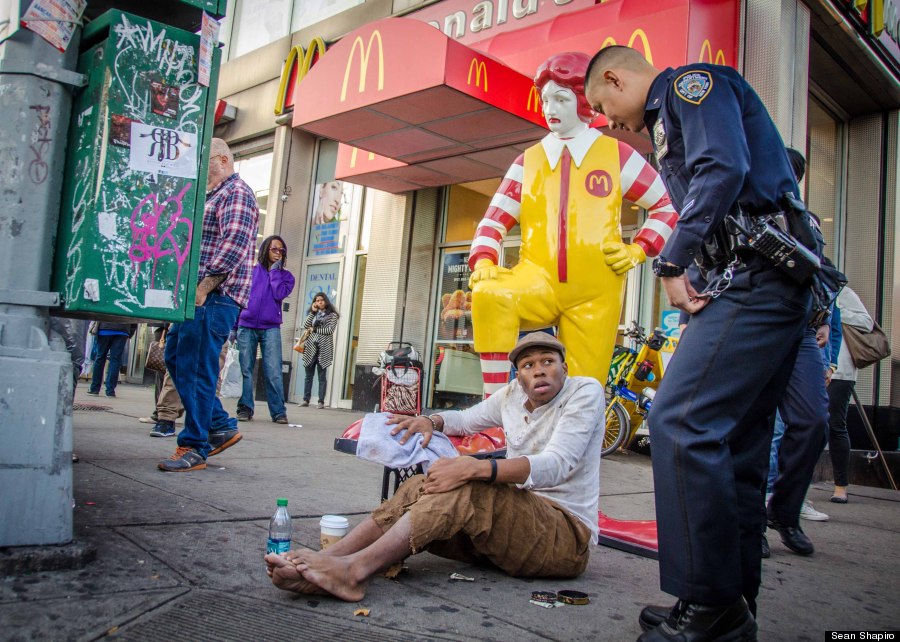 Artist: Banksy
Year: 2013
Location: New York City
As part of a month-long "residency" in New York last summer, the artist and political activist Banksy created an installment featuring a person shining the shoes of a menacing Ronald McDonald statue. The work moved to different McDonald's locations throughout the boroughs for a week and was consistently shut down by local police.
"Ronald [is] arguably the most sculpted figure in history after Christ," Banksy said in an audio guide posted on the artist's website. He said the piece is "a critique of the heavy labor required to sustain the polished image of mega-corporation… Does this era have feet of clay and a massively large footprint to boot?"
Ron Experiences A Moment Of Unexpected Clarity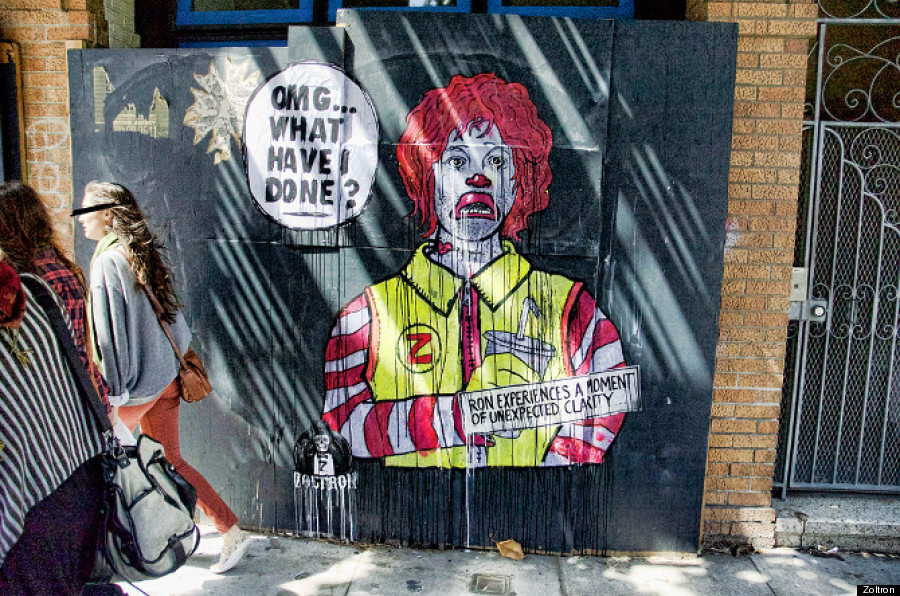 Artist:Zoltron
Year:2011
Location:San Francisco, California
This work was created in the Mission District of San Francisco, a historically blue-collar neighborhood that is being rapidly gentrified.
"While I was drawing Ronald as an evil tyrant, I saw a glint of compassion in his eyes, like he was caught in an existential crisis," Zoltron, a Californian designer and street artist told HuffPost. "Maybe suddenly he realized that he was solely responsible for massive rainforest destruction & onset adolescent diabetes. So rather than draw him as an enemy, I decided to draw him as a born-again humanitarian, an empathetic leader... A compassionate clown."
The original work was subsequently painted over by various others. Here's a GIF depicting the work's transformation over time:
Shall I Do It?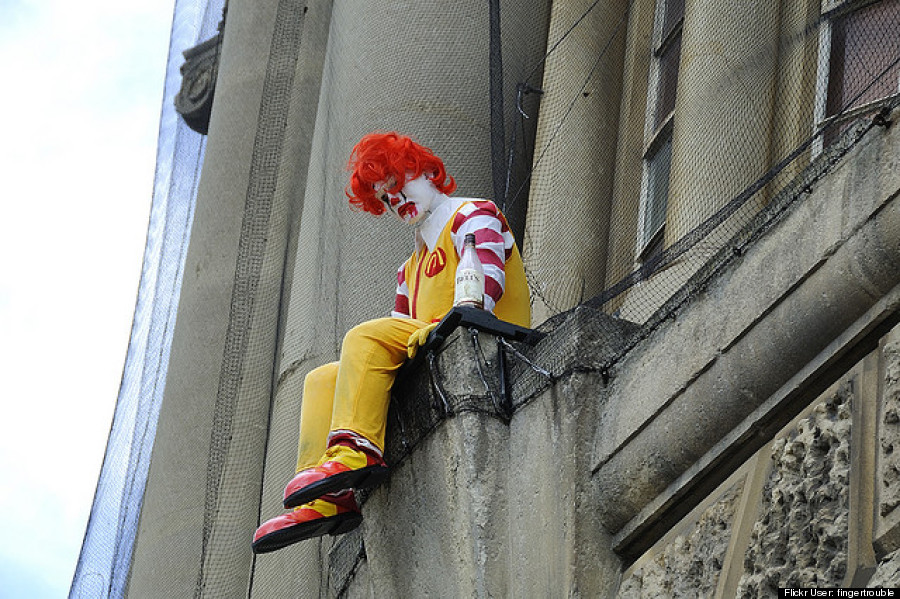 Artist: Banksy
Year: 2009
Location: Bristol, UK
This statue featuring Ronald McDonald contemplating suicide was placed on the outer facade of the the Bristol Museum during the artist's "Banksy Versus Bristol Museum" show. It mysteriously showed up at the museum about one month after the show opened.
In a statement made back in 2009, Banksy said he was giving back to his alleged hometown of Bristol.
"The people in Bristol have always been very good to me -- I decided the best way to show my appreciation was by putting a bunch of old toilets and some live chicken nuggets in their museum," he said.

Iwo Jima McDonald's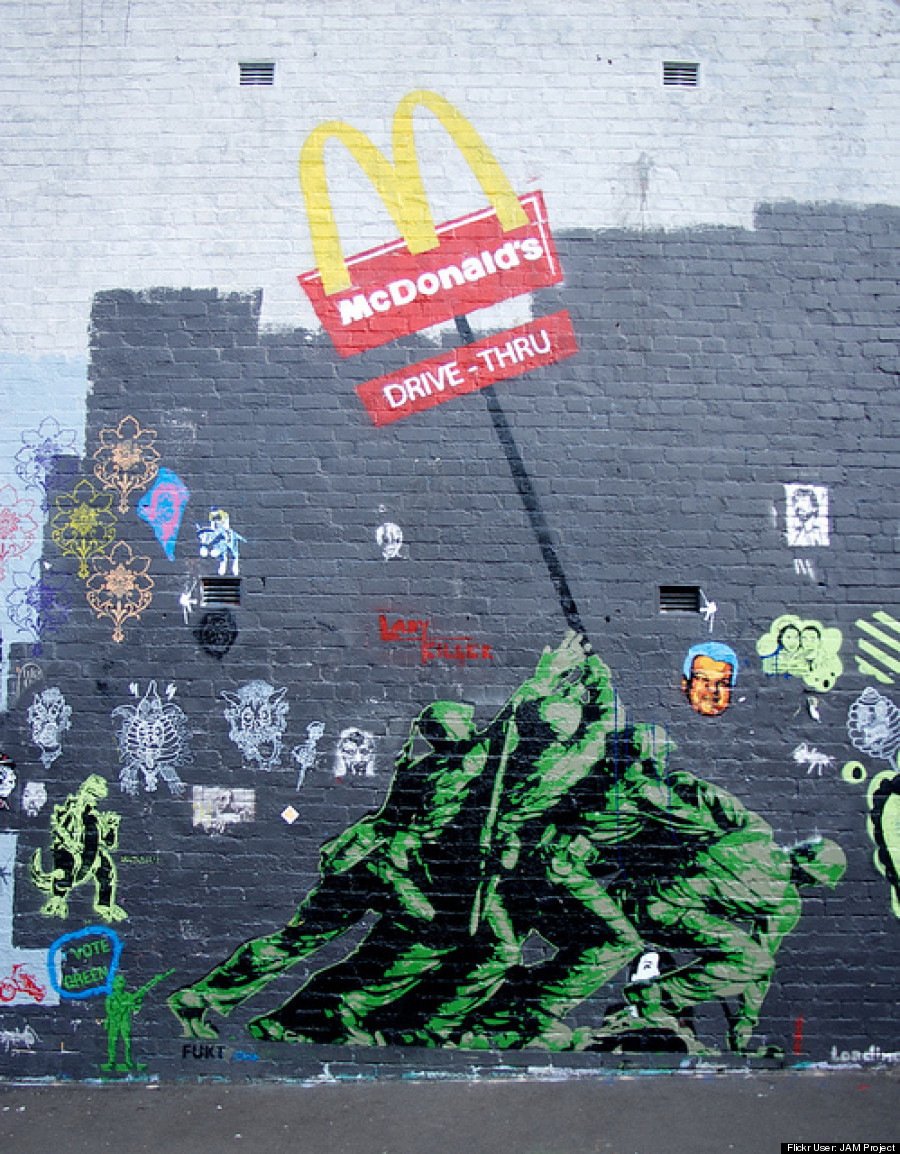 Artist:Fukt
Year:2011
Location:Sydney, Australia
This work is an appropriation of the iconic photo "Raising the Flag on Iwo Jima," taken on February 23, 1945, by Joe Rosenthal. In this piece, Fukt, an Australian street artist, draws a comparison between American's military hegemony and its cultural dominance, suggesting that U.S. power is exerted abroad for the benefit of the country's corporations.
Protest Potatoes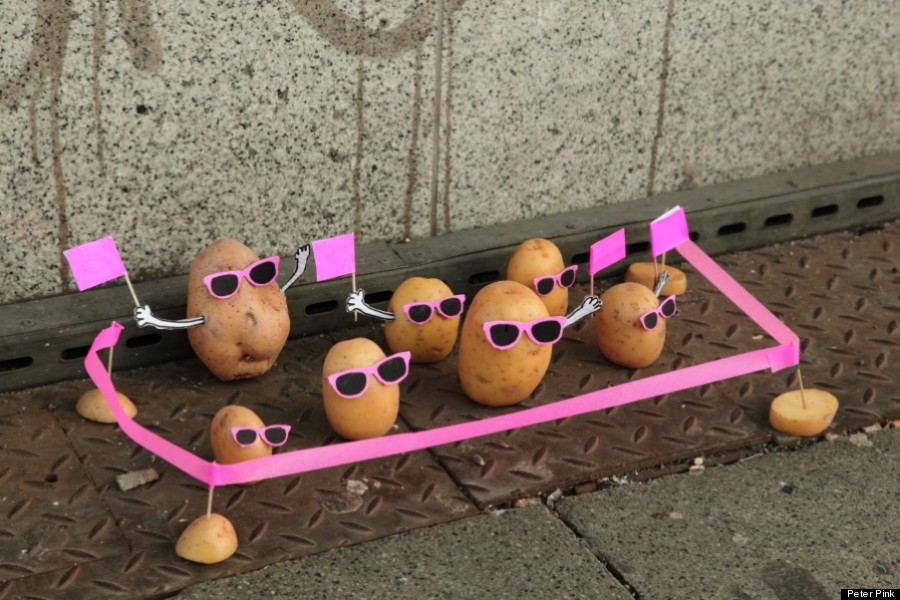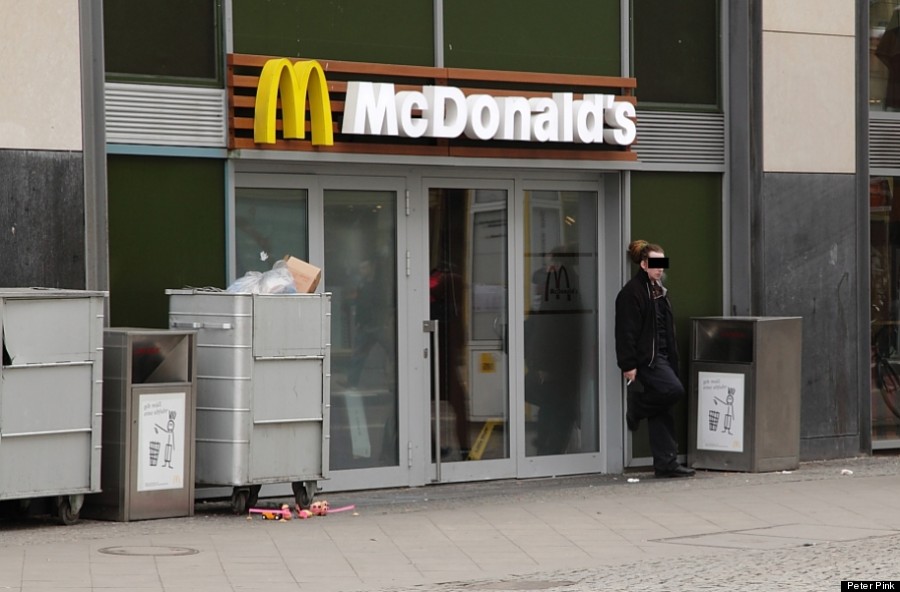 Artist:Peter Pink
Year:2012
Location:Berlin, Germany
Peter Pink placed his protest potatoes piece outside of a McDonald's branch in Berlin. After about one hour, a McDonald's employee came outside and swept them up.
"It is symbolic of any other human protest," Peter Pink, a German artist, told HuffPost. "Protesting against the machine, a system which uses you, is unjust. Because it is potatoes it becomes absurd and humorous because potatoes are completely helpless, they can't move or think, so the fight is already lost and ridiculous. But are most human protests any different, do people really have power even in masses?"
Can't Beat The Feeling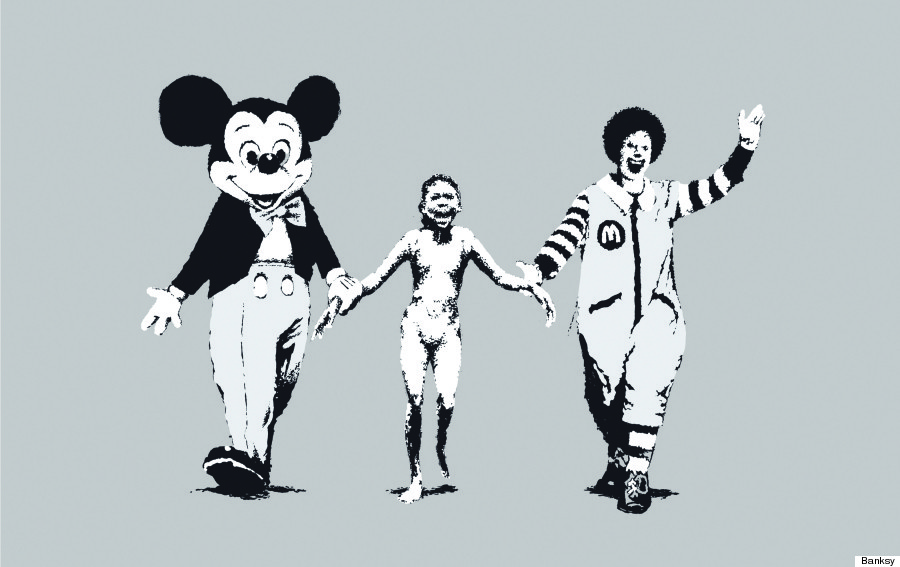 Artist:Banksy
Year:2004
Location:London
This work pays homage to the Pulitzer Prize-winning photograph of "Napalm Girl." Phan Thi Kim Phuc, a 9-year-old Vietnamese girl terribly burned by napalm, was photographed while fleeing the bombings in Trang Bang.
Though we couldn't reach Banksy, Australian artist Van Thanh Rudd told HuffPost his interpretation of Banksy's classic work:
"The popular corporate symbols, hailing from the United States, have beaming smiles that contrast with the horror and pain of the young girl's weakened frame. It seems as though Ronald and Mickey are complicit in the destruction they leave in their wake, while they lead this young person astray, into an oblivion of market-led deception and future wars."
special forces (after banksy)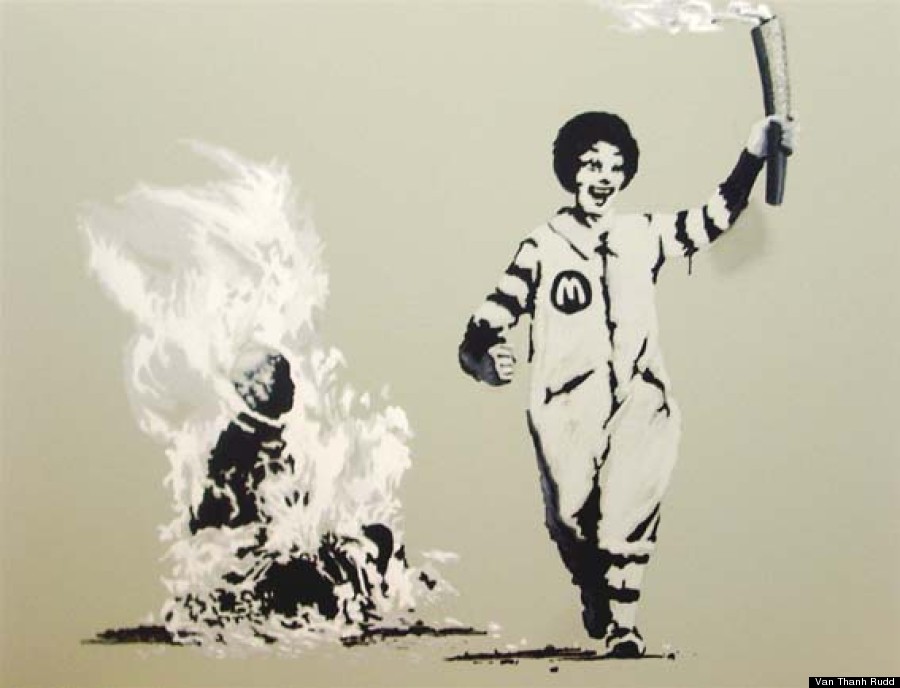 Artist:Van Thanh Rudd
Year:2008
Location:Melbourne, Australia
This work is a homage to Banksy's "Can't Beat The Feeling" (above). It was created during the beginning of the 2008 Olympics in Beijing.
Rudd, an Australian activist, told HuffPost that his piece critiques McDonald's sponsorship of the Olympics:
"McDonalds is known for its low wage level for its employees, its unhealthy food, and its global expansionism, all for the sake of profits and competition in the market place. It sponsors the Olympic games even though sport and junk food don't make a healthy mix. In my painting, the burning torch and the burning monk are linked by this flame of instability and chaos. I wanted Ronald McDonald to appear as though he had ignited the monk with the flames of the Olympic torch. McDonalds, as a symbol of these market forces, had to somehow be complicit in the destructive market forces that brought about the Vietnam War."
Liquidated Logo - McDonald's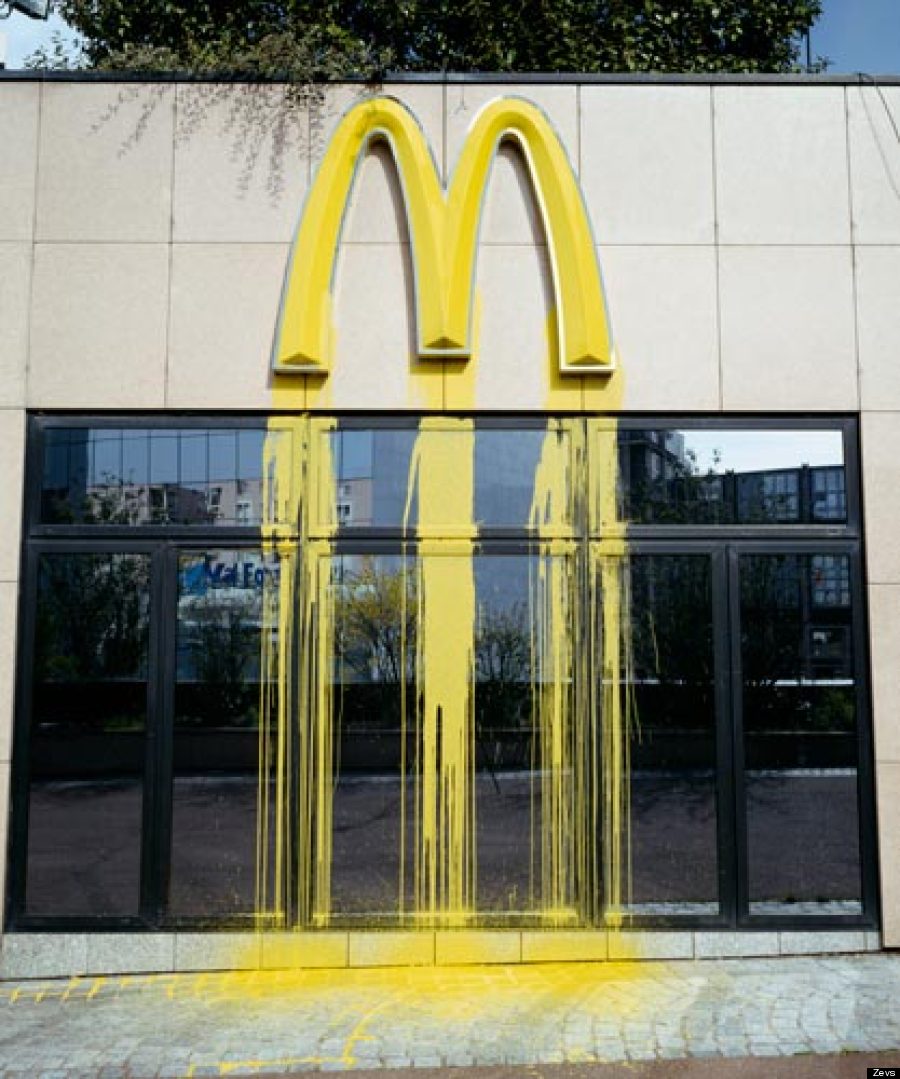 Artist:Zevs
Year:2000
Location:Paris, France
Zevs, an anonymous artist and pioneer of French street art, "liquidated" this McDonald's golden arch in Paris.
"Logos are meant to be seen, and so when the logos of McDonald or Louis Vuitton are liquidated, it is an attack on a network of signs of identification, social codes, significations, and emotions," Zevs told HuffPost. "By suggesting an opposing force, liquidation recalls overconsumption, the tyranny of advertising and the slang of the appearances."
Unknown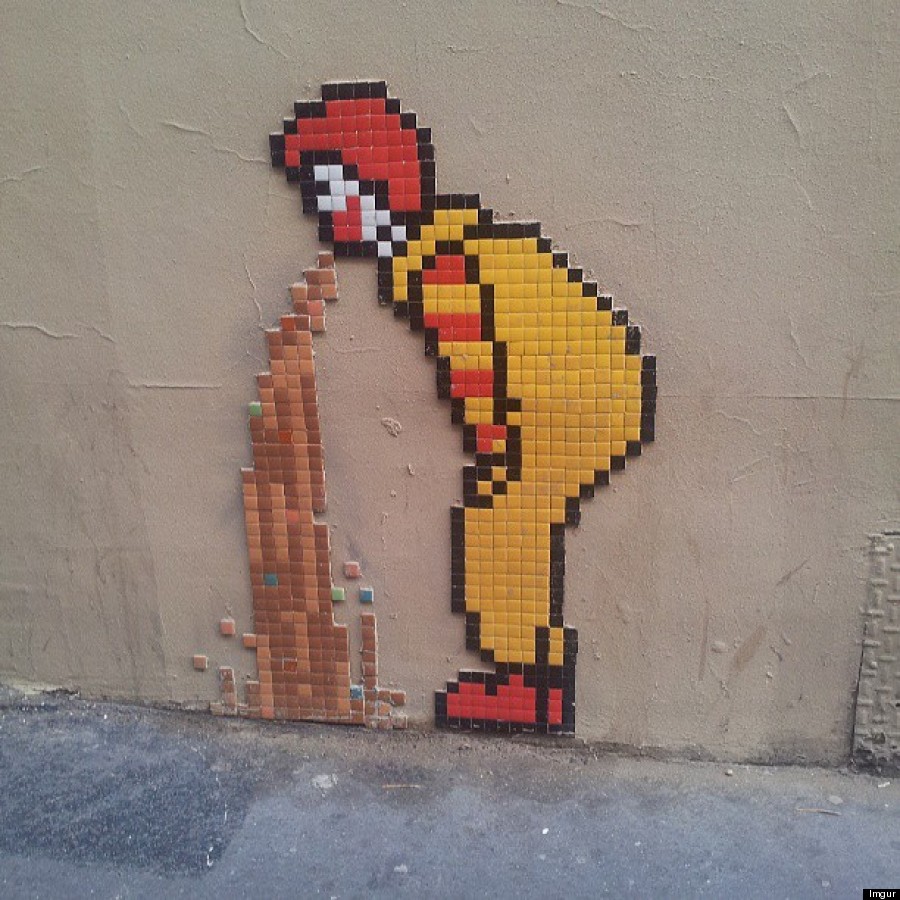 Artist:Unkown
Year:2013
Location:Paris, France
This work was erected on a wall 10 feet from a McDonald's in Paris and was shared on the photo site Imgur. The work points to McDonald's poor health standards and hypocrisy: If Ronald were to actually eat McDonald's, he'd be poisoning himself.
Sum Of All Evil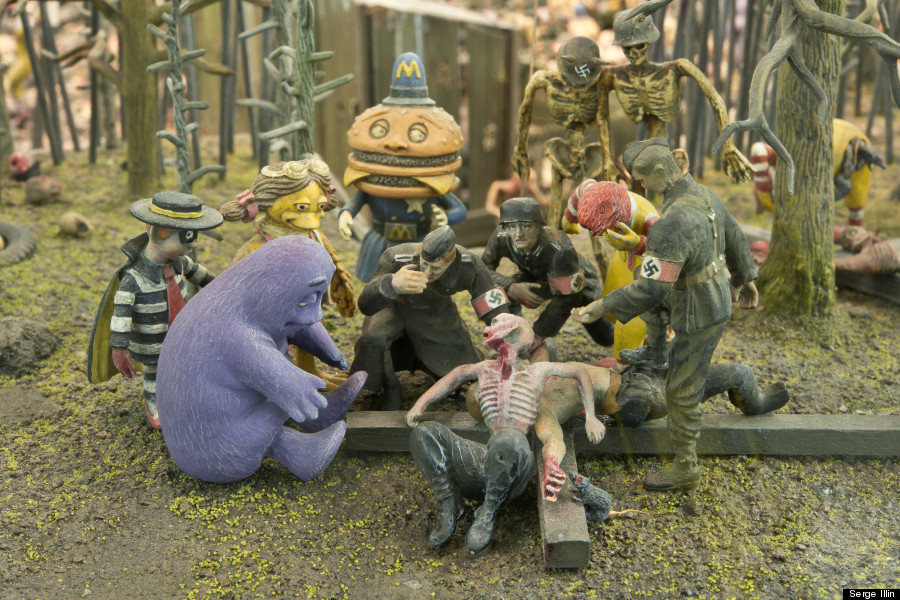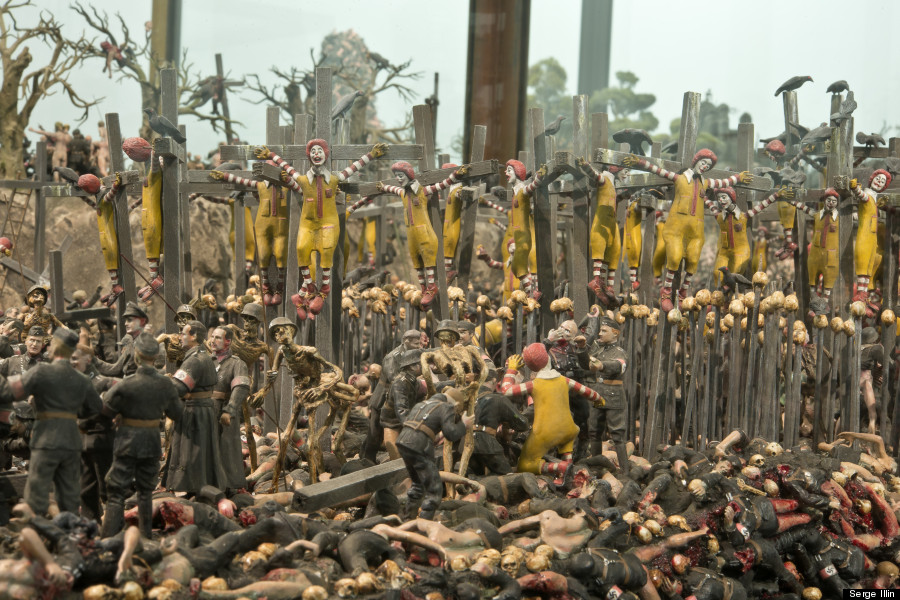 Artist:Jake and Dinos Chapman
Year:2012
Location:Kiev, Ukraine
"Sum of All Evil" is four large dioramas that depict a Nazi-inspired hellscape and reference the 1941 massacre at Babi Yar in Kiev. According to the art website Design Boom, the Chapmans' "work unabashedly fuses sensitive events with mass-branding and symbols of the global fast food chain, McDonald's. The mercenary giant - which could be considered the mascot of commercialization – is interweaved into reincarnations of these sensitive events, amplifying the criticism of the underlying hypocrisy connected with an era of globalization."
LOVIN' IT?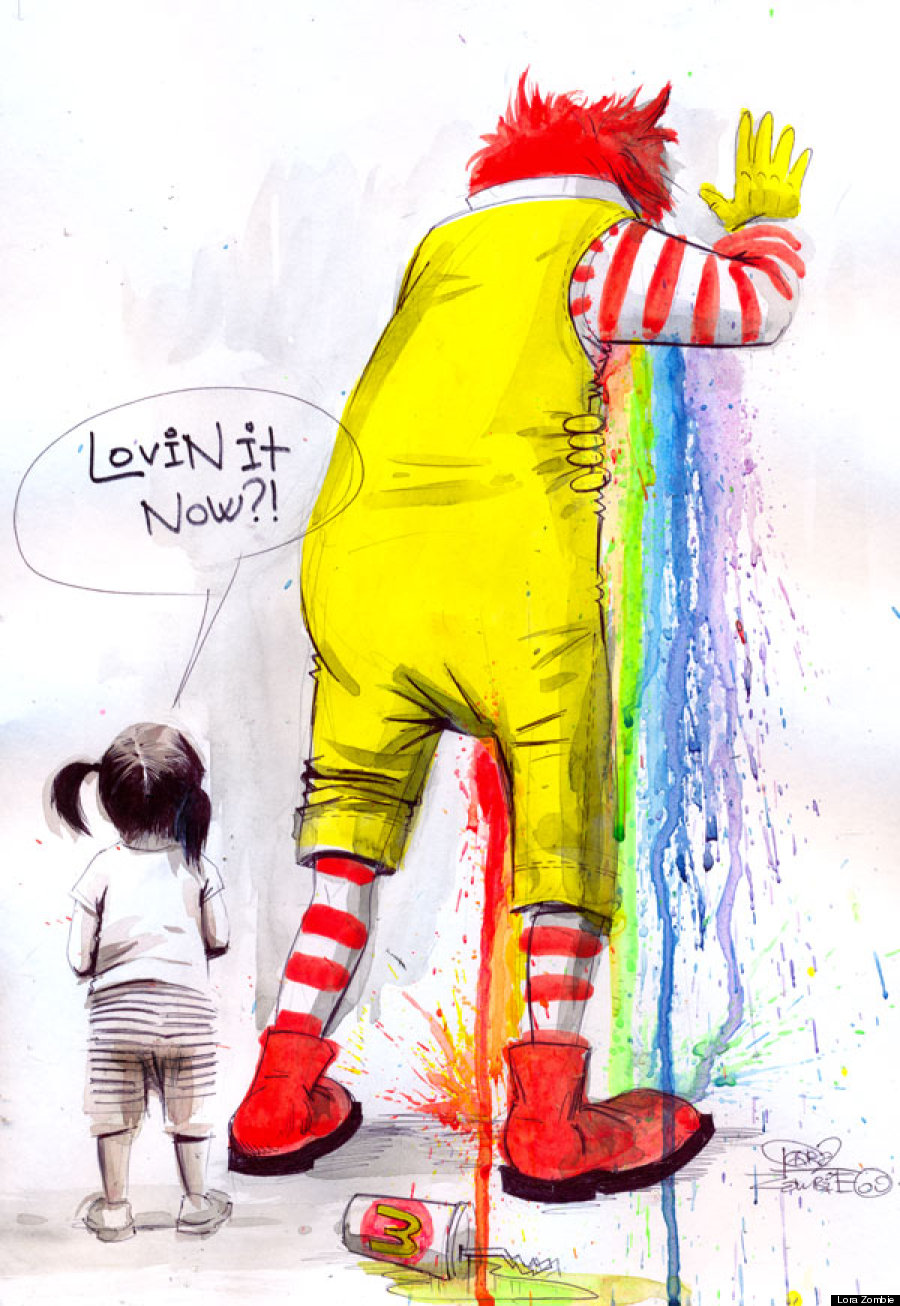 Artist:Lora Zombie
Year:2009
Location:St. Petersburg, Russia
"[Ronald McDonald] is the face of sinful food," Zombie, a Russian painter, wrote in an email to HuffPost. "But it's just his job. He doesn't eat the food he sells, the devil only eats fresh and juicy steaks."
Ronald McDonald Being Sick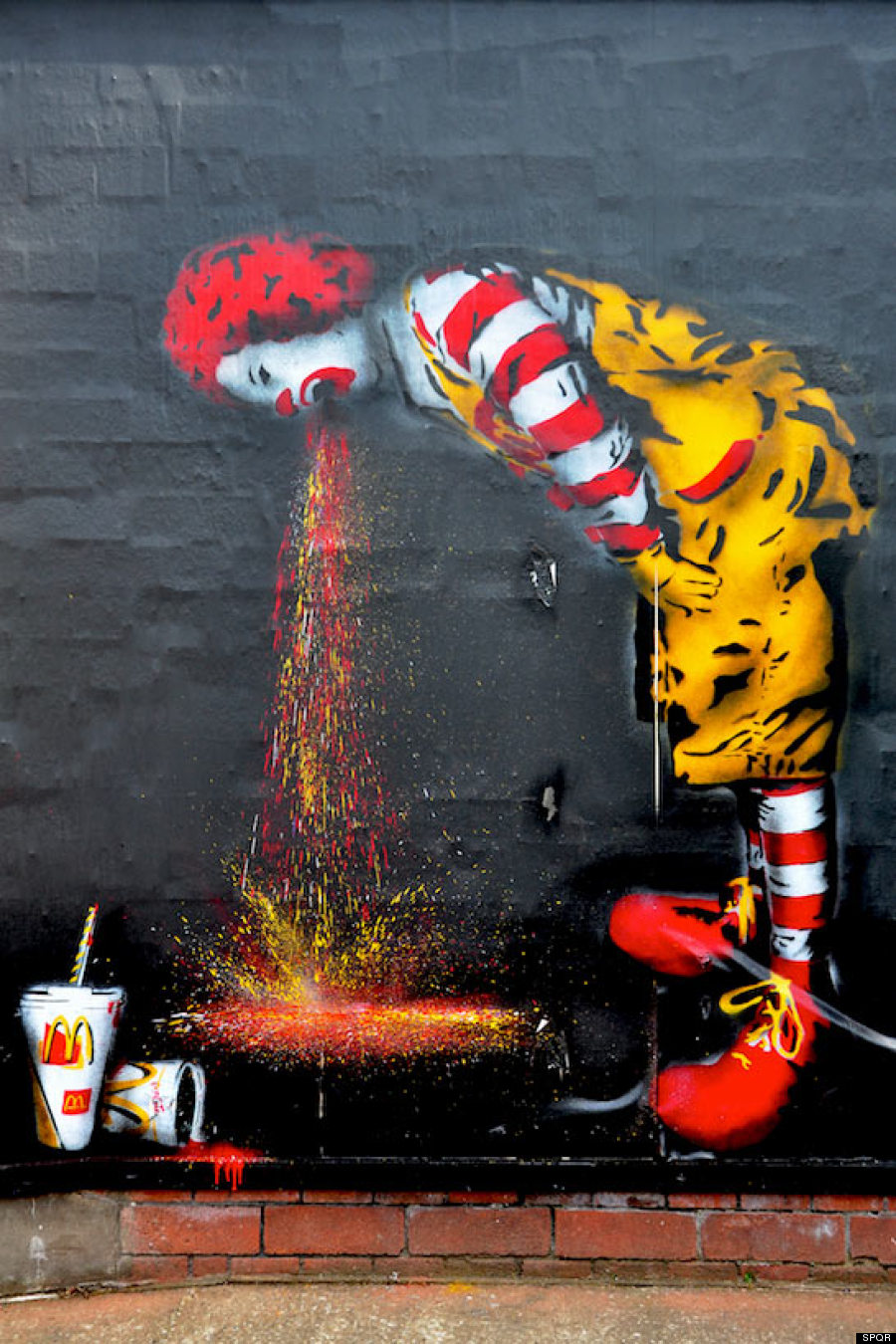 Artist:SPQR
Year:2009
Location:Bristol, UK
This work was done outside a local McDonald's in the English city of Bristol.
"McDonald's symbols are so ingrained in our retinas and prolific in our streets," SPQR told HuffPost. "It is no wonder so many artists use it and abuse it. Sadly it is almost impossible to unravel the hold these images and logos have over us ...even abusing their corporate imagery advertises their product."
McDictator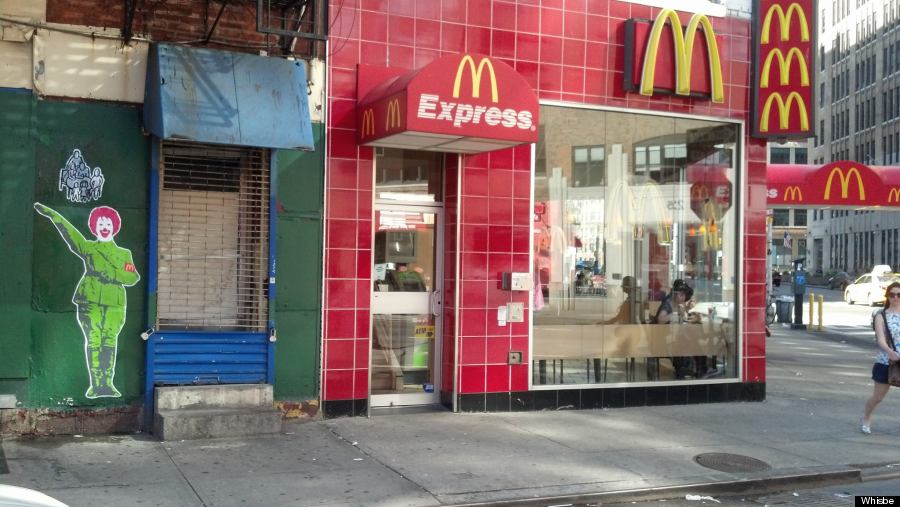 Artist:WhIsbe
Year:2013
Location:New York, New York
WhIsBe, an anonymous street artist from New York, first put up his McDictactor piece next to a McDonald's in the West Village in New York City. It has appeared in 10 world cities in total, on surfaces from security signs in JFK Airport to the Berlin Wall.
"The piece is not to compare McDonalds and Hitler," WhIsBe told HuffPost. "It is used to put in perspective the true nature of a modern day problem. Yes, it is a shocking combination, but there is no reason to tip-toe around a serious and often under looked problem."
Ronald's Daughter / My Father Is A Terrorist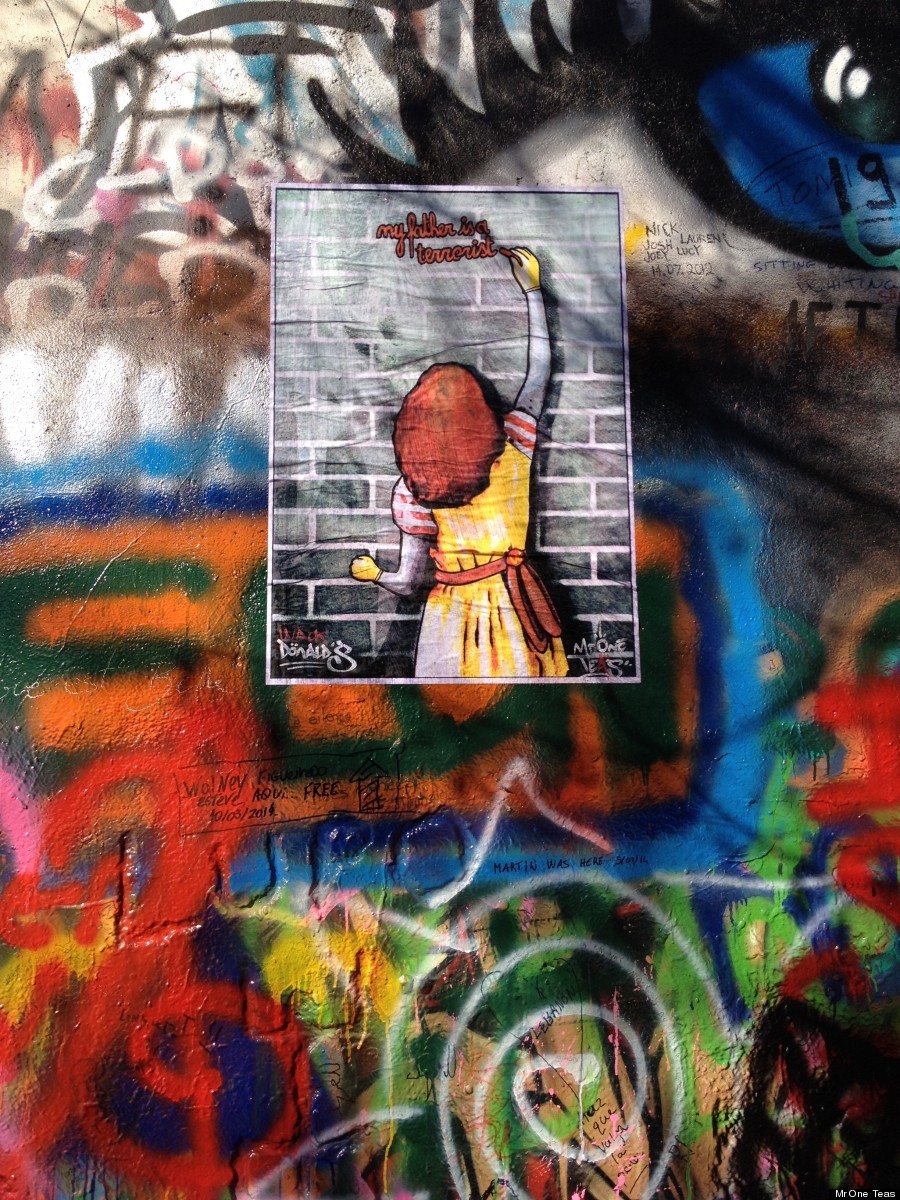 Artist:Mr. OneTeas
Year:2014
Location:Prague, Czech Republic
This work depicts a daughter of Ronald McDonald writing "My father is a terrorist" on a wall. The work is part of a series called "The Wack Donald's Project," which launched in 2011 and features roughly 50 different artist appropriations of Ronald McDonald. The Ronald's Daughter work first appeared in Prague in March and has since been seen in New York.
"McDonald's is really bad in many ways: Health, ecosystem, production of animals and vegetables, and marketing -- using a clown to create an addiction for the youngest customers in the world," Mr. OneTeas told HuffPost. "I don't want to think that one day, if we go to live on the moon, that McDonald's will take the right to open the first interstellar shit restaurant on it."
CORRECTION: A previous version of this story identified "Ronald's Daughter / My Father Is A Terrorist" as being located in Croatia. It originally appeared in the Czech Republic.
Related
Popular in the Community