McDonald's is renewing its push to foster innovation as the way to build its QSR sales leadership in a slow-growth restaurant marketplace. The result of that push may be significant developments in food, store operations and technology.
The focus on continued innovation was a recurring theme during the company's two-day "Open Doors" event for journalists this week. BurgerBusiness.com was one of just two U.S. news organizations invited to take part.
Menu innovations will continue to be both developed and borrowed. The chain has successfully imported several ideas from its Australian operations, including McCafé and Chicken McBites, and may borrow more. CEO Don Thompson said he sees opportunity in the U.S. to sell the Dinner Box multi-person bundled-meal concept that has been a success in Australia and, subsequently, in several European markets as well.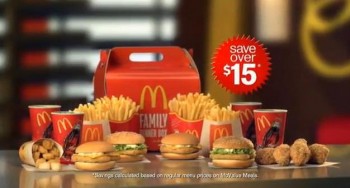 Thompson wouldn't say how soon the idea could be tried here but he emphasized that the concept responds to a changes in how people use QSRs. "There's a trend in eating now to bundling," he said. "It used to be you'd seen teens eating meals separately. Now you'll see them getting two or three fries and burgers for four or five and putting it all in the center to share."
Bundled meals are made for communal eating, and since 2010 McDonald's in Australia has offered multi-person boxed meals. A Dinner Box could hold two Big Macs, two cheeseburgers and six Chicken McNuggets with four small fries plus two small and two medium drinks. A chicken version being promoted now offers two McChicken sandwiches, two Chicken & Mayo sandwiches, two small and two medium drinks, four small fries and 10 McBites. A variation is the Chicken Box concept with various combinations of fried chicken snack items (McNuggets, McBites, etc.), which has been tried in Europe and could work here, Thompson said.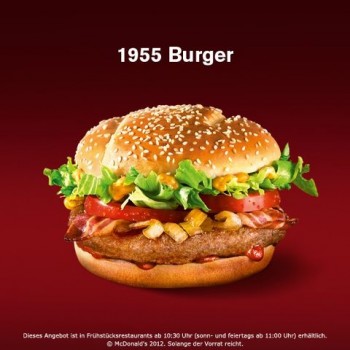 Chris Young, senior director of menu innovation, said global menu items being eyed for the U.S. includes the 1955 Burger developed in Germany in 2010 and since served in most European markets. However, when it gets here it likely will have undergone changes, said Young. "This is a European vision of an American taste profile" and some Americans who have tasted it have found it "odd," he said. The original is topped with caramelized onions and a German-style barbecue sauce. "It may not even be called the 1955 here," he said, although the name alludes to the year Ray Kroc opened his first McDonald's in Des Plaines, Ill.
Thompson also said the chain hasn't ruled out reintroducing Angus beef burgers or even bringing back Third Pound Angus Burgers as limited-time promotional items.
Don't expect a turkey burger on the menu soon, however. Low acceptance of turkey outside the U.S. makes it a less-appealing choice for a global company like McDonald's. But do expect bolder flavors, said Dan Coudreaut, executive chef and director of culinary innovation. The spicy sauce on the new Bacon Habanero Ranch Quarter Pounder is literally a taste of what's to come. "Shaker Fries"--a small shaker bag with a packet of seasoning--also could brought here after success in Asia. Julia Braun, director of global nutrition, pointed to the 8 grams of whole grain in the new Egg White Delight McMuffin's English muffin as an indicator of how McDonald's is moving to increase the nutritional profile of its foods. More whole-grain foods will follow.
Another Australian innovation that could be imported is the "TrackMyMaccas" smartphone app that BurgerBusiness.com wrote about in January, when it was introduced. The app allows diners to scan code on packaging and learn the sources (farm, fishery, bakery) of components of the food they are about to eat. This is by linking GPS with real-time supply-chain data. Ken Koziol, McDonald's EVP, global restaurant officer, said the chain is "actively discussing" ways to use similar technology in other countries including the U.S. "We want to [bring it here], but we don't know yet how or when," Koziol said.
Before it would be implemented here, it likely would be evaluated at McDonald's Innovation Center, a 38,000-square-foot building with three kitchens and 135 employees. The center is squirreled away in Romeoville, Ill., but operations teams from around the globe manage to find it to test new and big ideas. For example, over the course of two years, simulations at the Innovation Center helped the company learn how to configure kitchens and order counters to serve the 2,500 customers per hour expected at the mammoth 2012 Summer Olympics restaurant in London. Kitchen efficiency of the "McDonald's After Midnight" late-night menu solution currently in a few markets was tested at the Innovation Center as well. "It allows us to make mistakes in a controlled environment," COO Tim Fenton said of the Innovation Center. Or, as it was put by Melody Roberts, the Center's senior director-experience design innovation, "No actual sales are harmed in the conducting of these tests."