McDonald's will revamp its McPick 2 value platform on May 24 with a mix of national and local offers, BurgerBusiness.com has learned.
The national portion of the new McPick 2 for $5 promotion launching May 24 gives consumers their choice from among three core McDonald's items: the Big Mac, Filet-O-Fish and 10-piece Chicken McNuggets. One new wrinkle is that local markets also will have the option to add up to three other items to the "2 for $5" deal, for a total of up to six choices.
At the same time, some markets also will simultaneously run local value offerings outside the "2 for $5" platform during the national promotion. For example, the Chicago co-op has a $4 bundle of a Sausage, Egg & Cheese McGriddle with a Hash Brown and small coffee. The McDonald's Tristate co-op (covering parts of West Virginia, Ohio & Kentucky) is promoting a $5.99 bundle of 20-piece Chicken McNuggets and a basket of fries. Such deals can continue alongside the national McPick 2 for $5 promotion, if co-ops choose to do so, providing consumers with additional localized value offerings.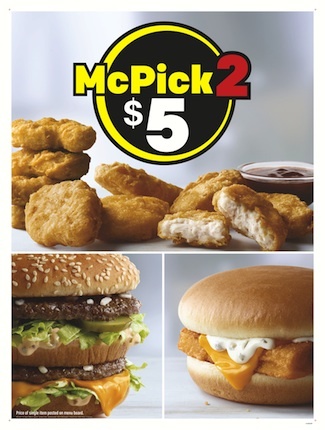 The three local-option McPick 2 for $5 items do not necessarily have to be core items, such as large fries or Quarter Pounder with Cheese; they can be whatever the co-ops decide will best meet local tastes, Adam Salgado, VP-Marketing for McDonald's USA told BurgerBusiness.com in an exclusive interview.
A four-week advertising flight in support of the promotion begins next week, but local markets have the option to extend it.
The advantages of this approach are the combination of national items plus the overlay of locally popular menu items, Salgado said. "Customers have told us that what they want is the ability to have choice and flexibility in which items they can bundle for a certain price point," he said.
In January, McDonald's did a McPick 2 for $2 promotion with entry-price items such as McChicken and McDouble. The company says that offer saved customers 24% over a la carte purchases on average. In March it returned as McPick 2 for $5 with core items, offering savings of 35% on average.
That means "2 for $5" is a better value for consumers and a likely a wiser business decision from operators' point of view. Nomura analyst Mark Kalinowski's survey of 26 U.S. franchisees in April found solid preference for "2 for $5" over the sharply criticized "2 for $2" platform. "McPick 2 for $2 was the most devastating promotion to operator cash flow we have run in the past 10 years. Any McPick '2 for' below the $5 mark will only erode our check average and cash flow," lamented one franchisee. But another said, "The McPick 2 for $5 has worked pretty well, I have to admit, even though I dislike food discounts. It isn't cheap but it creates a good value for products people actually want."
McPick now is McDonald's official value platform. Items included and price points will continue to evolve nationally and locally for the foreseeable future, Salgado said. In between national promotional periods, local owner/operators have the freedom to select menu items and the price point they know their local customers want most.
During his Q1 earnings call with analysts in April, McDonald's Corp. CEO Steve Easterbrook said the question being studied after the "2 for $2" and "2 for $5" promotions was, "at what level do we want to deploy this at a national level, and use that national marketing muscle. And how much do we want to allow the flexibility at the regional level, because we've got these re-energized regions, 23 of them, around the U.S. and they want to bring it to life. But maybe the menu mix in that deal could be different in the Southwest of the country than it would be in the Northeast. And I think that flexibility, knowing your consumer group, knowing your competitive group, knowing what that value price is, allows us to unleash on the power of our regional marketing muscle."
This new national/local combination approach answers the question, Salgado told BurgerBusiness.com. The national layer allows McDonald's to promote classic items while the local layer flexes that "regional marketing muscle" to meet local taste preferences.
Salgado says the choice of "2 for $5" for the national platform doesn't mean McDonald's is neglecting those who used "2 for $2" because of limited discretionary dollars. "We evolved the Dollar Menu into the everyday-value menu that is the place on the menu board with entry-priced items for around $1. Those are up to each market to [choose] and to price. We constantly have products for the entry-value seeker. Those are available on a local basis."