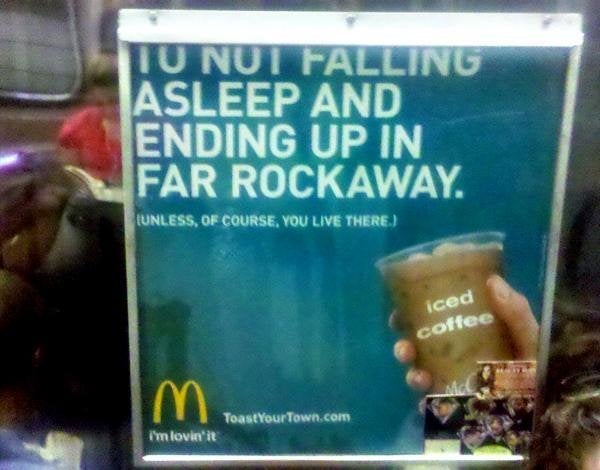 Ronald McDonald can bring his big red shoes back to Far Rockaway -- it just might take him a while to get there.
City Councilman James Sanders had jokingly banned the fast food mascot from Rockaway beach after McDonald's put up 1,000 ads on the A train for its iced coffee that read, "To not fall asleep and end up in Far Rockaway" and then in smaller print below "Unless of course, you live there."
It's an experience a lot of New Yorkers have had -- tired after a long day at work, or maybe a long night of partying, you fall asleep on the train and end up at the end of the line.
But Sanders wanted everyone to know that people don't only end up in the Rockaways by accident. According to YourNabe.com, the councilman said in a statement that people come to the Rockaways, "for the beauty, serenity and entertainment that our peninsula offers, especially in the hot summer months when our beaches are overrun with visitors from Manhattan who flock to our shores."
And although the councilman's statements seemed part publicity stunt for the New York beach neighborhood, McDonald's has taken the complaint seriously and said it will remove the ads.
McDonald's spokeswoman Jennifer Nagy apologized to anyone offended by the ad. The company has two restaurants on the peninsula, including one in Far Rockaway.

"Our intention was to add humor to the situation of falling asleep on the subway, missing a local home stop and waking up at the end of the line," Nagy said in a statement.

Sanders would still like Ronald McDonald - and the clown's bosses - to ride the A train to Far Rockaway with him. The Democrat even offered to spring for their subway fare.

"It may take a long time to get here, but it's worth it," Sanders said.
A McDonald's spokeswoman said Ronald McDonald would not take up Sanders' offer, according to YourNabe.com.
Calling all HuffPost superfans!
Sign up for membership to become a founding member and help shape HuffPost's next chapter