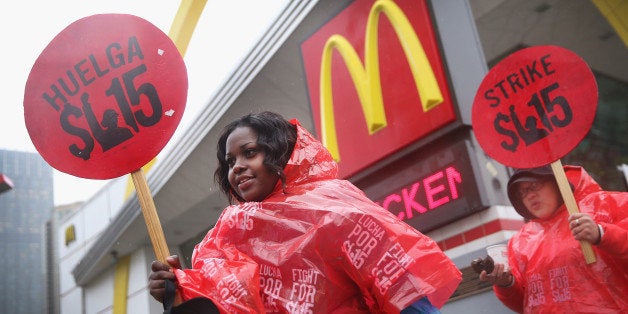 Forget the salad wraps or apple slices -- McDonald's is now serving up an even more creative alternative, in an attempt to satisfy thousands of workers demanding fair wages and respect at the workplace.
At the company's annual shareholder meeting this week, McDonald's fired back at growing public criticism of its low-wage business model by insisting that they "provide opportunity," including "job opportunities and training for those entering the workforce."
Career advancement and upward mobility -- it's an appealing promise. Unfortunately, this promise is about as real as the "meat" in the classic McRib.
Assurances from the company aside, U.S. Census Bureau data make clear that opportunities for advancement are more illusory than real at companies like McDonald's.
The data show that front-line occupations like cashiers, cooks, and delivery workers -- earning a median hourly wage of $8.94 per hour -- make up roughly 90 percent of all jobs in the fast-food industry.
Crew supervisors or shift managers, who earn a median hourly wage just slightly higher $13.06 per hour, make up another eight percent of jobs in the industry.
Meanwhile, managerial and professional occupations like store managers or corporate employees -- the kind of positions the company points to as opportunities for front-line workers -- make up just two percent of all jobs in the industry.
Maybe it's possible to justify paying lower wages to those starting out as fry cooks or cashiers if hard work and professional commitment could actually land you a position as a store manager or a spot at corporate headquarters one day. But this story of upward mobility is just that, a story, completely divorced from the facts.
Remarkably, McDonald's also defends its business model by holding up an even more far-flung option for advancement: franchise ownership. At this week's shareholder meeting, the company highlighted the story of Ricardo Carceres, who started as a crewmember and says he is now preparing to buy his own franchise. But these individual success stories notwithstanding, the data make clear that opportunities for franchise ownership in the fast-food industry are even more limited than the chances for promotion to management.
Census data show that franchise owners make up just one percent of all positions in the fast-food industry; at McDonald's, franchise owners are an even more select crowd, making up just 0.3 percent of all jobs at the company.
The sky-high financial requirements the company uses to screen potential franchise applicants helps explain why this opportunity remains an unrealistic option for front-line workers: company records show that McDonald's franchisees must have at least $750,000 in non-borrowed assets in order to be approved -- an impossible qualification for a cashier while remaining stuck in a job paying $8.94 per hour.
McDonald's may think that selling this "mobility myth" will help deflect mounting criticism for the time being, but the reality is clear. And compared to these miniscule chances for promotion, it should be no small surprise that thousands of McDonald's workers now see striking for $15 per hour and a union as the only real path for securing a living wage in their lifetimes.
Related
Popular in the Community