McDonald's Corp. already is testing a smaller, cheaper and more drive-thru-friendly version of the Create Your Taste customization platform that has been touted as central to its drive to become what CEO Steve Easterbrook calls "a modern progressive burger company."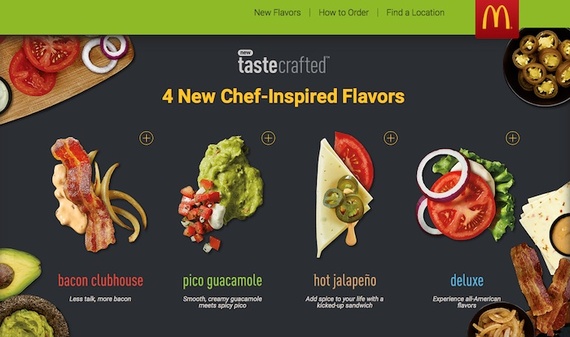 Testing in the Central Coast of California co-op (north of Los Angeles, from Santa Barbara to Paso Robles) and a few Oregon markets (including Hillsboro), this new platform, called TasteCrafted is a streamlined version of Create Your Taste. Janney Montgomery Scott restaurant analyst Mark Kalinowski first reported the test today. He says the new version would cost far less than the $125,000 that one franchisee said the Create Your Taste platform would cost per-store and could be rolled out sooner.
It's a 3-step ordering process. First choose quarter-pound beef, Artisan Grilled Chicken or crispy chicken as the protein. Next choose a bun (artisan roll, sesame-seed bun or potato roll). Finally pick one of four "flavors" or toppings packages: Bacon Clubhouse (bacon, sauce, onions); Pico Guacamole (guacamole, pico de gallo); Hot Jalapeňo (jalapeňo slices, spicy cheese, sauce, tomato); or Deluxe (lettuce, tomato, mayo, red onion).
It's customization but it's not "Have it however you want it." Choices are minimal (Create Your Taste offers eight topping options and seven sauces) and controlled. That's what may make it more appealing to McDonald's operators since they fear having kitchen flow slowed or crashed by full-on customization.
What operators may like a little less is the limited-time discount promotion to build trial: Free soft drink (any size) and fries with TasteCrafted purchase (through May 10). Drinks and fries are high-margin items.
Writes Kalinowski, "TasteCrafted can apparently be done both in the restaurant and in the drive-thru (important because 60%+ of McDonald's U.S. business is conducted via the drive-thru), whereas the Create Your Taste test is (so far at least) not available at the drive-thru."
On its site, Oregon franchisee UTB Enterprises promotes TasteCrafted as "A bold new way to order your lunch & dinner." It explains the benefits this way: "Refocusing the menu allows a faster, more accurate and more enjoyable ordering experience. Know that you are getting what you want every time."
Kalinowski won't speculate whether TasteCrafted will be part of McDonald's promised May 4 announcement of the first steps in a new turnaround strategy for the brand. But while Create Your Taste was developed in Australia during former-CEO Don Thompson's administration, TasteCrafted may well be a product of Easterbrook's new team. If so that could weigh heavily in its favor.