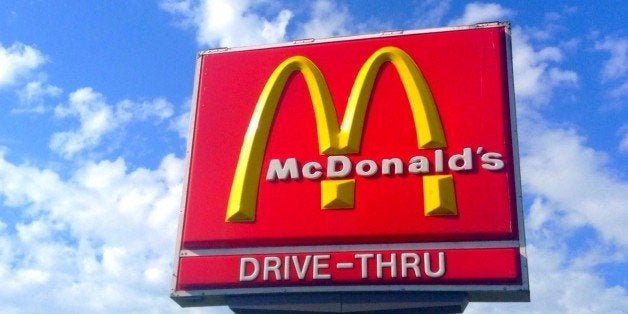 In selected markets McDonalds is trying out a "Signature Burger," a new low-price entry that anchors what's been rechristened the "Lovin' Value Menu."
The Signature Burger doesn't bring new ingredients to the McDonald's pantry. It combines two regular burger patties with white cheddar cheese, tomato, lettuce and creamy Dijon mustard sauce. It's on a potato bun that's a step up from most of the burgers on what used to be the Dollar Menu & More.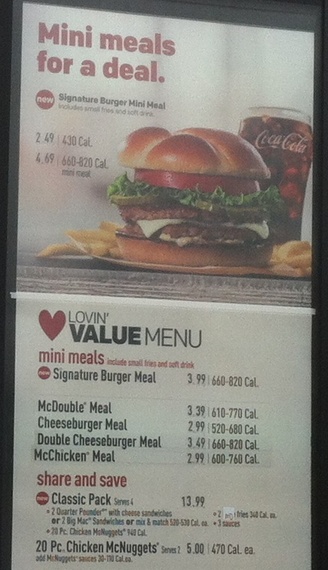 Test drive-thru menu boards don't mention the Dollar Menu & More. Instead they promote the Lovin' Value Menu's "Mini Meals," which are higher-margin combo meals involving items that were on the Dollar Menu & More. The Signature Burger is $2.49 by itself (prices may vary). But with small fries and small soft drink it tops the new Mini Meal category at $3.99. With a not-so-mini medium soft drink & fries the price is $4.69. That brings it close to the $4.99 a la carte price for the premium-tier Sirloin Third Pound burgers.
Other Mini Meal combos promoted up high on the drive-thru menu board being tried are a $3.39 McDouble Mini Meal, $2.99 Cheeseburger Mini Meal, $3.49 Double Cheeseburger Mini Meal and $2.99 McChicken Mini Meal. These items also are listed lower on the menu board at their a la carte prices (again, not with the Dollar Menu & More name), a duplication that runs counter to the menu streamlining and simplification McDonald's says it is seeking.
Another interesting element of the Lovin' Value Menu in test is a Classic Pack boxed meal. If you're a longtime BurgerBusiness.com reader, you know I've been talking about multi-person boxed meals since McDonald's Australia introduced the Dinner Box in 2010. It has taken five years, but the boxed multi-person meal finally seems ready for the big time in the U.S. after spreading just about everywhere else in the global McDonald's system. As tested, the $13.99 Classic Pack has two Quarter Pounder with Cheese or two Big Macs (or mix and match) plus two medium fries, three sauces and a 20-piece Chicken McNuggets. The menu board say it "serves 4" though two young adults with hearty appetites might disagree.
In his May 4 video speech outlining the beginnings of his turnaround plan, McDonald's CEO Steve Easterbrook promised, "Stronger insights underpinning the development of a compelling and sustainable everyday value proposition this summer to drive sales." This "Lovin' Value Menu" platform with its Mini Meal combos and Signature Burger certainly may be parts of that.
McDonald's summer menu also will see the return of Frozen Strawberry Lemonade plus a new beverage: a McCafé Green Apple Smoothie.