Already finding itself a seat on the sriracha bandwagon, McDonald's now is taking a shot at the other hot QSR food trend--tater tots--in its favorite test market, Australia.
In Australia, where summer approaches, McDonald's is offering a Summer Sides Box, a multi-person combination of three deep-fried items: eight Hash Brown Bites, eight Chicken McNuggets, 12 Chicken McBites and three sauces, including Big Mac Sauce.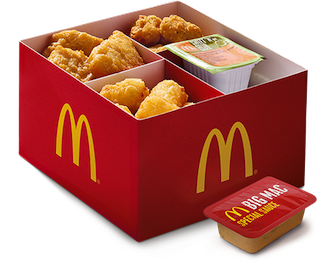 This box of sides is itself an interesting idea (tried already at McDonald's in several European markets), but more intriguing are the Hash Brown Bites. These are, in essence, McDonald's hash brown patties from the breakfast menu scaled down to become...tater tots. As featured on BurgerBusiness recently, tots have become popular must-haves at burger bars, where they function as burger toppings or as sides, or even as the basis of poutine-like entrées. Americans eat upwards of 70 million pounds of tots annually, so McDonald's is late coming to this party. Burger King last month recognized the trend with its introduction of Cheesy Tots. Umami Burger sells cheese-topped tots, as well.
Moving ideas--including menu ideas--that work in one market to another has been a core platform of McDonald's CEO Steve Easterbrook's plan to develop a "more nimble" organization. In his Q2 2015 earnings call with analysts in July 2015, Easterbrook said, "I believe that's when McDonald's is at its best: when we have test sales actively pushing the boundaries. And when something works we can then transport it from market to market at pace."
McCafé and Chicken McBites were McDonald's Australia creations, and it was the lead market on Create Your Taste. It is selling barista-crafted beverages at the drive-thru, and McDonald's officials told Bloomberg recently that the chain plans to reintroduce and revitalize the McCafé brand here in 2017. Could baristas here be far off?
If the Hash Brown Bites--and the Summer Sides Box that is the only place they can be found--prove successful in Australia during its summer/our winter, watch for them to be here when it's our turn for summer. The Sriracha Mac Sauce McDonald's is testing would be perfect with its tots, er, Hash Brown Bites.