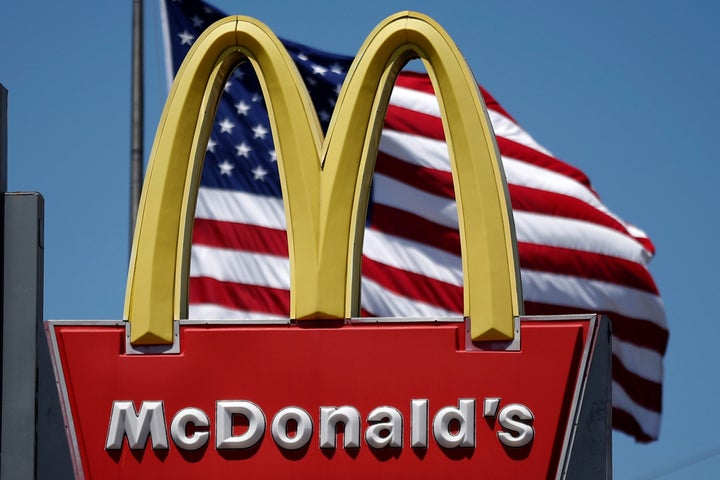 As the face of the fast-food industry, McDonald's has always been the juiciest target for the Fight for $15 movement. Labor unions and low-wage workers have sued, mocked and vilified the Golden Arches ever since workers first walked off the job in 2012 to protest poverty pay.
So it's no shock that the world's most recognizable burger chain would have turned to outside consultants to help fight its high-stakes public-relations battle. But workers leading the Fight for $15 may have been surprised by exactly who helped out the company: a consulting firm with close ties to the Clinton family and the Democratic Party.
As The New York Times reported last week, McDonald's relied on Teneo Holdings to help craft its message around growing calls to raise its pay for workers. Fashioned as an advisory firm for CEOs, Teneo is stocked with powerful politicians and business executives who help corporations handle "reputational" risks.
Former President Bill Clinton and longtime Hillary Clinton aide Huma Abedin are among Teneo's alumni. One of the firm's co-founders, Douglas Band, was an adviser to Bill Clinton while he was in the White House; another, Declan Kelly, raised money for Hillary Clinton's first presidential bid. Abedin's stint at Teneo coincided with her work under Clinton at the State Department, a controversial arrangement that was rife with potential conflicts of interest.
In short, Teneo offers corporate executives entree to major players in the Democratic orbit, at a price of up to $250,000 or more per month, according to Politico. As the Times reported, Chelsea Clinton complained in hacked emails released by WikiLeaks that Teneo consultants were "hustling" for work at the annual Clinton Global Initiative confab.
In the case of McDonald's, Teneo would have been helping the fast-food giant counter a labor cause that Democrats and Hillary Clinton herself have championed. It's just the sort of relationship that progressives point to as evidence of establishment Democrats' coziness with corporate America.
Teneo and Band did not respond to a request for more information on the firm's work for McDonald's. Terri Hickey, a McDonald's spokeswoman, said in an email that "Teneo previously assisted us broadly on corporate strategy and they no longer assist us."
The Fight for $15 has been organized and bankrolled by the 2 million-member Service Employees International Union. SEIU was one of the first labor unions to endorse Clinton for president, and it is spending millions of dollars trying to get her into the White House.
Asked for comment on Teneo's work for McDonald's, SEIU provided a statement attributed to Chantoria Henderson, a 27-year-old McDonald's worker from Richmond, Virginia, who earns $8.50 per hour. Henderson reserved all her criticism for McDonald's.
"It's disappointing McDonald's would spend big money on a consulting firm to keep wages low and hold back workers," she said. "We are trying to lift up families, help people get ahead and strengthen communities. Instead of paying a consulting firm to fight against raises for hard working Americans, McDonald's should do the right thing and just pay workers more."
Retaining Teneo would have made a lot of sense for McDonald's. When SEIU launched the Fight for $15, the idea of a $15 minimum wage seemed preposterous. But four years later, the campaign has notched victories around the country, including a path to a $15 wage floor in several cities and the state of California. The protests have also helped compel McDonald's to raise its baseline pay for workers in corporate-run locations.
Still, the movement is a long way from winning $15 per hour for all workers. Republicans in Congress have not allowed a vote on a minimum wage bill, and even many Democrats have balked at the number at the core of the Fight for $15.
That includes the likely occupier of the White House next year. Clinton has not supported a nationwide minimum wage of $15, instead embracing a $12 plan put forth by congressional Democrats.
Popular in the Community