McDonald's is encouraging its workers to take time off to stay healthy, even as many of them can't afford to take that advice.
The fast food giant's personal wellness website, called the McResource Line, is now offering workers guidance on how to eat healthy, manage stress and get enough sleep. "Don't let the distraction of your money worries prevent you from getting regular exercise, eating healthy and getting enough sleep," the website says. The site also offers dieting advice -- telling workers to break their food into small pieces to eat less and stay full -- that could appear insensitive to a low-paid workforce that sometimes relies on food stamps.
The advice recently came to light after Low Pay Is Not OK, a group of fast food workers campaigning for higher wages, produced a video about some of the site's suggestions.
Among many tips on how to de-stress is one championing the benefits of vacation: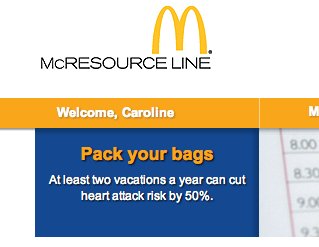 Some of the tips on the McResource website could be "taken out of context," but the site as whole was intended to be an employee resource, Lisa McComb, director of U.S. media relations for McDonald's, wrote in an email to HuffPost.
Jeanette Lynn, a 26-year-old McDonald's worker in Durham, N.C., told The Huffington Post that she has worked for a franchise for two years and gets no paid vacation, holidays or sick days. Working less than 20 hours a week for $7.25 an hour, Lynn has never gotten a raise and has a hard time supporting her three sons on fast food wages.
"We make $7.25 an hour," Lynn said. "Why in the world would we take vacation if we already aren't getting paid enough?" Lynn said she recently had her hours cut and is planning to apply for public assistance to supplement her income.
Are you a fast food worker who would like to take vacation but can't afford it? Email business-tips@huffingtonpost.com telling us where you would go and how much it would cost you.
Paid vacation can be particularly out of reach for part-time workers and those with short tenures at a company. Much of McDonald's workforce fits that bill. According to congressional testimony by Rich Floersch, McDonald's global chief human resources officer, 80 percent of hourly workers at company-owned restaurants are part time, and the average worker has been employed for just 17 months (similar figures are unavailable for the company's franchises, which represent more than 80 percent of its restaurants).
At an independent franchise in Cairo, N.Y., paid vacation is only granted to workers who average a minimum of 20 hours per week and have worked for McDonald's for a year. An online job application for various open positions at McDonald's across the country states "part-time workers often receive more limited job benefits."
Taking time off for a vacation is nothing more than a dream for most fast food workers, said Ellen Bravo, the director of Family Values At Work, a national network of 21 state coalitions fighting for paid sick days, family leave and other job benefits for workers.
"It's easy for McDonald's to say, 'Sleep tight and don't worry,' but very hard for a worker to do on a tight budget, and no paid leave when you are sick, and no vacation," she said.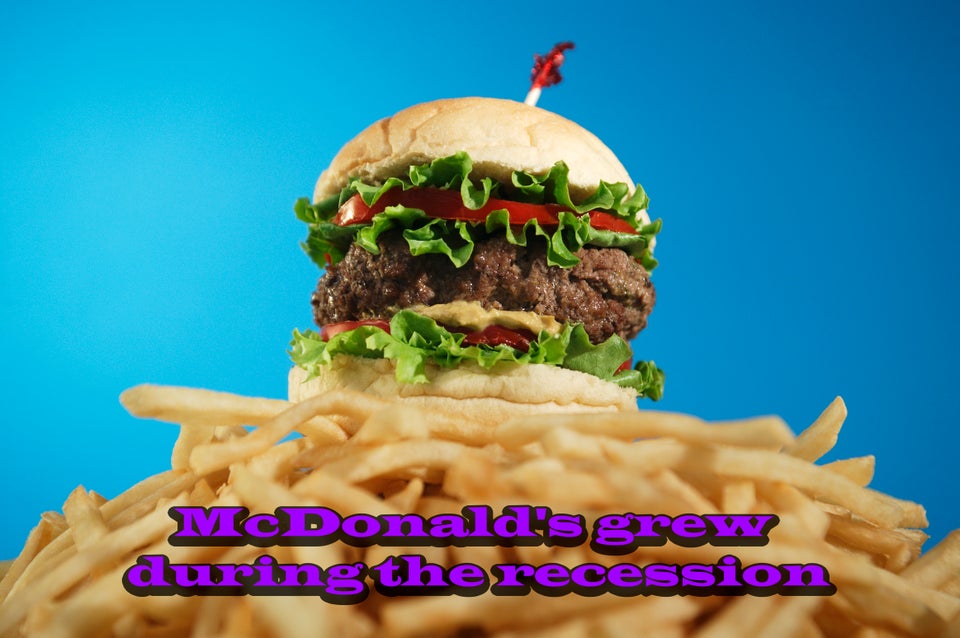 10 Things The Fast Food Industry Doesn't Want You To Know