New York state has reached a settlement with the owner of seven McDonald's franchises that will give nearly $500,000 to fast-food workers who claimed they were shorted on pay, according to state Attorney General Eric T. Schneiderman.
The attorney general's labor bureau found that cashiers regularly performed off-the-clock work before and after their shifts at the Manhattan restaurants owned by Richard Cisneros. Workers weren't given an allowance for the time and costs associated with cleaning uniforms they had to wear, nor did they receive an extra hour of minimum-wage pay after shifts in which they worked 10 consecutive hours -- requirements of New York law.
The settlement money will go to more than 1,600 current and former McDonald's employees.
"Like every other business in New York State, fast food employers must follow our labor laws," Schneiderman said in a statement. "Our lowest wage workers deserve the same protections of the law as everyone else. It's critical, for them and for their families as well as for our economy, that we remain vigilant so that no New Yorkers are cheated out of their hard won earnings."
In an email through a spokesman, Cisneros said his restaurants were now in compliance with all regulations. "I value my employees –- and it is important to me that they be paid correctly," Cisneros said. "So I am pleased to have reached a settlement with the New York State Attorney General to correct mistakes my organization made in this area. We have also agreed with the Attorney General to use the services of a third party administrator, who will help us ensure that current and former employees who are due money receive that money."
None of the restaurants were operated directly by McDonald's, which franchises the majority of its locations.
The labor practices of fast-food companies and their franchisees have come under unusual scrutiny in recent months. Fast-food employees in cities across the country have staged one-day walkouts over low pay, while workers have launched high-profile wage-and-hour lawsuits like the ones announced against McDonald's last week.
Lawyers representing McDonald's workers in New York, California and Michigan said last week they were filing lawsuits against the company and its franchisees, claiming workers were systematically shorted on pay. The plaintiffs allege the company and its store operators broke minimum wage and overtime regulations and failed to reimburse them for uniform costs. A McDonald's spokesperson said the company was looking into the allegations.
In New York, Schneiderman's office has taken an active role in investigating claims from low-wage workers that they were cheated out of pay. Earlier this month, the state announced a $3.9 million settlement involving alleged labor abuses by New York car wash chains. Schneiderman's office has created a "fast food worker complaint form" asking employees to provide details on the pay and scheduling practices where they work.
In December, Schneiderman secured the reinstatement of 25 Domino's workers who were fired after they spoke up alleging labor abuses by a New York City franchisee.
According to Schneiderman's office, a claims administrator will determine how to divvy up the settlement with Cisneros among the 1,600 eligible workers.
This post has been updated with comment from Cisneros.
Before You Go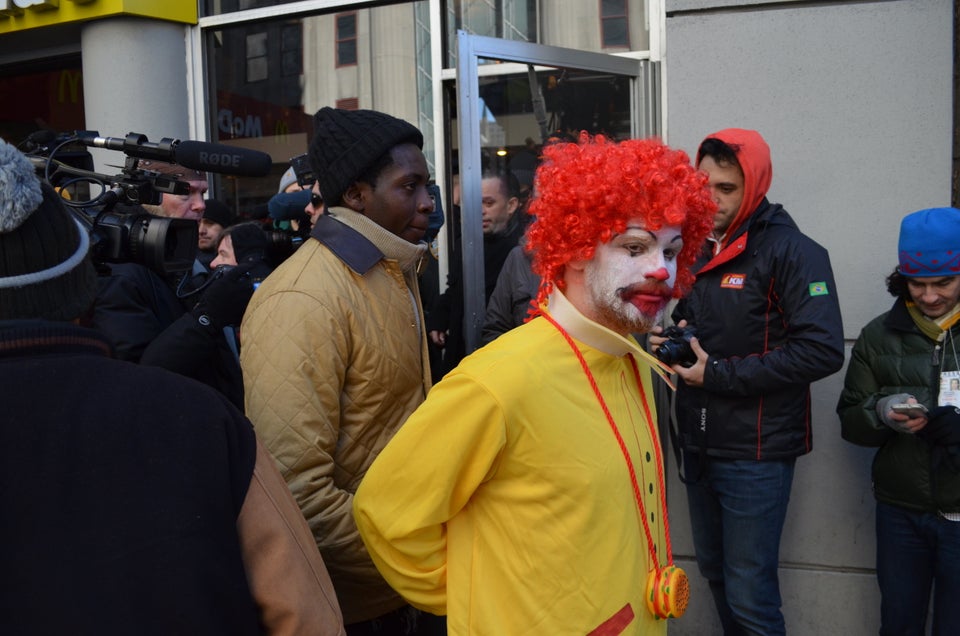 McDonald's Wage Theft Protests - New York City
Popular in the Community