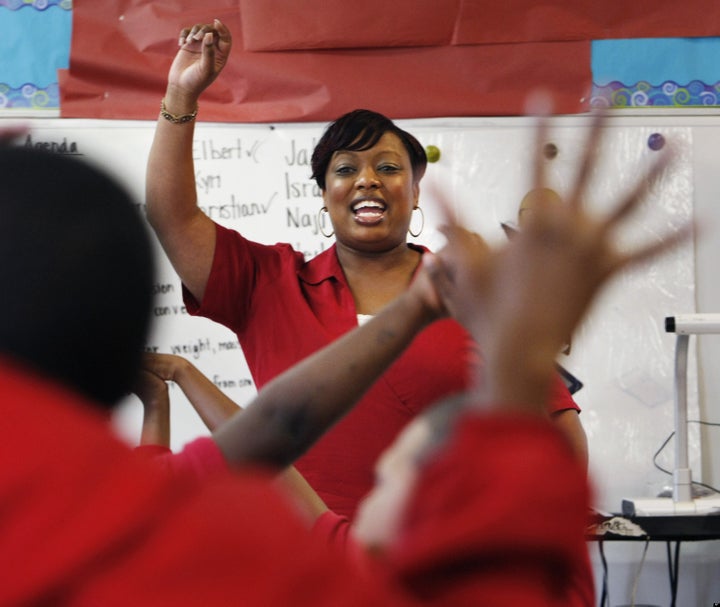 Amid a nationwide stir in which teachers' rights are up for discussion, a new report says the U.S. should raise the status of the profession.
In an education speech Monday, President Obama repeated sentiments from his State of the Union address, calling for greater respect of teachers and lauding foreign education system, the New York Times reports.
"In South Korea, teachers are known as nation builders. I think it's time we treated our teachers with the same level of respect right here in the United States of America."
Obama has made education a primary focus and is pushing Congress for reform by September. He'd like to see better efforts made that support teachers, leaving much room for creativity and growth and little room for poor teaching, the Associated Press reports. Obama has stressed that education cuts are not an option.
Andreas Schleicher, one of the report authors, tells the New York Times the U.S. spends education dollars disproportionately on areas such as bus transportation and sports facilities.
"You can spend a lot of money on education, but if you don't spend it wisely, on improving the quality of instruction, you won't get higher student outcomes," Mr. Schleicher said.
Attempting to prove that attracting the best teachers and holding them accountable gives way to academic success, a charter school in New York City is offering teachers $125,000 a year.
The school's founder and principal said the teachers are "worth it" and has hand-picked the best and brightest, CBS reports
Some of the school's chosen teachers include Rhena Jasey, a Harvard grad who's been teaching for eight years and Gina Galassi, an accomplished violist who teaches music.
REAL LIFE. REAL NEWS. REAL VOICES.
Help us tell more of the stories that matter from voices that too often remain unheard.