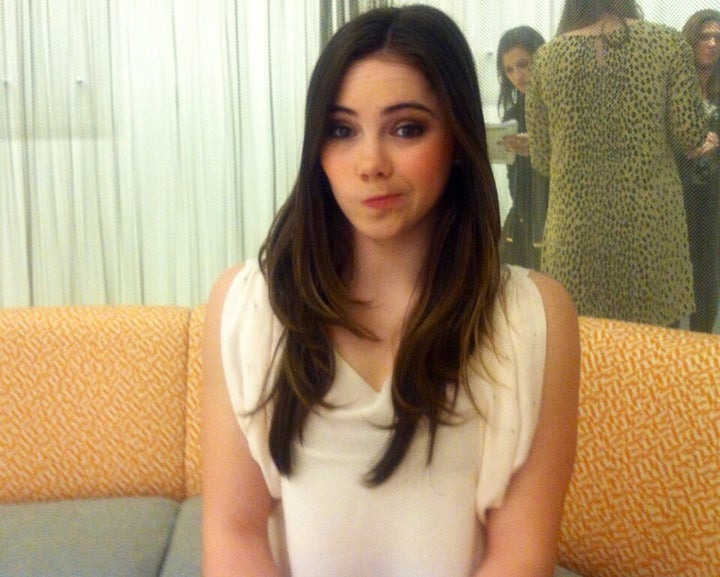 Whether it's the result of winning an Olympic gold medal or being the subject of arguably the most viral meme of 2012, 17-year-old McKayla "not impressed" Maroney possesses the kind of cool that will forever eclipse the rest of us laypeople. Besides gymnastics glory and Internet fame, the Fab Five member's recent accolades include meeting (and being impersonated by) President Obama, making a cameo on the "Vampire Diaries" and landing a major endorsement deal. NBD.
We caught up with McKayla at the Huffington Post offices in Manhattan to pick her brain on how she copes with social media drama, the advice she'd give her younger self, and of course, her all-time favorite incarnation of the "not impressed" meme.
McKayla: "It's been crazy but really fun. My whole entire life, I trained to get to that point. You never really think about what happens after the Olympics -- you're just like, 'I want to compete, I want to do well' and thinking about that. After it all happened, it was such a whirlwind. I've gotten to do so many amazing things. My favorite thing was getting into acting."
"He's the coolest person I've ever met. He's so down to earth, he did the not-impressed face. It was really funny."
"You can't really get anybody ready for that. It's so crazy. Every single day I have people tweeting me new things that they've come up with for a meme. They put me with Ryan Gosling and other people that I'm not impressed with... [My favorite] is this one with Ryan Gosling where he's standing in the rain and he's like, 'I wrote you 365 love letters!' and then it has a picture of me being unimpressed with how many love letters he wrote me."
On Her Social Media Obsessions:
"I'm obsessed. I think [social media] is the most fun thing ever. I do pretty much everything: I connect with my friends and my fans, and people like my family can follow me wherever I am, because it can be hard to keep in touch with them, too. My favorite thing is definitely connecting with my fans. And if I had to pick a favorite [platform], I can't even decide between Twitter and Instagram. I started with Keek -- that's really fun, too."

On Dealing With Online Haters & Social Media Drama:
"The first thing was the not-impressed face. I got a lot of bad, bad feedback on that because people thought that I was being disrespectful to my country. That's not really what it was... So that was one of the things I had to really learn from. You have to stay true to yourself and where you're coming from, and sometimes people see you in a different light, but you have to take it in and try to be positive about anything."
"Sometimes, I just have to be alone for a little bit... I think my favorite thing to do is just watch something funny on TV and take a shower. I like to take my laptop and go on Twitter and Instagram, but sometimes you have to stay off of it too because not everything is positive. And I cannot read the comments. No, no, no. That's a very bad idea.
There's a lot of stress out there, and to handle it, you just need to believe in yourself, always go back to the person that you know you are and don't let anybody tell you any different, because everyone's special and everyone's awesome."
The Advice She'd Give To Her Younger Self:
"Always, always follow your dreams and never give up on them. If you're following your dreams, you're doing something you love and that you believe in yourself for. So many kids are told that they can't do something or they shouldn't do something and it's really sad because it's what they want to do and what they love. But you have to work hard at it; that's the most important thing... I don't want to ever live with regrets so I always do whatever I think that I should do."

What do you think of McKayla's advice to her teen self? Can you relate to her de-stressing strategies? Tell us in the comments or tweet @HuffPostTeen!
Popular in the Community