If you remember anything about McKayla Maroney, hopefully it's her near-perfect vault at the 2012 London Olympics that helped Team USA clinch the gold for the Gymnastics team finals. Or maybe you remember her name from the many post-Olympic appearances the "Fierce Five" made after returning home from London, which included a visit to the White House.
But most likely, you remember her infamous photo that went viral during the 2012 games.
After falling during her dismount, the world's greatest vaulter at the time settled for the silver medal for the Individual Vault, an event she should have easily won gold in. Maroney shocked the world, and herself, when she fell on a vault she had completed perfectly every time she attempted it in the few months prior. During the medal ceremony, Maroney let her cool slip for a single second, making a face that proved she was less than thrilled about placing second and watching someone else be awarded what many considered her gold medal.
Thus the McKayla Maroney "not impressed" meme was born.
The smirking picture of Maroney sparked a Tumblr page solely dedicated to photos of Maroney looking "not impressed" at various moments when one would undoubtedly, well, be impressed.
Maroney isn't competing at this year's games due to a range of injuries, but it seems the 20-year-old has struck gold. Much to her delight, she has been dethroned as the meme champion of the Olympics, allowing the gold-medal-winning Michael Phelps to take her place.
"Somebody tweeted like, 'McKayla looks like somebody took your spot' ... and I looked at his pictures and was like, 'YES! Go Michael, take it away please!'" Maroney told TMZ about Phelps' now-iconic scowl.
While gearing up for a swimming semi-final race, the champion swimmer encountered his arch-nemesis, South Africa's Chad le Clos, who beat him at the 2012 games by a mere five-hundredths of a second. Cameras caught Phelps glowering at le Clos with a look we wouldn't wish on our worst enemy, and almost instantaneously, Maroney's reign as "Queen of the Memes" was over.
The internet did what it always does when even a small umbrella worth of shade is thrown and quickly produced a stream of hilarious memes featuring Phelps' glare.
"I now see why people thought (the memes were) so funny," added Maroney.
We imagine it's much easier to laugh when the whole world tweets about someone else's face.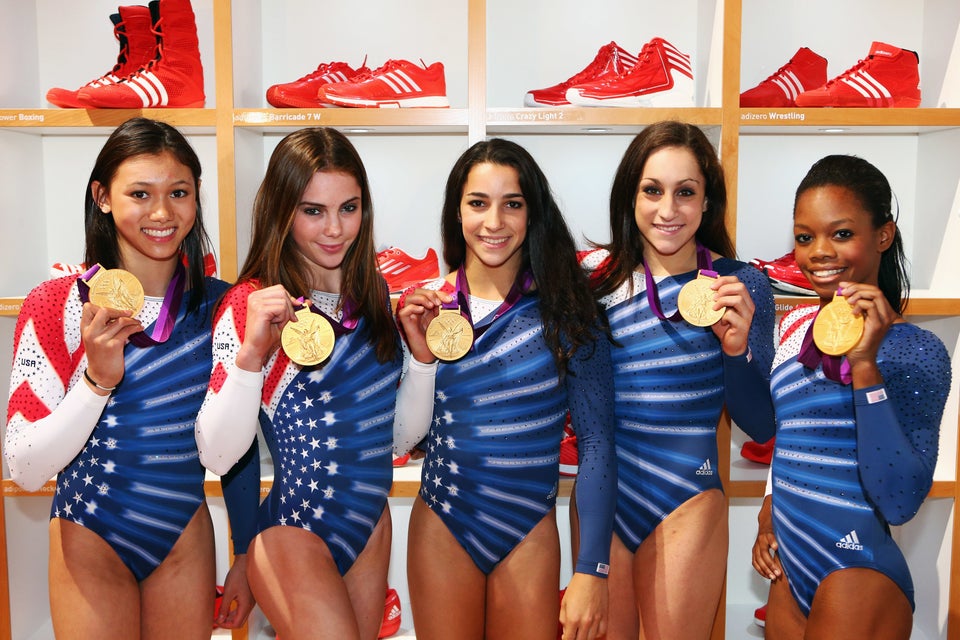 The "Fierce Five" Competing At 2012 London Olympics