In a Twitter post published early Wednesday morning, Maroney detailed years of alleged sexual abuse she says she endured at the hands of Nassar. The Olympic gold medal winner wrote that she was inspired to come forward after reading all of the stories women have shared with the hashtag #MeToo.
"Everyone's words over the past few days have been so inspiring to me," Maroney wrote. "I know how hard it is to speak publicly about something so horrible, and so personal, because it's happened to me too. People should know that this is not just happening in Hollywood. This is happening everywhere. Wherever there is a position of power, there seems to be potential for abuse."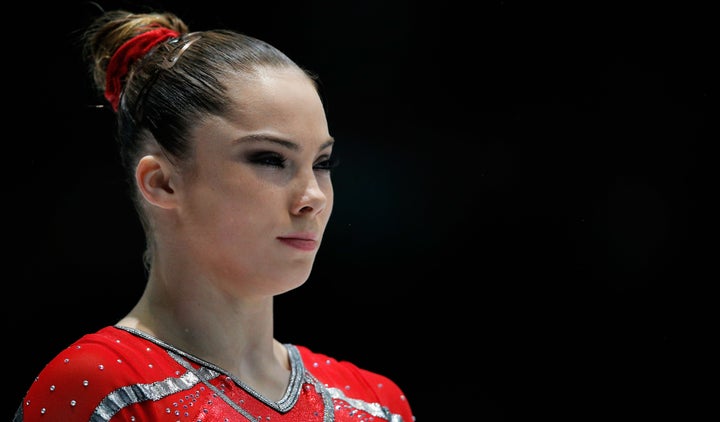 Nassar, who was a highly-renowned doctor in the gymnastics world for years, has been accused of sexually abusing more than 100 women, many claiming that the doctor abused them during routine medical exams. The accusations against Nassar started coming out in September 2016. Most of the women who have come forward against Nassar are athletes or former athletes, many of whom were top-tier gymnasts. Some of the women who have come forward were as young as 12 at the time of the abuse.
Now 21 years old, Maroney wrote that the abuse started when she was just 13.
"Dr. Nassar told me that I was receiving 'medically necessary treatment that he had been performing on patients for over 30 years,'" Maroney wrote. "It started when I was 13 years old, at one of my first National Team training camps, in Texas, and it didn't end until I left the sport. It seemed whenever and wherever this man could find the chance, I was 'treated.'"
Maroney wrote that Nassar sexually abused her twice while competing in the Summer 2012 Olympics, once before she won the gold medal and once before she won the silver.
One of the most harrowing parts of her story allegedly happened when she was 15 years old when Maroney says Nassar gave her a sleeping pill on a flight to Tokyo.
"For me, the scariest night of my life happened when I was 15 years old," she wrote. "I had flown all day and night with the team to get to Tokyo. He'd given me a sleeping pill for the flight, and the next thing I know, I was all alone with him in his hotel room getting a 'treatment.' I thought I was going to die that night."
Maroney suggested some actionable steps to combat sexual abuse including education and holding people in positions of power accountable for their actions.
"Is it possible to put an end to this type of abuse? Is it possible for survivors to speak out, without putting careers, and dreams in jeopardy? I hope so," she wrote. "Our silence has given the wrong people power for too long, and it's time to take our power back. And remember, it's never too late to speak up."
Popular in the Community