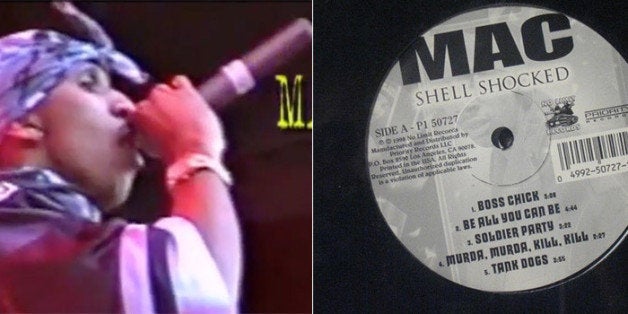 ST. TAMMANY PARISH, Louisiana -- As he lies at night in his cell at Elayn Hunt Correctional Center, McKinley "Mac" Phipps can hear the words of his best-known song echoing in his head:
Murda, murda (murder, murder)

Kill, kill (kill, kill)

S**t's real (s**t's real)

On the battlefield (on the battlefield)
In the late '90s, on the verge of stardom, the young hip-hop artist was known as "Mac the Camouflage Assassin." Master P had signed him to No Limit Records, alongside Snoop Dogg and Mystikal. He was a member of the 504 Boyz, and their 2000 album, "Goodfellas," went gold, reaching No. 2 on the Billboard 200.
Then, on Feb. 21, 2000, at a show just outside New Orleans, a concertgoer was shot, Phipps was charged with first-degree murder and everything slipped away. He was just 22 years old.
But the prosecutors did have one great weapon to use against Phipps -- his words -- and they wielded them like a club, selectively misquoting his lyrics and taking them out of context, to incriminate the defendant.
In the cement room where Phipps now resides, he doesn't hear himself singing "Murda, Murda, Kill, Kill." He hears the botched version that Assistant District Attorney Bruce Dearing recited to jurors -- part of the closing argument to a case that leaves Phipps just halfway through a 30-year sentence.
"I didn't have any criminal history for them to look into, so I guess they had to find some indication that [I have] a dark side," Phipps told HuffPost. "So that's when they turned to the music."
MAC PERFORMING ON STAGE: (Story Continues Below)
To be sure, you could quote the lyrics of John Lennon, Johnny Cash, Bob Dylan or another celebrated songwriter, take them out of context and use their art to portray them as violent. Nevertheless, several notable hip-hop stars -- including Snoop Dogg, Beanie Sigel and Lil Boosie collaborator B.G. -- have had their music used against them in criminal proceedings.
Phipps' fate was sealed when Dearing linked the imagery in his songs to the charges he faced. In one of the most dramatic moments from his closing, Dearing told the all-white jury:
"This defendant who did this is the same defendant whose message is, 'Murder murder, kill, kill, you f**k with me you get a bullet in your brain.' You don't have to be a genius to figure out that one plus one equals two."
The message was loud and clear, according to Robert Hammell, who served as the jury foreman.
"The music -- the lyrics -- they played all that s**t [in court]," Hammell said. "I don't listen to that s**t, but the music might have been the problem. The rap got his mind all messed up. He was living a life that he thought he was a gangsta. He was making it big time with the gold chains and all that s**t that went with it. To shoot somebody in a public place on the dance floor, you gotta think you're a bad son of a b***h."
What Hammell and the other jurors didn't know was that the lyrics Dearing quoted were far from accurate. Those words weren't taken from any single song. They were selectively spliced together.
In an analysis of the lyrics, HuffPost discovered that parts of two songs -- "Murda, Murda, Kill, Kill" and "Shell Shocked" -- were combined and some words were changed.
Because of the way it was presented to the jury, the defense lawyers were unable to object to this apparent deception.
"I knew I didn't say that on none of my songs," Phipps told HuffPost. "I was dumbfounded when I heard it and initially thought he took lyrics from someone else on one of my albums. But it didn't really matter. Because he had used it in opening and closing, it couldn't be rebutted because those statements cannot be taken as evidence. So that's how he slid it over."
McKinley Phipps Jr., left, with his father McKinley Phipps Sr.
In the song "Shell Shocked," Phipps was rapping about his father's experiences as a soldier in the Vietnam War: "Big Mac, that's my daddy, rotten dirty straight up soldier … Ya f**k with me, he'll give you a bullet in yo brain."
Phipps never wrote, as the prosecution told the jury, "you f**k with me you get a bullet in your brain."
Erik Nielson, a hip-hop scholar and assistant professor at the University of Richmond, told HuffPost that Phipps' case is not unique in its use of rap lyrics. However, it is the first case where he has seen the prosecution "misquote and misrepresent lyrics" to such a degree.
"The changes to the wording altered the entire meaning of the lyrics," Nielson said. "They made Mac sound like a violent murderer, which just goes to show how powerful using rap lyrics as evidence can be."
Nielson said the use of lyrics in court can have a "significant" prejudicial impact on jurors.
"Rap is made-up stories told from the perspective of a made-up character," Nielson said. "It makes for really poor evidence, but it does have a lasting impact on jurors."
The prosecutor went as far as to use Phipps' moniker -- The Camouflage Assassin -- as an opportunity to vilify him. Rap artist Killer Mike finds that not just offensive, but absurd.
"Any intelligent person knows that Jerry 'The Killer' Lee Lewis is not a killer, he just plays piano very well -- he kills the piano keys," said Killer Mike, adding that even his 7-year-old daughter knows his nickname stems from the way he kills the microphone.
Phipps earned his nickname before he became a professional rapper and, like Killer Mike, it had nothing to do with a desire to kill.
"When I was in high school, me and a couple of guys rapped together and we were really into kung fu flicks," Phipps said. "So they called me The Camouflage Assassin because of the way I moved my hands like somebody with a sword.
"We called one of our friends The Sniper because his flow was real quiet. We called another The Solider because he was the one out front and we called another The Verbal Murderer because we didn't understand nothing he was talking about. But that was all just some stuff from high school."
Still, in the weeks just after the Sept. 11 attack, there couldn't have been a worse time to be nicknamed "assassin," and the prosecution took every advantage of it, Phipps said. He was convicted of manslaughter in the shooting death of 22-year-old Barron Victor Jr. on Sept. 21, 2001.
THE HISTORY OF NO LIMIT RECORDS: (Story Continues Below)
History Of No Limit
Phipps ardently maintains his innocence, though his appeals have been exhausted. By refusing to accept responsibility for the victim's death, he has no chance for parole, and faces the very real possibility of serving another 15 years in jail.
Whether or not the prosecutor crossed the line, Phipps says he was effective.
"He was good -- the district attorney," Phipps said. "He was nefarious, but he was good. Everything that we had to prove my innocence, he basically did a good job of counterattacking with it. Using it and changing it around. Redefining what we was doing."
The St. Tammany Parish district attorney said he would look into the case as soon as Phipps' attorney files the appeal.
For now, Phipps said he is doing the only thing he knows how to do -- live the life he has had to adapt to. He's also still writing songs, hoping one day to resume his thwarted career.
"Like everything else -- you learn to walk, you learn to eat, you learn to speak," Phipps said. "I had to learn to feel like this. It's been a hell of an adjustment, but it is what it is."
Like Us On Facebook

Follow Us On Twitter

Contact The Author
Related