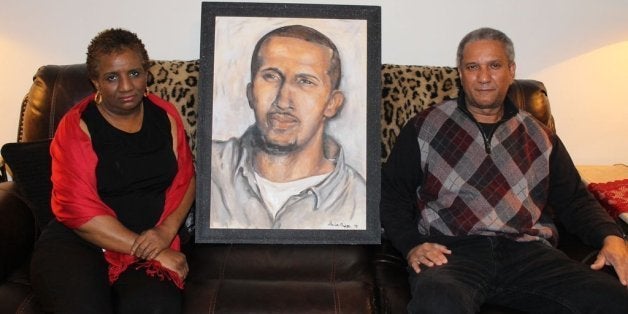 ST. TAMMANY PARISH, La. -- The family of McKinley "Mac" Phipps, a once promising rap artist whose conviction in a nightclub shooting death is now in question, is calling on authorities to take a fresh look at the case that landed him behind bars 15 years ago.

"They ripped our family apart for no reason," Phipps' sister, Tiffany Phipps, said angrily. "They knew he didn't do it and they didn't care."
The family plans a press conference at 3:30 p.m. Eastern time Thursday at the St. Tammany Parish Justice Center to discuss developments in the case. They also said famed lawyer Robert Shapiro, who helped defend O.J. Simpson, will discuss the case on Dr. Drew's Los Angeles radio talk show.
The Huffington Post on Wednesday published the results of a four-month review of McKinley Phipps' conviction, revealing that a key witness at his trial says now that she lied when she identified Phipps in court as the shooter because of prosecutors' threats to charge her. Four other witnesses to the shooting said they also were threatened, intimidated or outright ignored by investigators.
"We knew that people were coerced, but we did not realize it was to such a degree," said Phipps' mom, Sheila Phipps.
The Mac Story (Story Continues Below)
PHOTO GALLERY
McKinley "Mac" Phipps
Phipps is serving 30 years for manslaughter in the Feb. 21, 2000, shooting of 19-year-old Barron Victor Jr. at Club Mercedes, in Slidell, a city along the shore of Lake Pontchartrain in St. Tammany Parish. He was convicted by a jury despite a lack of physical evidence and conflicting witnesses. The prosecution was led by former district attorney Walter Reed, who left office in January amid a reported federal grand jury investigation into campaign funds and side businesses.
In the face of witnesses who now say they were bullied into fingering Phipps as the shooter, the new district attorney, Warren Montgomery, said Wednesday his office has no plans to investigate.
"Certainly no one wants to see an innocent person remain in jail," Montgomery said in a statement. "But there is a procedure for correcting injustices for those who feel they have been treated unfairly. That procedure is to petition the court with evidence. At that time, I will fulfill my responsibility to respond to the allegations."
Phipps has exhausted his appeals, according to his attorney, Remy Starns. "He's basically at the end of the road," Starns said.
WATCH: Phipps And Family Speak Out:

Meanwhile, the key witness at the trial, Yulon James, said that she's worried about the consequences of recanting her story, which jurors said was crucial in Phipps' conviction.

"My husband is petrified that -– I have kids -– you know," James said. "What if somebody tries to retaliate, you know, because they think I set him up or did this or that? I've tried to do everything I can."
Phipps' fiancee, Angelique Christina, said the case "is a prime example of the egregious wrongs that are rampant within this country's criminal justice system."
"I can only hope that DA Warren Montgomery will right the unforgivable wrongs in this case not only for McKinley, but also for the family of the victim, the individuals that have been needlessly harassed and or jailed by the very officials who are supposed to protect and serve them, and finally, as a notable precedent for national justice reform," Christina said.
THE CLUB SHOOTING: (Story Continues Below)
PHOTO GALLERY
Club Mercedes Shooting
Phipps brother, Jeremy, who was 11 when his brother was hauled away in handcuffs several hours after the nightclub shooting, said the ordeal "has made me lose hope in the justice system and police."
"I just wish people would recognize the corruption that has occurred here," he said.
JEREMY AND TIFFANY PHIPPS PERFORMING: (Story Continues Below)

Meanwhile, Phipps, who has always maintained his innocence and said he has never had a disciplinary writeup during his years in prison, said he continues to hold out hope.
"I never lost faith that the truth would someday be brought to light," he said Wednesday from prison. "It is my hope that these revelations [will] finally bring justice to myself, the victim's family, my family and the countless others who have since had to suffer with living in fear of the very people sworn to protect them."
PHOTO GALLERY
McKinley Phipps Trial