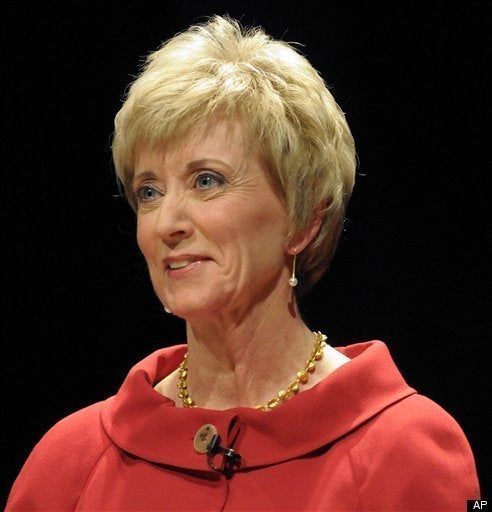 Connecticut Attorney General Richard Blumenthal's long-awaited effort to win a Senate seat took a major hit when it was reported on Monday night that he misled the public by claiming to have served in the Vietnam War. But, in an unexpected gift of sorts, his Republican rival who played a role in pushing the story may end up helping him survive the scandal.
Shortly after the New York Times published its hard-hitting expose on Blumenthal's propensity to falsely paint himself as a combat veteran, conservative candidate Linda McMahon took credit for the hit. The article, the McMahon campaign said in an email promoting the story, had come at "the end of more than 2 months of deep, persistent research" by the campaign, and was a vindication of the "$16 million... crack opposition research operation" that the wrestling maven had built.
It was one of the first times in recent political memory that a candidate so publicly revealed and endorsed its opposition research.
It turns out, there's a reason why campaigns usually peddle dirt in private and without fingerprints. On Tuesday morning, the big story remained Blumenthal's bizarre rendering of his own history. But it was accompanied in key places by critical coverage of McMahon's antics.
Brian Lockhart, at the Connecticut Post, asked: "Who's worse: A candidate who fudges military service or one who gloats about the story?"
"McMahon's like a private detective who hands Connecticut an incriminating file on the state's husband of over 20 years and then asks: 'Sooooo, Connecticut. Now that I've told you the truth about Dick and you're falling out of love, are you busy Friday night?'" he added. "Connecticut voters must feel so blessed these are two of their leading candidates."
The Hartford Courant, likewise, felt compelled to run a story confirming that McMahon was the source behind the story, alongside its own Blumenthal coverage.
The Atlantic's Joshua Green posited: "How much more damaging would Blumenthal/Vietnam oppo hit have been if McMahon hadn't publicly taken credit for it? A lot more, I think."
Politico suggested that "The [McMahon] campaign's decision to trumpet his dispatch allows Democrats to contend the expose was political -- an argument that may not work, but at least gives them a talking point on a tough day."
When McMahon took down the claim to credit it had on its website, The Plumline's Greg Sargent called them on it. From there, Rep. Rob Simmons (R-Conn.) the other Republican in the Senate primary, blasted out the post as evidence that seedy politics was at play.
Even earlier in the morning, Pat Buchanan, the longtime Republican strategist and one-time Nixon White House trickster, charged McMahon with a bit of malpractice for being so public about her role.
"You know McMahon, what did she, why did she... the rule in politics, don't leave your fingerprints if you are going to stick the knife in this guys back," he said on the set of "Morning Joe". "I think it hurts her."
As Buchanan viewed it, McMahon should have kept quiet. Even better, she could have privately suggested that the Simmons campaign was behind the leak -- implying that it's so toxic to have an association with an opposition-research-driven story. Not everyone would go that far. Longtime Democrat Bob Shrum, recalled how the Michael Dukakis presidential campaign initially tried to pin him as the source of a story about Joe Biden's plagiarism (even though they had pushed the piece), only to eventually get caught in the act.
"The truth ultimately catches up to you," he said.
Nevertheless, he too expressed bewilderment that McMahon had copped so eagerly and freely to pushing the Blumenthal story.
The McMahon side story, in the end, does little to absolve Blumenthal of his misleading comments. The attorney general still faces a myriad of questions, not just over his exaggerated account of his time during the Vietnam War (he got five deferments and ended up serving in the Marine Reserves) but also for less serious embellishments (like claiming to have been the captain of the Harvard swim team when there is no record that he was even on the squad). But McMahon has now given both him and the Democratic Senatorial Campaign Committee a way to distract attention from the controversy. Above all else, it's given Simmons a chance to emerge from the fracas as the one candidate unscathed.