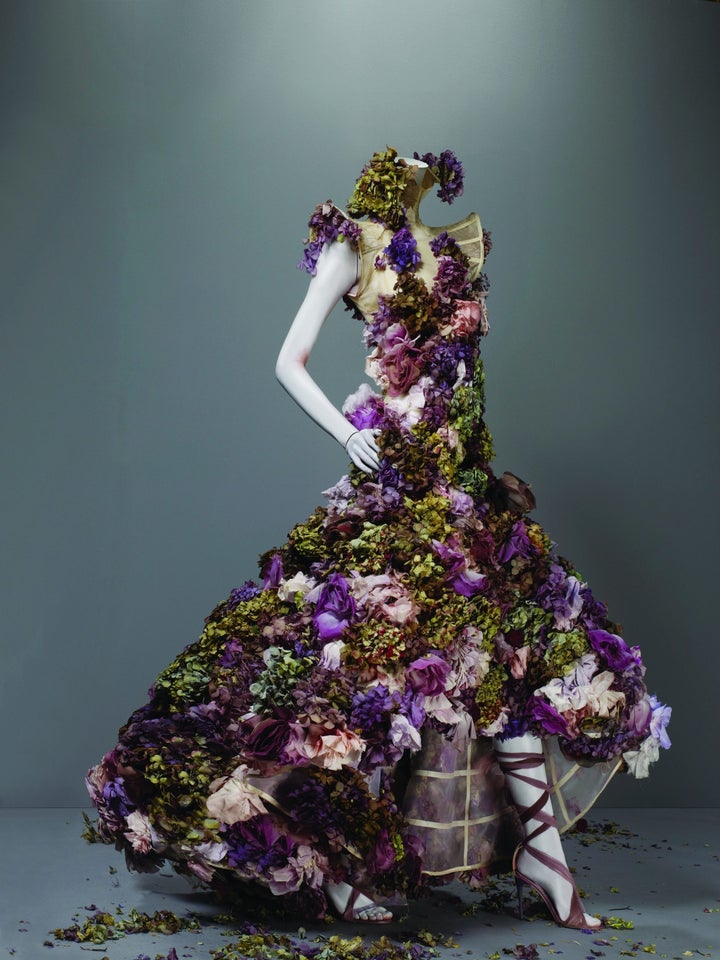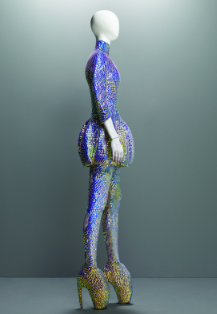 From: Alexander McQueen Savage Beauty exhibition
Courtesy of The Metropolitan Museum of Art
If you're one of the unlucky ones who has not yet seen the Alexander McQueen Savage Beauty exhibition at the Metropolitan Museum of Art (now extended till August 7th), you're going to have to plan on waiting in line anywhere from one-half hour to much longer; or, you can pay fifty bucks and see it on a Monday, when the museum is closed to the public; but even if you shell out the extra cash not to have to wait in line, you're not alone at the exhibition, and it will take some time before it's your turn to be so close to the exquisite clothes that if you dared (and there are guards to make sure you don't), you'd reach out and touch the material made of gauzy fabrics, horse hair, wood, and feathers.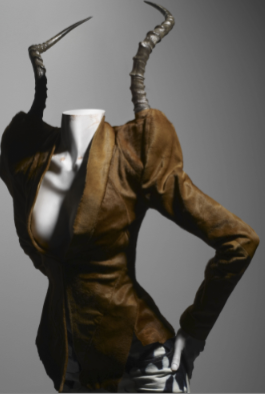 Alexander McQueen Jungle, 1997-98
The Alexander McQueen clothes are outlandish, outrageous, sexy and stunning, but I'm still trying to figure out why so many people are McQueen fans. Is it because Sarah Burton from McQueen's fashion house designed Kate Middleton's bridal gown? Or is it because McQueen took his own life a year ago February 12th? Perhaps because there is suicide in my family, when I went to see the exhibition today, I was in a way, looking for clues into McQueen's suicide.
He was just forty years old when he did it. His close friend and style guru, Isabella Blow, who had discovered McQueen and helped him rise to fame, had killed herself three years before. More importantly, his mother, Joyce, with whom he was very close, had died a few days before. McQueen, trying to deal with his grief, posted on his Twitter page (Feb 3, 2010), "I'm letting my followers know my mother passed away yesterday if it she had not me nor would you RIP mumxxxxxxxxxxxxxxxxxxxxxxxxxxx..." A couple of seconds later added, "But life must go on!!!!!!!!!!!!!!" Around this same time, McQueen had been in the middle of an ugly breakup with a man whose name he had tattooed on his arm, and about whom McQueen had said, "a bastard who went back to Australia and I was left looking at his name."
I walked into the first room, "The Romantic Mind," where classical music played in the background. I was taken by a beigy-white dress made entirely of stripped and varnished Razor clam shells. I'm sure Lady Gaga has gotten all her ideas from McQueen, who himself was particularly inspired by nineteenth century Victorian Gothic. "There's something... kind of Edgar Allan Poe, kind of deep and kind of melancholic about [my] collections," he said. McQueen also had a fascination with Jack the Ripper, on whom he did his genealogy school report (his mother was a genealogist).
One of the first collections you see as you enter the exhibition is "Jack the Ripper Stalks the Victims."
There are statements by McQueen on many of the walls, which say almost as much about him as his glittery, gauzy beautifully fitting clothes. Here are a few of them:
"I'm a romantic schizophrenic."
"I find beauty in the grotesque, like most artists. I have to force people to look at
things."
"It's the ugly things I notice more, because other people tend to ignore the ugly things."
"I spent a long time learning how to construct clothes, which is important to do
before you can deconstruct them."
"I want to be the purveyor of a certain silhouette or a way of cutting, so that
when I'm dead and gone people will know that the twenty-first century was started
by Alexander McQueen."
"[I design from the side,] that way I get the worst angle of the body. You've got
all the lumps and bumps, the S-bend of the back, the bum. That way I get a cut
and proportion and silhouette that works all the way round the body."
"I like to think of myself as a plastic surgeon with a knife."
"I try and modify fashion like a scientist by offering what is relevant to today and
what will continue to be so tomorrow."
"[With 'bumsters,'] I wanted to elongate the body, not just show the bum. To me,
that part of the body -- not so much the buttocks, but the bottom of the spine --
that's the most erotic part of anyone's body, man or woman."
"I want to empower women. I want people to be afraid of the women I dress."
"When you see a woman wearing McQueen, there's a certain hardness to the
clothes that makes her look powerful. It kind of fends people off."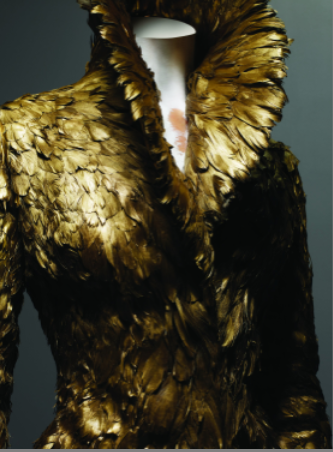 McQueen's Gold Feathers
The more I looked at his clothes, the more I realized what a genius he was, and why the lines of people waiting to see the McQueen exhibition are so long. And they aren't there simply because his house designed Kate Middleton's bridal gown. "I oscillate between life and death, happiness and sadness, good and evil," he said. Suddenly, it no longer mattered why he took his own life. The only thing that mattered was that I'd been lucky enough to see the clothes. I gazed at the beautifully fitting shimmery designs of the last room, "Plato's Atlantis". I lingered over the last dress, then walked out of the room, moving with a newly acquired flirty little swing as I imagined myself in that dress.

Calling all HuffPost superfans!
Sign up for membership to become a founding member and help shape HuffPost's next chapter