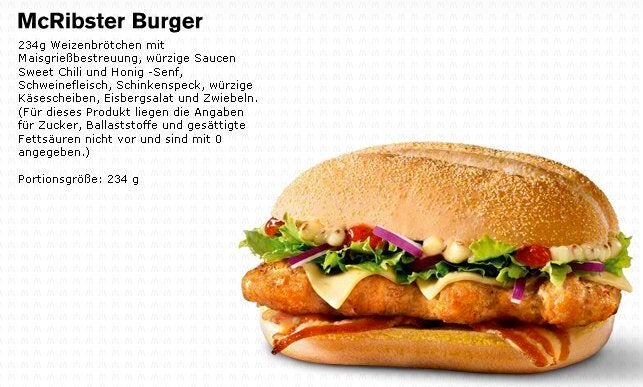 If you've ever eaten a McRib, your first reaction probably wasn't, "This could really use some cheese and bacon. And a dip in a deep fryer." But luckily for the novelty-seekers among us, that was the response of some wild person working for McDonald's Austria, which just introduced a sandwich called the "McRibster" to its menu.
The company website describes the sandwich's components as "234g Weizenbrötchen mit Maisgrieß Bestreuung, würzige Saucen Sweet Chili und Honig -Senf, Schweinefleisch, Schinkenspeck, würzige Käsescheiben, Eisbergsalat und Zwiebeln. (Für dieses liegen die Angaben für Zucker, Ballaststoffe, und gesättige Fettsäuren nicht vor sind mit 0 angegeben.)", which Google Translate says means:
234g wheat bread sprinkled with corn meal, spicy sweet chili sauce and honey mustard, pork, ham, bacon, spicy cheese slices, lettuce and onions. (For the details of this are for sugar, fiber, and Saturated fatty acids are still not specified as 0.)
The editors of HuffPost Food have a solid background in German and are going to have to disagree Google on this one. Its formidable servers may have missed some of the idiomatic subtlety of the Austrian German here. We'd be more likely to translate that ingredient list as "heart attack." Good thing it's only available for a limited time!
Related