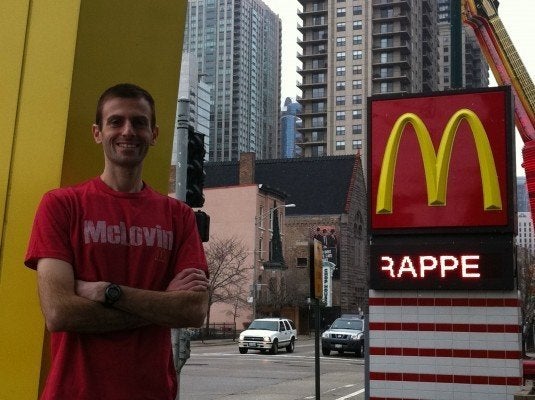 Marathon runner and suburban dad Joe D'Amico made headlines for his plan to eat nothing but McDonald's in the 30 days leading up to the Los Angleles marathon. Some supported his effort, others were concerned for his health--but D'Amico survived the challenge, setting a personal record in the race and even improving his cholesterol levels.
"I couldn't ask for a better run on a tough course in difficult conditions," D'Amico told Palatine Patch after completing the L.A. Marathon with an unofficial time of 2:36.14. He improved his previous best time by 30 seconds despite rain, gusty winds and an all-McDonald's diet.
D'Amico, who has been dubbed the "McRunner," outlined his plan on his blog, aptly titled "Confessions of a Drive-Thru Runner." For 30 days, he logged everything he ate, which includes 91 hotcakes, 24 orders of oatmeal, 23 hamburgers, 24 chicken "Snack Wraps" and lots of McDonald's cookies.
What started as a food challenge soon morphed into a big fundraising effort, D'Amico told City Best last week.
"The goal was originally to just complete the 30 days and run a personal best marathon," D'Amico said. "Halfway in to the challenge, I added the goal to raise money for the Ronald McDonald House Charities."
The runner pledged to donate $1 for every McRunner Facebook fan through March 20th (up to $2,500) to the Ronald McDonald House Charities and raise an additional $2,500 via his fundraising page. His father then offered to match the $2,500 donation, and when news of his story spread, donations came rolling in. Palatine Patch reports that he ended up raising more than $26,000 for Ronald McDonald's charities.
"From day one, I received such positive feedback and encouragement from friends, family and even those I never met," D'Amico said on his fundraising page. "That made me realize that I could provide more than just a little entertainment and inspiration; I could actually make a difference!"
The 15-time marathon runner said he is not burned out on McDonald's, and his body doesn't seem to be, either. Blood work taken before the challenge showed his cholesterol at 186, by day 25 of all-McDonald's, he was at 158 (he also runs about 100 miles per week).
"If you make good choices and better choices more often than not, you're going to have good results," he told Patch. "There's diet, there's exercise, there's stress. There's a lot of things. That's something I try to tell people to keep in mind. Don't focus on one aspect look at things as a whole."
Popular in the Community