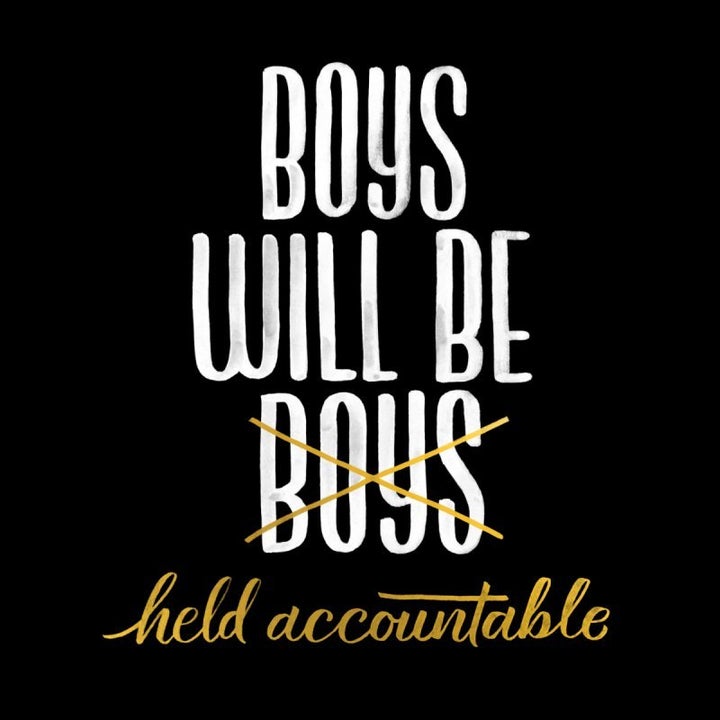 The word "feminism" is generally associated with females, and the feminist movement itself is perceived as being completely driven by women. For a man to call himself a feminist draws the implication that he is passionate about women's issues simply because his loved ones (mother, daughter, sister, wife, etc.) are directly affected. The fact of the matter is, on a large scale, feminist issues also extend to and encompass "men's issues." Believe it or not, males can also be victims of abuse and domestic violence; and while consistently benefiting from the patriarchy, they can still find themselves falling short to the impossible standards of masculinity enforced upon them. To be a true feminist is not to pit one gender against the other — it is to work toward balancing the scales so that both men and women can coexist without one group always being at an advantage.
The nonprofit organization "Men Can Stop Rape" (MCSR) is a Washington DC-based association currently working toward contributing to that goal. Their mission, as eloquently stated on their website, is "to mobilize men to use their strength for creating cultures free from violence, especially men's violence against women." The responsibility of preempting any kind of physical violence and rape is often placed in the hands of young girls and women, from the moment they are old enough to understand their position in society. As a direct result of hyper-sexualization and rape culture, women are repeatedly told to abide by certain guidelines to prevent their own assault and abuse. These "guidelines" — not wearing suggestive clothing, not walking alone at night, not drinking too much, and so on — while meant to serve as means of protection, only institutionalize the notion that the victim is at fault rather than the perpetrator. MCSR acknowledges this issue when highlighting their end goal: building healthy relationships and communities by putting an end to violence before it even begins. To do this, they theorize that "men's violence against women cannot be prevented without the parallel goal of gender justice" — in other words, their approach is to treat and engage men as potential allies rather than assaulters by embracing their full range of emotion and strength, and using both to help men recognize alternatives to violence and healthy attitudes toward their female counterparts. It is indeed a well-observed truth that we all learn from the people around us, and men working to sustain positive relationships with the women in their lives serves as a reminder for others to do the same.
MCSR's various education, public awareness, and leadership training programs cater toward the youth (high-school and college-aged boys) as well as the general male population in order to instill in them a deeper understanding of masculinity and the stereotypes linked to it, women's issues, and a new mentality focused on empowerment and taking action as opposed to being bystanders. Since its official formation in 1997, MCSR has gained widespread recognition for being "the world's most innovative domestic violence prevention program" and reaching nearly two million youth and professionals nationwide through clubs and workshops, as well as public materials for awareness. Their high school and college-based programs have various locations across the US, ranging from California to Washington, DC; and their resources and training materials are available in federal agencies as well as the military. Through its social justice initiatives, alliances with women, and exposure to healthier versions of manhood and masculinity; current members and alumni have reported stronger connections to their communities, eye-opening experiences to the plight of women, as well as a newfound comfort in expressing themselves authentically, as all human beings should be free to do.
NOMAS, The National Organization For Men Against Sexism, is another activist group based in the United States that draws attention to the concept of hyper-masculinity and its social and psychological effects on men. Although largely focused on addressing men's issues, NOMAS also incorporates concerns with racism, homophobia, and religion. Their slogan, "pro-feminist, LGBTQ+ affirmative, anti-racist, enhancing men's lives" establishes the work they do: challenging and working to end all forms of oppression and injustices that are directly connected to sexism and the "unequal distribution of power." Through workshops, conferences, task groups, and individual chapters in scattered communities across America, members and volunteers (both men and women alike) are invited to discuss relevant issues pertaining to both genders and how collaborative efforts can help build a more progressive future. Spanning over thirty-five years, this organization has sought to combat all forms of oppression, keeping intersectionality at the center of their goals: "NOMAS is concerned with the many complex issues of gender, personality, roles, and power."
A pro-feminist movement from its start in the early 1970s, NOMAS has given the average man a platform to express himself at his most vulnerable state, by analyzing and eradicating the institutionalized margins within which masculinity exists. The "traditional" role of a man has always been to appear strong and collected, and to suppress his emotions because to showcase your feelings is "inherently feminine." These gender norms are damaging not only to men, but to women as well, because just as a woman is capable of being detached and harsh, a man can be sensitive and caring. NOMAS has worked to bring these issues to the forefront of conversations about sexism, and played a vital role in developing and sponsoring the new academic field known as "Men's Studies."
As both organizations essentially emphasize, gender equality, which embodies women's rights, is invariably a men's issue. Both parties are required to contribute if we are to take a positive step toward change in breaking down stereotypes and gender expectations. The burden can no longer be placed on just women to fend for themselves, and the increasingly problematic notion that "boys will be boys" must be eradicated to make room for redefining what it means to be a man. As actress and UN Women Goodwill Ambassador Emma Watson said at an event for the HeForShe campaign in 2014, "It is time that we all perceive gender on a spectrum, not as two opposing sets of ideals."
REAL LIFE. REAL NEWS. REAL VOICES.
Help us tell more of the stories that matter from voices that too often remain unheard.