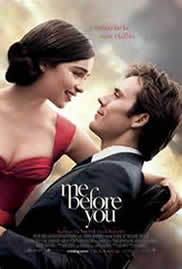 And the Oscar nominees are:
for Best Writing, Adapted Screenplay - Jojo Moyes
for Best Performance by an Actress in a Leading Role - Emilia Clarke
for Best Achievement in Directing - Thea Sharrock

Acclaim perspective
Yes, yes, I know, we have to get through a summer chocked full of juvenilia, digitized end-of-the-world mayhem, and gallons upon gallons of blood accompanying screams and gore galore. And then, of course, serious cinema heavyweight award contenders throughout the fall. Okay, yes, of course.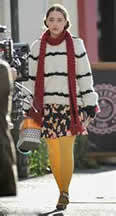 Still, Me Before You is noteworthy for how extraordinarily the screenplay tracks - and so well employs - the novel. The novel's essential scenes are depicted scenically and faithfully. The details, especially caregiver Louisa Clark's outfits (and footwear!), are there to be seen. Her voice and delivery, as well as quadriplegic Will Traynor's voice and delivery are there to be heard. And, so much of the dialogue in Jojo Moyes' screenplay is from the novel of the same title - written by Jojo Moyes. This transfer isn't self-indulgent or self-satisfied, it's actually quite satisfying, and rewarding, for anyone who has enjoyed the novel.

Me Before You - A Life-Enhancing Presence, a Life-Enhancing Present

Louisa's scenes likely to be screened at awards ceremonies
• Louisa Clark, sitting on a stone wall (wearing slippers that her boyfriend claims make her look like a leprechaun drag queen) delivers scenarios of well-to-do London couples who become increasingly dissatisfied with their lot in life. The tale of disenchantment and regret among the privileged is delivered with apt mimics and facial contortions, and without pause for breath. She's on a comedic roll.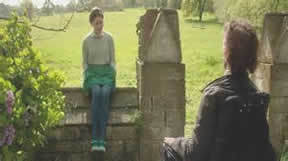 • Louisa's confrontation, at the entrance to the race track's "premier" dining room, with the hostess who turns them away because they hadn't purchased "premier" admission badges. Noting the many vacant tables, Louisa tries charm and then tries for compassion. Nothing moves the guardian of the dining room's privilege. Louisa and Will (along with Will's nurse Nathan) are obliged to be turned away, but Louisa has the last word: a put-down that delights theater audiences.
• Louisa tells off Will, who has been dismissive, unappreciative of her efforts, sarcastic and rude. She won't give in to tears or apologies; she throttles his callous ingratitude: "I'm not staying because I like you... I need the money. I really need the money." And her family's financial situation drives that need.
• Though shy of goopy, there's a dance-floor scene (at the wedding of Will's former long-legged blond girlfriend and his former business partner) that will be viewed as joyful and triumphant.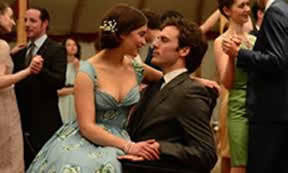 Will's scenes that might be screened at awards ceremonies
• Wheelchair-bound Will Traynor explaining why he will never again be bound for the Paris he so savored prior to his disability: "The old me -pretty girls would give me a good look. As I am, taxis won't stop to take me. This wheelchair won't fit under a café table. I won't be able to recharge the chair's power pack in a French socket." It's wistful, not maudlin; it's moving.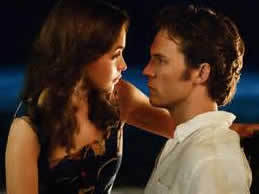 • Wheelchair-bound Will explaining his thoughts and desires to Louisa the night before their departure from their beach paradise holiday.

Actors and portrayals
Yes, indeed, we are months and months from awards season. And yet, going way way out on an early early limb, I'll speculate that -
• along with the cast of Eye in the Sky (a wholly riveting and poignant film about targeting Jihadist terror), the cast of Me Before You might also garner a SAG nomination for Outstanding Performance by a Cast in a Motion Picture.
• along with the screenplay for Love & Friendship (from Jane Austen's novella Lady Susan), Me Before You should stand a good chance of a Best Adapted Film Screenplay nomination from the British Academy of Film and Television Arts.
• as for Golden Globe nominations, I suppose Me Before You would be categorized as a drama rather than be slated as a comedy/musical - even though there are a number of humorous moments (in addition to Louisa's job interviews, watch for the facial expressions of Louisa's boyfriend) and the song tracks are very well matched to the scenes they accompany.
• As a long shot, the supporting actress who holds forth, and then tries to hold up emotionally, as Camilla Traynor (Will's mother). She brings chapter 8 of the novel to life, as it were.
• As for the male lead, Sam Claflin as Will does a commendable job in a role that has him do essentially everything just from the Adam's apple up. He operates his motorized wheelchair with a toggle held between the thumb and forefinger of his right hand. Even when he doesn't speak lines, his mouth and eyes say a lot.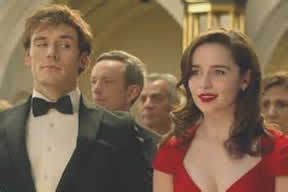 • As to the female lead, from head to toe, Emilia Clarke brings Louisa Clark fully from the pages of the novel. She does not have a chiseled face or figure. All to the good, her face is quite flexible and, as she says, her body is not made for running or cycling. Her forehead, eyebrows, cheekbones, smile, and walk convey all that any fan of the novel could hope for.

The living on that takes a special courage
The film's omission of the emotionally-scarring night of Louisa's youth has some critics finding fault. But far and away, screenwriter Jojo Moyes and director Thea Sharrock deserve much credit for staying true to the novel (Jojo Moyes' bestseller).
This fidelity has put off some in the disabled community. Yet, without being insensitive, without being cavalier (Louisa's mom has her say), this fidelity gives the story an authenticity and a sweet poignancy that edges it into the company of The Sea Inside and Whose Life Is It Anyway? Very good company, indeed.
REAL LIFE. REAL NEWS. REAL VOICES.
Help us tell more of the stories that matter from voices that too often remain unheard.