Keeping up with the Joneses is supposedly as American as July 4 and apple pie. But it wasn't something I ever worried about, especially since:
a) I've never owned a house;
b) I'm just not the jealous-of-my-neighbors sort;
c) I was raised on enough chicken soup and piano lessons to keep my soul happy;
d) I prefer rhubarb to apple
Yup. Competing with the Joneses seems like the American way: craving material things from the Lamborghini to the perfect porcini, from flitting to Bali or bidding on a Dali.
But man does not live by pocketbook and prestige alone. I for one, am as happy in a hut as I am in a mansion. I simply have less room for my stuff. Personally I think we should all be Keeping up with the Moseses, not the Kardashians; with the Gateses and the Gandhis, or maybe even the Cleavers, but certainly not with the Joneses.
Take Bridget Jones, who sums it up in her diary: "It is proved by surveys that happiness does not come from love, wealth or power but the pursuit of attainable goals."
The Jones legacy is solid. There's Dow (Jones), The Emperor (Jones) and (Jones) Beach. Financial. Literary. Summer Vacation-y. No fuss, no muss. No keeping up.
Perhaps it's something about the name Jones. Call it pioneering. Basketball star Steve "Snapper" Jones actually played with the NBA Portland Trailblazers.
I guess you could say I have a love affair with the Joneses. Recently I encountered a number of Joneses so spiritual I was submerged in a pool of pondering.
There's Rickie Lee, whose Walk Away Renee and We Belong Together are spellbinding songs of priceless poignancy.
There's The Addams Family's Morticia -- Carolyn Jones, the one with the exquisite cheekbones, tight-fitting black dresses and priceless delivery of lines like "Ah yes, Goldilocks. Trust a blonde to bring on trouble."
There's legendary style icon Grace Jones (who just turned 66); Davy (The Monkees) Jones, of Daydream Believer fame, who died at 66; Welsh pop star and sex symbol Tom Jones; Mad Men dazzler January (Betty Draper) Jones; American songstress innovator Norah Jones, a pathfinder of endless incarnations and outrageous duets with Roy Orbison, Willie Nelson, Dolly Parton and Tony Bennett. And finally, the Driving force behind Miss Daisy, Field of Dreams, and "This is CNN" -- James Earl Jones.
Enter Quincy, the mastermind producer of both the children's charity USA for Africa, and the best-selling single We are the World. Several decades ago, I fell into a serendipitous job at CNN's Showbiz Today, where my first assignment was producing a segment on... We are the World.
But back to Mr. Jones, a most evolved musical giant. "Q" was the force behind the stunning We are the World chorus including Willie Nelson, Michael Jackson, Bruce Springsteen, Bob Dylan, Ray Charles, Cyndi Lauper, and Huey Lewis. Quincy Jones spearheaded a united effort to connect the world's minds and hearts in music, activism and soul.
This Mr. Jones? A trumpeter, soundtrack composer, director for Dizzy Gillespie, arranger (Count Basie), producer (Aretha and Sinatra); and a 27-time Grammy winner.
Imagine my amazement one recent summer's eve, while watching a one-man show about Louis Armstrong. There he sat, amidst the audience in a darkened theater, a Cheshire grin on his face. Here I was, almost 30 years later, finally about to meet the Mr. Jones. Caught between anxiety and exhilaration, I approached him after the final curtain, blurting out in one long run-on sentence, that my dad was a jazz pianist and that I'd grown up listening to his Count Basie and Sinatra arrangements (especially Fly Me to the Moon), as well as his soundtracks to The Pawnbroker and In the Heat of the Night.
I felt a pure, still waters-ness about him, and I knew he ran pretty darn deep. Smiling contentedly, he said, "Just got back from Abu Dhabi." (He'd just landed from the 17-hour flight that day). "You ever been there, kid?" Before I could even say no, Quincy chimed in, "You gotta go."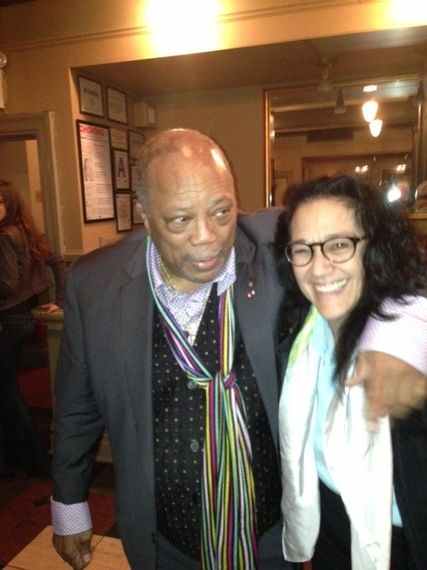 Personal yet pizzazzy, tranquil yet intense, playful yet profound. In my fantasy, I'd have escorted Mr. Jones out into the dusky evening, sipping the night away in whispered dialogue in some downtown speakeasy, questioning him on everything from his favorite cocktail to his favorite chord... or cause.
For now, my reality was a five-minute dialogue. Quincy had that paternal yet paparazzi aura, half sweet uncle, half GOP (Glitterati on a Pedestal). As soon as we locked eyes and he initiated with silence, I was hooked. Hooked on Mr. Jones.
In reality, it seems that the key to any lasting relationship with any Tom, Dick, Harry, Smith or Jones is listening. In the real world, life coach Gail Kauranen Jones explains that we feel disconnected when we are not listened to with care. When I told Quincy I play jazz recorder, he listened intently, then encouraged me, remarking that he'd used lots of jazz recorder in his soundtracks.
In the surreal world, the listening gene is just as prominent. Take Alice in Wonderland: On being lost, Alice suggested staying put until someone finds you. "Good advice. If I listened earlier, I wouldn't be here." And, on the Queen's Croquet Ground, Alice put down her flamingo, and began an account of the game, "feeling very glad [she] had someone to listen to her."

Four more simply enchanting Jones characters -- Bob, Jennifer, John and Pony -- illuminate the listening landscape in Broadway's The Realistic Joneses, Will Eno's tour de force at the Lyceum about love, life and listening.
Two couples, next door neighbors who share the last name of Jones, speak volumes about what's crucial in our short spell on earth. These eccentric Joneses bond over the surprising similarity of our lives. Conversations are filled with identifiably awkward chit chat and sexual attraction (weird -- you wanted this conversation to end; I want it to keep going). The Joneses reveal our human universal ties of vulnerability, melancholy, abandonment, and passion . The odd intermingling of the two Mr. and Mrs. Jones duos creates a syncopated, human quartet that sounds both baroque and contemporary, half Mozart, half Shostakovich.
Young, comical, yet troubled John Jones resembles Everyman Jones when he utters the anxiety-ridden "shoulds" of life ("I should go to med school... or cut my hair"). He makes outrageous, insightful observations ("You were crying and eating a power bar -- that's one sad, busy person") and asks existential questions ("Is it a billion little words or just one? One -- life").
Listening to both older and younger Jones husbands discussing their shared obscure illness, the Jones wives babbling and pausing, one notices that the silences -- as in music -- speak volumes. The two Mrs. Jones intermittently reveal unique quirks (Pony's desire to use dandelions in salads and Jennifer's calming habit of staring at the international foods section in supermarkets).
Although "words don't really do it for me anymore," the Joneses desperately try listening to each other's mundane activities (restoring a lamp, reading medical pamphlets, cancelling plans at the last minute) and emotions (fatigue, fear of death, frustration). Eno's Joneses may have just solved the existential puzzle: Once we start listening to each other as much as to the haunting night owls, we may survive the curve and curse of life's sorrows.
The Realistic Joneses -- Pony (Marisa Tomei) Jones; Bob (Tracy Letts) Jones; John (Michael C Hall) Jones; and Jennifer (Toni Collette) Jones -- are as Realistic as Real Housewives, as surrealistic as Fellini.
The magnificent Joneses I've encountered on and off stage, tv and film, all seem to hold up; hold out; hold on to each other and hold one another up. The reality of the surreal, spontaneous, unexpected, raw, and blunt -- these are the nuances and joys of the Joneses.
Keeping up with the Joneses? No. Keeping up with listening to the Joneses -- and all the silences and intonations of life's spaces -- may be just as American as John Paul, Tommy Lee, Parnelli and Indiana.