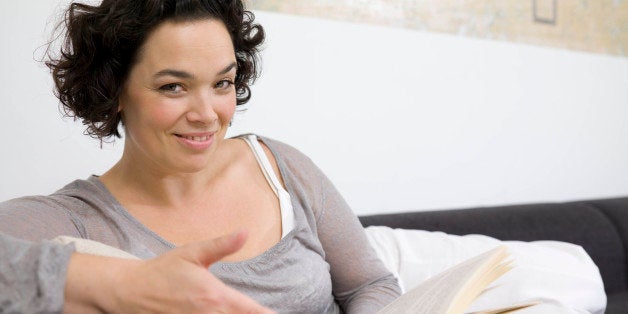 Do you crave "me time"? I can't promise you a silver bullet, but I can offer you a laugh or two and a chance to sit back and think about how you can possibly build some into your forthcoming vacation...
I seem to remember the concept of "me time" from a long time ago... It used to involve me, a book and a cup of chamomile tea ensconced in my unblemished cream two-seater couch in my first apartment on a lazy Saturday afternoon. A breeze would gently blow the sweet sound of children's voices in through the open window. I would lie peacefully, my knees over the couch armrest, and chill, dreaming of one day when I would be married with children of my own...
Those days are gone now. The two-seater is here, somewhere. It has been used as a feeding chair for two little boys in two different nurseries in two different homes over the past three years and is a little worse for wear. So is my concept of "me time."
About four months ago, I went through a stage where everything felt like work: My husband and I got up at 5.30 a.m. to get ourselves organized and ready for the day before we got the boys up and out of the house before 7 a.m.. Mornings at work are like a high-speed train that has to get from London to Paris in half the time it used to, under water, because Mum has to leave to pick up the kids at 1 p.m.. Same amount of track to cover in half the time -- good luck. There are no snacks on this Eurostar.
I then have a wonderful afternoon with my boys... this is much more physically and emotionally exhausting than work, but exponentially more rewarding, and when my husband gets home around 6 p.m. my youngest is usually about to hit the sack and my husband takes over with my eldest so that I can make dinner and sort out school bags etc. for the next day. The eldest is usually down by 7.30 or 8 p.m., at which point my husband and I have dinner and I try to be as all-there as I can be for him -- he also needs me. We wives who are also mums often forget that. By the time we finish dinner and clean up (our dinner and ourselves) we usually collapse in a heap, knowing we need to start all over again the next morning.
Today, me time is the three minutes I get on the loo to check Facebook before one of my sons bursts through the door to see what I am up to. It's my drive to work -- a luxury many stay-at-home mums would give anything to have -- even once a week. Me time is the 30 minutes I get here and there when I just leave everything -- dishes, dirty clothes, toys strewn into every nook and cranny. Sometimes, I just look at it all and say, "no, not right now" and I escape to my writing. Sometimes, me time is a coffee, uninterrupted, during work hours. That is a dream too -- I know that and I appreciate every creamy sip.
My concept of "me time" has changed, indeed, since the days of the two-seater couch, but so has my perspective. I live larger than I did before -- messier, less organized, and larger. I get to be the person who is someone's everything (three some-ones, actually) and, for that, I am beyond grateful. Would I go back to the couch in my first apartment and listen to the sounds of other people's children? Sometimes, for an hour or so. But nothing could stop me rushing back here to be with my own -- even the promise of another few minutes alone on the loo.
Halfdaymum offers you the resources you need to become the woman and mum you were always meant to be: to discover more about yourself, prioritize your time and focus your passion on the things that are most authentically important to you.