"This letter is our love offering to her so that she has a constant reminder that there is enormous support for her and other survivors like her," the letter, published Tuesday, reads. "We heard her. We saw her. And we believed her."
The gut-wrenching letter was also signed by photographer Amanda de Cadenet, author Glennon Doyle and actresses Tracee Ellis Ross and America Ferrera. At the end of the note, readers are invited to sign the letter as a show of support for Ford.
"We remembered our trauma and the trauma of our loved ones," the women wrote, recalling how they gathered to watch Ford's testimony.
"We remembered the times we had not been believed. We remembered the times we had been believed, and disparaged anyway. We remembered how long ago we'd put our pain in a box and tucked it away so we'd be able to survive in a world that didn't care," the letter continued. "We were quiet because you'd been called to open the box. We were afraid for you. Because we remembered."
Ford's testimony drudged up painful memories and trauma for women and sexual assault survivors around the country. Calls to the Rape, Abuse & Incest National Network's (RAINN) National Sexual Assault Hotline spiked during and in the days following Ford's emotional testimony. Other sexual assault survivors felt compelled to share their own stories of sexual violence, with many phoning into C-SPAN or confronting senators in the halls of Congress.
Burke and the other women thanked Ford for her patriotism and unwavering courage in coming forward.
"You raised your right palm toward that committee and you lifted your head toward the sky and you closed your eyes. You stood there, in front of the world, utterly vulnerable," the letter reads.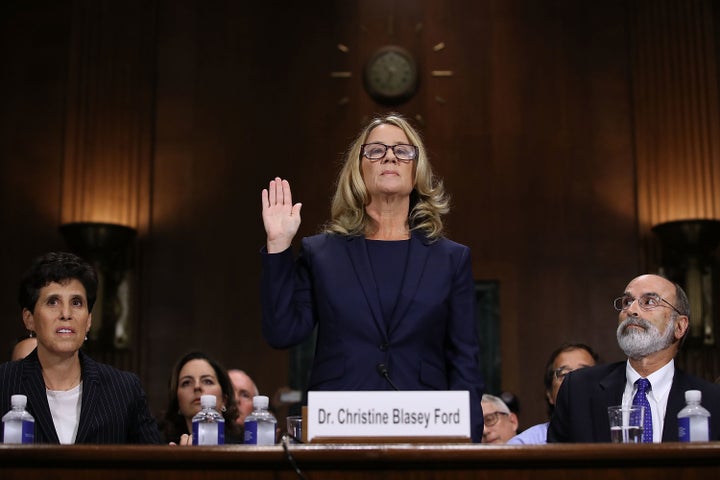 "We witnessed you show up for duty not as a superhero, but as a fully human woman," the letter continued. "You showed us that the new hero ― the kind of heroism called for in this moment ― is a woman facing the patriarchy with no weapons other than her voice, her body, and the truth."
The letter reiterated that Ford's "sacrifice was not made in vain."
"You showed a world of discounted people what courage looks like. You showed us that survival is ongoing and that the journey, while fraught, is also essential. You reminded us that we are neither powerless nor alone because we have the truth ― and we have each other."
HuffPost's "Her Stories" newsletter brings you even more reporting from around the world on the important issues affecting women. Sign up for it here.
Popular in the Community