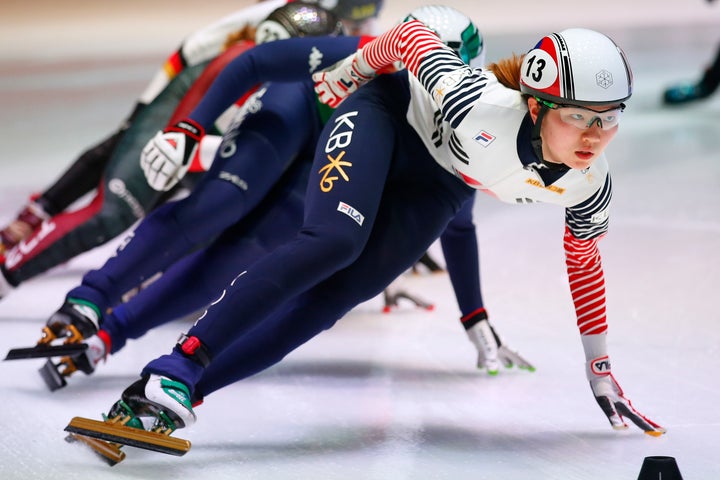 A two-time Olympic champion alleged last month that her coach had repeatedly raped her, setting off a wave of similar sex abuse claims that are rocking South Korea's elite world of sports.
Shim Suk-hee, a short-track speedskater, told Korean media on Jan. 8 that her coach, Cho Jae-beom, sexually abused her for four years beginning when she was 17. In a police report filed the previous month, she said the alleged abuse sometimes took place in nationally managed facilities, including a locker room, ice skating rink and national training center.
"Shim hopes that an environment in which a victim can speak out in a confident manner can be created in the sports community," her lawyer told Korean broadcaster SBS news.
Cho is serving a 10-month prison term for physically assaulting athletes, including Shim. His lawyer has said assault took place but sexual violence did not.
Shim's decision to speak out comes amid a burgeoning Me Too movement that is challenging taboos in South Korea's conservative society. The movement traces its roots to a prosecutor's allegations against a senior colleague last year. In an emotional television interview, Seo Ji-hyeon alleged that Ahn Tae-geun had repeatedly groped her and that superiors retaliated against her when she complained. Ahn denied the accusation and cannot be charged with sexual abuse because of Korea's one-year statute of limitations, the AFP reported.
But her public appearance led to a barrage of similar complaints against male bosses and colleagues across industries. These accusations culminated this month when a former provincial governor and possible presidential candidate was sentenced to three and a half years in prison on charges of sexually abusing his secretary.
Shim courageously broke the silence in the world of sports, prompting an ongoing reckoning in the hierarchical industry, in which male coaches wield enormous influence over the lives and careers of their athletes.
Just about 18 percent of 19,965 coaches registered in the Korean Sport and Olympic Committee in 2018 were women. The same year, more than 23 percent of registered athletes were women. In other words: Female athletes are slightly better represented in sports than female coaches.
A week after Shim filed her police report, a former judo athlete accused her coach of sexually assaulting her when she was a minor. In an interview with South Korean newspaper Hankyoreh, Shin Yu-yong alleged that her coach raped her 20 times between 2011 and 2015. In media interviews, she said he threatened that they would both be "finished in the world of judo" if she ever told anyone about the abuse. The Korea Judo Association permanently banned the coach, whose identity has not been revealed, in response to Shin's allegations, The Korea Herald reported. The coach, a married man, has denied sexually assaulting Shin and claimed instead that they had an on-again, off-again consensual relationship.
That same week, 15 taekwondo athletes formed a "victims union" and complained against a former senior executive of the Korea Taekwondo Association. Lee Ji-hye, the only accuser to reveal her name, said the abuse began in 1998, when she was in sixth grade, and continued for five years. In a television interview, she said the executive, whose identity is also being withheld, threatened to kill her if her accusations landed him in prison.
He stepped down as head of the association and is currently on trial for sexual assault.
The accusations have continued to reverberate through other sports, including sepak takraw, also known as kick volleyball, and soccer, where female athletes accuse male coaches of abusing their power.
Male Power In Korea's Sports Scene
South Korea's sports world is notoriously competitive and laser-focused on developing elite athletes. In this system, speaking out against a coach, particularly when it comes to delicate topics of sexual violence, is tantamount to career suicide — a consequence most athletes who have dedicated their entire lives to their sport are not willing to face.
Moreover, Korea's athletic organizations are notoriously hierarchical. A coach is given full authority over everything from selecting athletes to work with to choosing the events in which they compete. A coach's decision can completely change the course of an athlete's life.
The coaches in these positions of power are overwhelmingly male, in line with larger societal trends. Korea ranked 115th out of 149 countries in the 2018 Global Gender Gap Report, which measures gender-based disparities in economic participation, education, health and political empowerment. According to the Korean daily Hankook Ilbo, just about 18 percent of the 19,965 coaches registered in the Korean Sport and Olympic Committee in 2018 were women. The same year, more than 23 percent of registered athletes were women. In other words: Female athletes are slightly better represented in sports than female coaches.
But in the world of skating, where Korea dominates on the international stage, the gender imbalance is even more dramatically skewed. The country's 223 female short-track speedskaters are coached exclusively by men. And in golf, in which nearly 50 percent of athletes are female, women account for just 10 percent of coaches.
Lim Shin-ja, a professor at Kyung Hee University and the president of Korea's Women's Sports Association, said in an interview with Hankook Ilbo that Korea's sports community is particularly conservative and male-dominated.
"Not only can female coaches not demonstrate their skills and abilities, but also there is hardly any recognition for such demonstrations to be accepted," she said. "First, an ecosystem where female coaches can demonstrate their capabilities needs to be in place. Then there will be less violence against female athletes."
Korea's Government Responds
In response to a public uproar, Korea's government has initiated countermeasures to eradicate sexual violence in the sports community. The National Human Rights Commission of Korea announced plans last month for the country's largest-ever inquiry into a culture of abuse in sports. After the yearlong investigation, the commission will issue guidelines and could also forward evidence to police for possible prosecution.
Do Jong-hwan, the country's minister of culture, sports and tourism, said Korea will "take the lead" in sports ethics so athletes will no longer suffer, the Yonhap News Agency reported. "We will respect others, embrace the outcome [of the investigation] and materialize the intrinsic values of sports that shape a healthy society."
Many Koreans are watching with intent as the problem of sexual violence — the tip of a long-submerged iceberg — gets exposed and slowly chipped away.
Calling all HuffPost superfans!
Sign up for membership to become a founding member and help shape HuffPost's next chapter