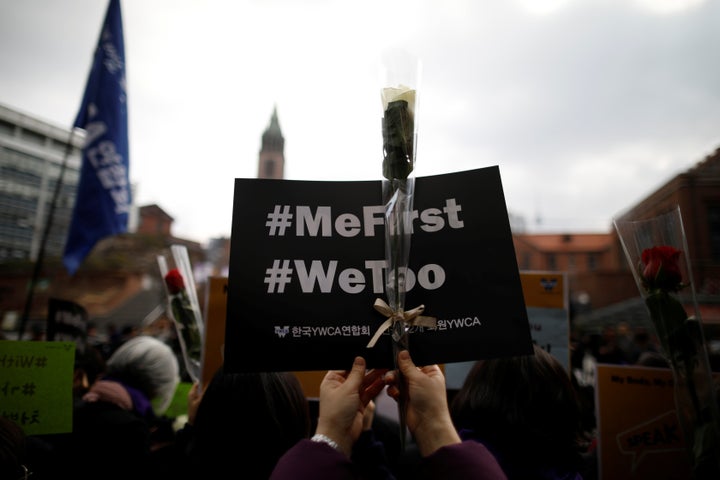 WASHINGTON ― The Me Too movement has already upended the careers of more than a half dozen members of Congress, with plenty more who are the subject of allegations and rumors that could feel the wrath of voters in November. And even though the movement has had mixed results in cleaning up state legislatures thus far, the push could help propel a record number of women into office.
Emily's List, a PAC that supports pro-choice women running for office, pointed out that there are a record number of women running for office this year, and they believe there will be a record number of women who win, even if some men with questionable histories survive a November purge.
"You can't yell every offending member out of office," an Emily's List spokesperson told HuffPost. "It comes down to the ballot at the end of the day."

The Me Too movement is, of course, much larger than just exposing stories about predatory men and having women win elections. The conversations happening now could play an important role in preventing future abuses ― to say nothing of the movement's impact in industries like Hollywood and journalism. But for all the success stories of men finally facing accountability for their actions, there are others who've been able to stick around in a system that has harbored and rewarded them for years.
In politics, it seems the only guarantee that such men will leave is if voters drag them out in November.
In California, two of the leading contenders to become governor ― current Lt. Gov. Gavin Newsom and former Los Angeles Mayor Antonio Villaraigosa ― have both had very public affairs while in office. (Newsom actually had an affair with a good friend's wife, who was one of Newsom's aides at the time, while Villaraigosa has acknowledged two affairs.) Interestingly, their past indiscretions have not disqualified them from the governor's race. There are no allegations of harassment in either case, but their affairs have come up again this cycle in the new context of the Me Too movement. Both men have repeatedly apologized for their past actions.
In Georgia, one of the leading contenders to become lieutenant governor ― current state Rep. David Shafer (R) ― was accused late last week of retaliating against a lobbyist who turned down his advances. Despite those allegations, Shafer is moving ahead with his campaign. And current Lt. Gov. Casey Cagle (R), who's now running to become governor, has long been the focus of numerous rumors of infidelity. In fact, strategists and close political observers of Georgia politics told HuffPost that those rumors were the real reason Cagle dropped out of a 2009 race to become governor, not back problems as he said at the time.
(Cagle's office did not respond to multiple requests for comment.)
Now, those strategists and observers are wondering if the Shafer allegations will put the Cagle rumors back into the spotlight.
"The truth is, the Georgia primary isn't really 'about' anything," a GOP strategist familiar with the race told HuffPost in an email. "Most Republicans agree on most issues. So differentiators tend to be based more on personal issues. That's one reason Republican primaries can get so ugly."
The strategist added that, because of the Shafer news, the public was primed for Me Too issues to blow up. "And as we've seen in Washington and in other industries, when #MeToo blows up, it often has a big blast radius," the strategist said.
But others are wondering if that will really be true in a place like Georgia.
"After the Me Too movement erupted late last year, there wasn't the same cascade of allegations in Georgia as in other states," one close observer of Georgia politics said. "But the ethics complaint filed involving Shafer has the potential to really shake up that race, and there's a sense that it could be the start of more allegations against other politicians from both parties."
Stories of inappropriate advances and sexual misconduct have already forced the resignations of numerous state politicians across the country, roiling statehouses in Texas, Florida and Missouri. It just isn't clear how much it will all translate into electoral victories or tangible legislative changes.
"Ultimately, stories of sexual harassment are not a surprise to women, who have lived their whole lives as women," one female source familiar with how the movement is playing out in Illinois told HuffPost. "The voters who would be moved by these stories of harassment already are motivated to turn out in this election by any number of issues, from Republican attacks on women's access to health care to Donald Trump's tiny, overzealous Twitter fingers."
This source pointed to how politicians have used allegations against some staff members of Illinois state House Speaker Mike Madigan to rally against the divisive Democrat. And while those who were already convinced Madigan needed to resign have used these stories against some of his staffers to renew those calls, the allegations don't seem to have moved many voters.
The strategists HuffPost spoke with just weren't sure how much allegations of sexual misconduct or sexism would play in races ― at least, they weren't sure if those stories would play more than any other year.
In Florida, where a prominent state senator was forced to resign, a strong anti-harassment bill recently died in the legislature, and it's unclear if a toxic culture in the state ouse will actually end. (Lobbying firms were apparently paying "closers" to perform sexual favors for Florida lawmakers in an attempt to influence them.)
"The Emily's List spokesperson pointed out that, since Election Day 2016, the group has been contacted by 34,000 women who are looking to run for office, compared to just 920 women during the 2016 election cycle."
And then there is the potential backlash to the Me Too movement. In Minnesota, where some voters are upset that former Sen. Al Franken (D-Minn.) was forced to resign over allegations and photos of inappropriate touching, one of the state's leading voices against sexual harassment, Lindsey Port, suspended her campaign for the state House and is struggling to keep a nonprofit supporting Democratic candidates afloat. She said that women within her own party accused her of "softening the ground" for the ouster of Franken, a beloved figure in the state.
It is clear to most strategists across the country, however, that women are motivated to vote this year ― whether spurred by the Me Too movement, opposition to President Donald Trump or other factors.
The Emily's List spokesperson pointed out that, since Election Day 2016, the group has been contacted by 34,000 women who are looking to run for office, compared to just 920 women during the 2016 election cycle. And while Emily's List acknowledges that the influx of women seeking office isn't entirely due to the Me Too movement, they do think it has further encouraged women to run and vote. The group is currently targeting 598 statehouse races, 60 congressional seats, a dozen governor's mansions and two Senate seats.
Perhaps the most representative state of the broader female trend in politics is Pennsylvania. In the Keystone State, there are currently no women in the congressional delegation, 38 of 203 House seats in Pennsylvania are women, and in the 50-member Senate, there are only nine women.
One GOP state legislator, Nick Miccarelli, has been accused of sexually assaulting an unidentified woman, and another state representative who was once romantically involved with Miccarelli has a restraining order out against him. But Miccarelli is pressing ahead while even running for reelection at the moment.
The Me Too movement may not take down someone like Miccarelli in Pennsylvania, but it might help usher in historic numbers of women. One Democratic strategist in Pennsylvania, Dan Fee, predicted that at least two or three women would end up as part of the congressional delegation after November, and Emily's List pointed out that 98 women had filed to run for the state legislature in Pennsylvania.
Fee also pointed out that, just weeks after the Me Too movement started, there was one interesting trend during the 2017 judicial elections in his state: All seven judges who were elected in Pennsylvania were women.
Popular in the Community