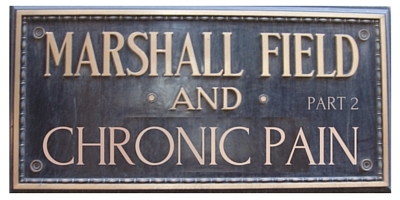 Chronic Pain is brutal, unpredictable, exhausting and of course, really painful. Somedays it feels a tornado ravaged my body, leaving nothing but wreckage behind. Chronic Pain takes away my comfort. Chronic Pain takes away my energy and even my independence. But there is one thing that Chronic Pain cannot touch: my mindset. That being true, I decided years ago that keeping an optimistic, victim-free attitude would always be a top priority in my life. So when Marshall Field told me about his no excuses and no BS mentality with Chronic Pain, I felt the Fibro Warrior in me come to the front line.
I closed out Part 1 with a fishing story from Marshall. Read it here if you haven't yet. It's a micro example of much bigger story. In a nutshell, Marshall doesn't let Fibromyalgia win- like ever- and especially when it comes to fishing. He dreams big, gets creative and remains resolute.
Marshall said, "I just made up my mind, I wasn't going to let this thing radically change my life."
Marshall and I talked about treatments that have and haven't worked over the years.
We also agreed that experimenting outside of our comfort zone is a must if we were to have a good shot at finding relief. If the experiment is a failure, we cross it off the list and move on to the next thing.
For example, Marshall experimented with Chondroitin and Lyrica but they caused him to flare up or as he says, "set off a four alarm fire." With those methods crossed off his list, he moves on to the next experiment.

Above all else, Marshall advocates for some form of stretching twice a day. He says this prevents the Chronic Pain from "logging in." Marshall wakes up 40 minutes before everyone else to fit his stretches into his schedule. Inspiring, huh?
Get a trainer: As his strength deteriorated, Marshall decided to go to rehab at a hospital and started seeing a kinesiologist. Marshall trains with 20 lb weights today, having built his way up from just one pound weights, 25 years ago. He suggests to make strength training part of your routine because the stronger you get, the easier it is to fight the pain off.
To keep loose, Marshall goes to a massage therapist every two weeks. Even though he feels worse initially, the warrior in him says, "You're good for two weeks and you're done."
The minute you feel something tighten up anywhere, try to push the pain out.
It's all about the attitude: In true Field fashion, he offers a mantra of hope: "It's possible to make it better than it is right now."
Marshall has observed that many people avoid activity because they think they're protecting themselves from additional pain. He disagrees, saying the longer you wait, the worse it gets and so avoiding doing anything is the worst possible thing you can do.

And get this- beyond what his doctors have recommended, Field says he could do more physically. A lot more. Isn't Marshall incredible?!
To be honest, I have fallen in the #6 trap plenty. I've convinced myself that it's for my own good that I stay away from some workouts and training. Part of me knows this is all too convenient when laying down with a heating pad and a bag of M&M's sounds so much better.
Marshall Field is a bold and fearless role model for those of us who suffer with Fibromyalgia. He has overcome the endless stereotypes of someone with Chronic Pain. His strength is inspiring and his mindset is fierce. He continues to rise above this illness and fully enjoy his family, his philanthropy and without a doubt, his fishing.
"Me vs. Fibromyalgia" is a biweekly, one-of-a-kind series designed to give readers and warriors affected by Fibromyalgia a comprehensive look into the facts of the disease and the story of a driven, high-achieving business woman who wouldn't take no for an answer. I've chronicled eight years of experience with Fibro including chronic pain and fatigue, low energy, doctors, relationships and more, and hope to offer answers and support to those who seek them.
Disclaimer: I am not a doctor. All information presented should be regarded as friendly advice and opinions based on my own experience and research. I am not making an attempt to prescribe any medical treatment and the information contained in this blog is not intended to replace a one-on-one relationship with a doctor or qualified health practitioner.