Whether you have Fibromyalgia, Lupus, CFS, depression or any invisible disease, you know the guilt that comes along with it. Asking for help feels like the last thing to do when the fact is, we can feel like a burden to our loved ones even on a good day.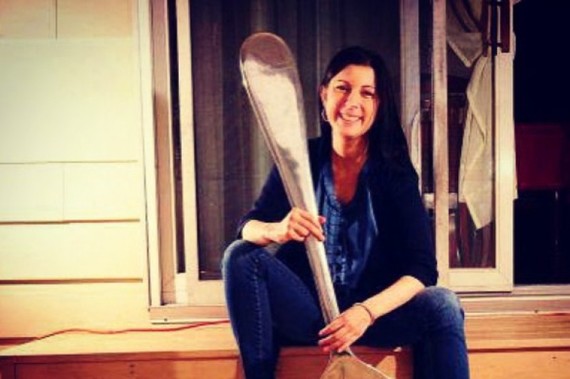 Christine Miserandino/The Spoon Lady image source
Christine Miserandino is the creator of 'The Spoon Theory' and a cherished member of the Chronic Pain family. She has given so much of her life to helping millions communicate what it's really like living with Chronic Illness. Her theory has been read and translated all over the world!
Christine needs our help. The Spoon Lady has had a devastating year. Please read the excerpts below from her GoFundMe campaign and if you feel called to donate, click here.
"Christine was due to deliver a beautiful baby girl named Charlotte in March of 2016. Instead, after suffering months of constant nausea and vomiting, and then weeks of renal failure and trying to keep the baby to term, on January 26 she had a c-section to deliver her stillborn daughter.

Christine's words:
'... I didn't even know what was going on at first and every time I would wake up and feel the pain of the c section, I would ask where my baby was and a nurse or Ned would have to explain all over again what happened. Ned lost a daughter too. Olivia lost a little sister. I was trying to take care of them.'

While living with this grief Christine faced serious jaw surgery. Christine's teeth are literally falling out of her mouth and she's needed 6 teeth extracted, 4 root canals and too many fillings to count. The effect from twenty plus years of steroids and 7 months of throwing up 5-7 times a day during her pregnancy and saliva issues from Shogren's took their toll. Christine literally lost her smile - well, she still has a few teeth in the front.

As any Spoonie can appreciate, this has seriously flared Christine's LUPUS and FIBROMYALGIA very badly, she's living in one of the worst Flares and Pain cycles she's ever had. She's also still trying to overcome the grief and depression from losing Charlotte.

There are a mountain of hospital bills already. Plus, there are more surgeries and repair work and more huge bills to come for Christine's literal smile. The financial aspect of all of this has given her a new symptom - panic attacks and anxiety.

What she needs most is help paying the bills. If you could help her out by donating what you can to her here at Gofundme.com - it would be so appreciated.

At the end of the day, Christine is a Spoonie too and after pouring her life into helping us all, she needs us to help her by giving a little back."
Read the entire piece here.
Please share Christine's story. Join me in showing gratitude for her work with your support during this very difficult time.
If you find my blog helpful, supportive or empowering, I'd like to ask for your help. I'm humbled to be nominated for 5 WEGO Health #HAAwards for giving a voice to those who suffer in silence with invisible illness.
If it feels appropriate, would you please take 30 seconds to endorse me for Rookie of the Year?
Click here to vote.

"Me vs. Fibromyalgia" is a biweekly, one-of-a-kind series designed to give readers and warriors affected by Fibromyalgia a comprehensive look into the facts of the disease and the story of a driven, high-achieving business woman who wouldn't take no for an answer. I've chronicled eight years of experience with Fibro including chronic pain and fatigue, low energy, doctors, relationships and more, and hope to offer answers and support to those who seek them.
Disclaimer: I am not a doctor. All information presented should be regarded as friendly advice and opinions based on my own experience and research. I am not making an attempt to prescribe any medical treatment and the information contained in this blog is not intended to replace a one-on-one relationship with a doctor or qualified health practitioner.