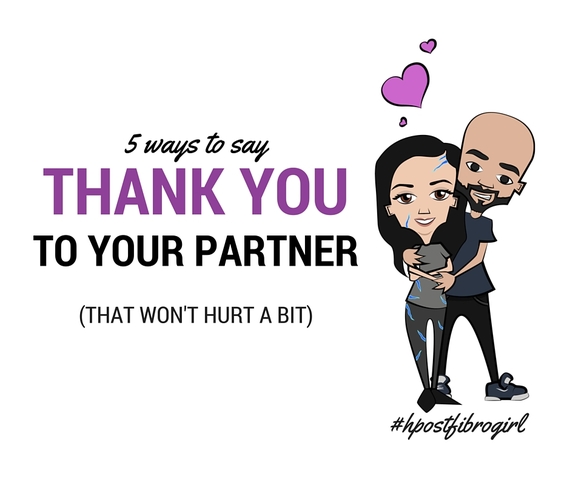 "Me vs. Fibromyalgia" is a biweekly, one-of-a-kind series designed to give readers and warriors affected by Fibromyalgia a comprehensive look into the facts of the disease and the story of a driven, high-achieving business woman who wouldn't take no for an answer. I've chronicled eight years of experience with Fibro including chronic pain and fatigue, low energy, doctors, relationships and more, and hope to offer answers and support to those who seek them.
To prepare for this thank you post, I decided to research the divorce rate of couples affected by chronic illness. I knew the number would be high, but what I found blew me away. Over 75% of people who fall in love and decide to get married are eventually driven apart by chronic illness. That's 25%-35% more than the average divorce rate in the U.S. As if marriage wasn't challenging enough for two perfectly healthy people.
I am committed to doing everything in my power to remain in the 25% of warriors who keep their marriage alive. And not just alive, but happy, passionate and thriving.
In my last five posts I have referenced my husband, a lot. I wouldn't be even close to where I am in my chronic pain journey if it wasn't for my superstar partner. I'm moved to show my gratitude and hope to encourage you to as well. It's a game changer to take some time to put yourself in your partner's shoes and reflect on how hard it must be to care for a Fibro warrior. They are warriors too.
In 2008, after I was formally diagnosed with Fibromyalgia, life was not exactly joyous. Simple tasks like getting out of bed were so difficult. Going to physical therapy three times a week and doctor visits twice a week were torture. Yet every appointment was made so much more bearable because my husband was with me. He made our trips a mini adventure, making me laugh while we waited for the doc and holding my hand as I screamed in pain from getting my blood taken or cortisone shots in my neck.
The next part of our adventure was going to Walgreens for my prescriptions. He gently held my arm so I could walk through the store and look at make up and trinkets, all of which brought me immeasurable joy. Afterwards, we would go home and he would help me into bed as he knew that I was exhausted from our day.
This routine continued for two years, a very long time in my opinion. Every day my husband would help me get dressed for work and drive as carefully as he could to get me to the office. And like clockwork, he would be there to pick me up. As I reference in part 2, when I was in the 30 day bootcamp at the Rehabilitation Institute of Chicago, he would do the same, always with a smile, never making me feel like I was a burden.
For seven years, my husband researched Fibromyalgia like a madman. He bought me an air pressure massager for my legs and feet, a therapeutic pillow for my neck, countless laptop bags so we could test what put the least weight on my body and even a pimped out cane for the days I needed more help getting around.
I'm so blessed by my incredible partner and am always thinking of ways to say thank you. Below are some of my partner's favorites. I love hearing your additions to my lists -- please leave them in the conversations below!
Here are 5 Ways to Say Thank You to Your Partner (That Won't Hurt a Bit)
Write little love notes: Stick a thank you Post It on their computer screen or write a letter listing your gratitude for specific help your partner has given you this week.
Treat your partner and a friend to a night out, (while you stay home) giving them space and a welcomed break from warrior duty.
Let them pick your next Netflix binge.
Involve other family members in the conversation. Your partner will be happy to know they have a team of warriors supporting them.
Talk about it. If only for a minute, stop everything, look your partner in the eyes, and tell them how thankful you are for them and for everything they do.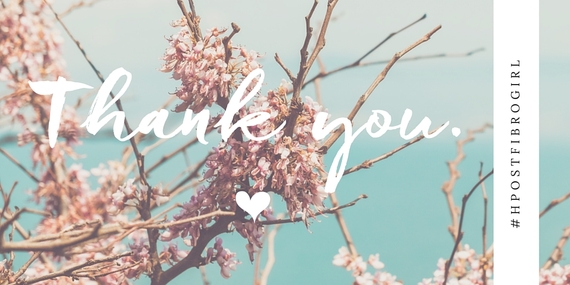 Next up: Me vs. Fibromyalgia Part 6
Disclaimer: I am not a doctor. All information presented should be regarded as friendly advice and opinions based on my own experience and research. I am not making an attempt to prescribe any medical treatment and the information contained in this blog is not intended to replace a one-on-one relationship with a doctor or qualified health practitioner.