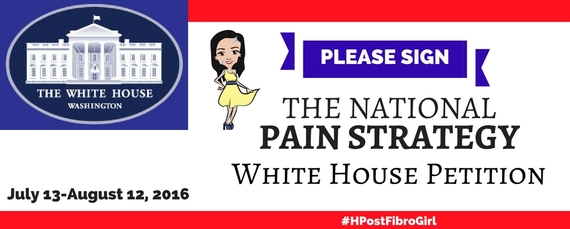 In fifteen seconds you can become a champion of 100 million Americans suffering with an invisible illness.
Almost 33% of the population and 50% of returning veterans struggle with Chronic Pain. In efforts to manage their pain, many people (including both Michael Jackson & Prince) turn to and become addicted to opioids. So many in fact, that the Surgeon General has declared opioid addiction a national epidemic.
For the last 8 years, I have lived and suffered with Fibromyalgia and Chronic Pain. Throughout my journey of 10 rheumatologists, countless physical therapists, pharmacists and alternative medicine treatments, I always thought to myself, "Why don't medical professionals and the general public know more about Chronic Pain?"
My own experience with opioids left me feeling so disconnected, frightened and unable to function like I needed to. Luckily, I was able to find other ways to manage my Chronic Pain. I find it only fitting that in the 10th issue of my blog, "Me vs. Fibromyalgia," that I discuss and urge you to sign the National Pain Strategy White House Petition.
For the past 10 years, following in the footsteps of the National Fibromyalgia and Chronic Pain Association's President, Jan Chambers, 80 different lobbyists, physicians and patients have worked tirelessly to bring the National Pain Strategy to the White House. The goal is two-fold: increasing evidence-based pain treatments and funding research on chronic pain. All facts prove that this petition is urgently needed.
Costing $635 billion dollars annually, Chronic Pain is an issue we must address as a nation. Most of us suffer in silence as people can't "see" our invisible illness. And while some strides have been made with treatment options, many of us are never presented with alternatives due to lack of awareness across our providers.
Only 100,000 signatures are needed to take this petition to the White House- that's less than 1% of all Americans who suffer with Chronic Pain!
Please take 15 seconds to show your support; sign this petition and send it to your friends and family who want to see everyone suffering with Chronic Pain feel better and truly live a more fulfilled, pain free life. Your signature will not go unnoticed. Feel free to share on social media using #ISpeakForPain.
Many Thanks.

"Me vs. Fibromyalgia" is a biweekly, one-of-a-kind series designed to give readers and warriors affected by Fibromyalgia a comprehensive look into the facts of the disease and the story of a driven, high-achieving business woman who wouldn't take no for an answer. I've chronicled eight years of experience with Fibro including chronic pain and fatigue, low energy, doctors, relationships and more, and hope to offer answers and support to those who seek them.
Disclaimer: I am not a doctor. All information presented should be regarded as friendly advice and opinions based on my own experience and research. I am not making an attempt to prescribe any medical treatment and the information contained in this blog is not intended to replace a one-on-one relationship with a doctor or qualified health practitioner.