You never know how your past can come back to haunt you.
When Meagan Simmons was arrested for reckless driving in July 2010, she suffered crushing humiliation and was slapped with a year of probation.
But even Simmons never expect that she'd be dubbed the "Attractive Convict" three years later in a popular Internet meme that features more than 280 versions of her mug shot with snarky comments like "I'd like her cell number," "Guilty ... Of Taking My Breath Away," and "Wanted ... In 50 States."
"I knew [the picture] was out there, but didn't know it was big until a journalist called me on Friday," the 27-year-old told the Huffington Post.
Simmons lives in Zephyrhills, a town of 10,000 residents in central Florida, and she never imagined she'd become an instant celebrity.
"I'm not famous," she said. "Everyone knows me here."
Nevertheless, the former Hooters waitress is making the most of her newfound fame, posting one of her favorite iterations of the meme on her Facebook page. And she isn't opposed to showing off more than her mug if the offer is right.
"If [Hugh Hefner] himself contacted me, I think that's a offer I couldn't refuse," she told HuffPost by text.
GALLERY: ATTRACTIVE CONVICT (Story continues below)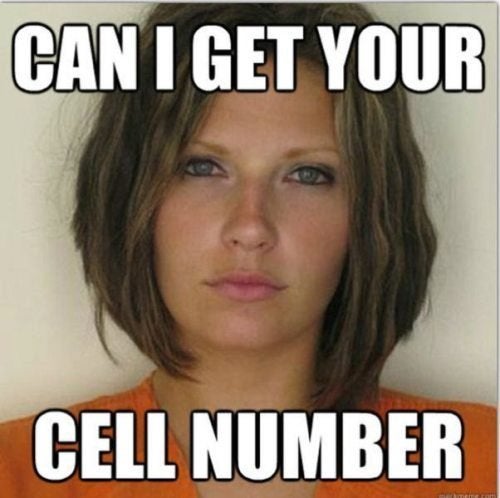 Attractive Convict
The access to public records such as mug shots has inspired her to be extra careful, especially where her four children are concerned.
"I haven't told them about this, but I've just been cautious about taking them to the bus stop," she said.
The meme's popularity has gone global, which means that Simmons is getting admirers from as far as Norway and Australia, something she is still trying to deal with.
She is also getting asked the key to taking a good mug shot, something she is still not sure how to answer.
"I wasn't thinking about doing a good mug shot," she told HuffPost. "I was crying my eyes out and was distraught about the arrest."
She also doesn't think the picture does her justice.
VIDEO:
Simmons is currently looking for a job as a medical assistant and doesn't have any clue if her new fame will lead to any financial offers.
"People are really weird. They stalk you, they message you, they say crazy things," Simmons told WTSP-TV. "They know where I live. People are talking about flying to Zephyrhills, visiting me, marrying me. People on Twitter have even offered to pay my bills."
CORRECTION: An earlier version of this story quoted Simmons as saying she would do Playboy "if I somehow miraculously got breast implants and booty shots." She said her friend texted that to HuffPost and that she never said that. "It makes me look so trashy," she added. However, as noted above, she is not opposed to it if Hugh Hefner asks her personally.
Related
Popular in the Community