ROANOKE, Va. -- William McCormick remembers from his working-class upbringing in Covington, Va., that neighbors took care of neighbors.
"Both my parents worked in the mill," he said. "For people in the neighborhood who were hungry we'd make up two or three bags of groceries, put $5 or $10 in it, set it on the porch, knock on the door and leave. We wouldn't tell 'em who did it."
Now McCormick is 70 years old and living alone in a one-bedroom apartment in a six-story building. Only about 40 of the building's 144 units are occupied. The parking lots are barren and the hallways are dingy with torn carpets. McCormick considers the building "spooky."
He's lived here since 2005, and for most of that time he has benefited from food charity every week day -- not left at his door anonymously, but brought to him by Meals On Wheels volunteers. Since 1972 the Administration on Aging has provided federal funding for senior nutrition, and today volunteers from some 5,000 Meals On Wheels affiliates across the country distribute a million meals a day.
But federal funding for senior nutrition has been reduced by budget cuts known as sequestration, meaning less food for old people here and elsewhere. The White House has said the cuts would mean 4 million fewer meals for seniors this year, while the Meals On Wheels Association of America put the loss at 19 million meals. In general, the federal government subsidizes only a portion of the cost of every meal, so whether individual seniors will stop receiving food really depends on the circumstances of whatever local agency serves them.
Michele Daley, director of nutrition services at the Local Office on Aging, which serves Roanoke, Alleghany, Botetourt and Craig counties in Virginia, said the agency expects to receive $95,000 less in federal funds this year (it has an operating budget of $1 million). They're gradually reducing the number of people receiving daily meals from 650 to 600 as a result of the budget cuts. Already, the office has planned to stop handing out most emergency meals -- bags of shelf-stable items like canned beans distributed in advance of snowstorms and holidays. And they've instituted a waiting list.
"We've never had a waiting list," Daley said. "This is the first time ever and it's a direct result of sequestration."
After he learned about the cuts on the news, McCormick thought long and hard about whether he really needed the meals. He's got no car, and can't walk long distances, but sometimes he can get a ride to the grocery store and the food pantry, and he's got a small stockpile of canned goods sitting on a wooden desk in his living room.
"I've run into people who've been a whole lot worse off than I was," he said.
Every weekday, all across America, volunteers -- the wheels who move the meals -- pull into church parking lots and other venues where they pick up food to deliver to hungry seniors.
Bob Field, 82, has been volunteering for the program in Roanoke for almost 20 years, ever since he retired from his job with the railroad. He didn't want to be idle. "I like to be with people that need help, need a little friendship, need food," he said. "I like what Meals On Wheels does."
On Wednesday morning, he rolled up to St. Mark's Lutheran Church in the Old Southwest neighborhood and loaded two coolers into the rear of his white Subaru Outback. One cooler held the hot food -- roasted chicken with gravy, peas, and carrots inside a tin -- and the other had pistachio pudding, cornbread, and frozen milk. Freezing the milk helps keep the coolers cold and saves money on ice packs.
Field is struck by the poverty of some of the clients he sees -- the shirtless old man in swimming trunks on the couch, the World War II-era vet, a guy with no teeth who'd lived 56 years in a 110-year-old house, a man sitting on his porch in a wheelchair wearing sunglasses with only one lens.
"I don't know what they do," Field said. They're not healthy enough to jaunt around town. As best he can tell, some of them sit in their apartments all day watching TV. But he does know them all because every time he volunteers, he follows the same route in Old Southwest, the neighborhood where he grew up.
Many seniors would prefer to live independently in an apartment than dwindle away in a nursing home, and that's partly the point of bringing them food at home. It's also fiscally prudent: A Brown University study found the more states spend on meals, which are not expensive, the less they spend housing seniors in nursing homes, which costs much more.
Field knocks, the clients open their doors cheerfully and he asks them where to set the food -- usually on a coffee table by a couch. At two separate apartments on Wednesday, Field set the items down next to a Bible.
Field did not drive to William McCormick's lonely apartment tower, and neither did any of Roanoke's other Meals On Wheels volunteers, at least not to visit McCormick. Last month, after taking stock of his own access to food and considering people less fortunate, he decided to drop out of the program.
"I thought about it for two or three days and I said, 'Right now my health's pretty good,' and so I just gave it up," he said. "I just couldn't bear the thought of me having something to eat and maybe somebody else needing it and they couldn't apply for it so I just voluntarily gave it up."
McCormick worked in fast food and retail after getting out of the military in 1965. He earned an associate's degree in business management in the 1980s and subsequently oversaw operations for a series of fast food restaurants, a hotel and a retail store. He was working at a Walmart when health problems caught up with him. A series of strokes and a mild heart attack left him disabled. He's got asthma, arthritis and diabetes and relies on an electric wheelchair to get around because he can't walk long distances. He said he's got about $100 a month left over from Social Security and his veterans pension after paying bills.
"I love concerts and music and plays and things like that but buses don't run after 8 o'clock and I can't afford $40 cab fare for going back and forth," he said. "For me, it's hard not to get out and be with people. When you're older, most people tend to ignore you if you're not immediate family and they don't have to put up with you."
He said he misses his hot meals and also the "super nice" volunteers who brought them. Whoever gets to eat thanks to McCormick's sacrifice won't know it, just like the people who got bags of groceries from his mom and dad. He recalled how his parents kept their charity secret.
"We would usually do it either early in the morning or we'd watch for the car to go out," he said. "They knew the neighbors did it, but they didn't know which neighbors did it."
Before You Go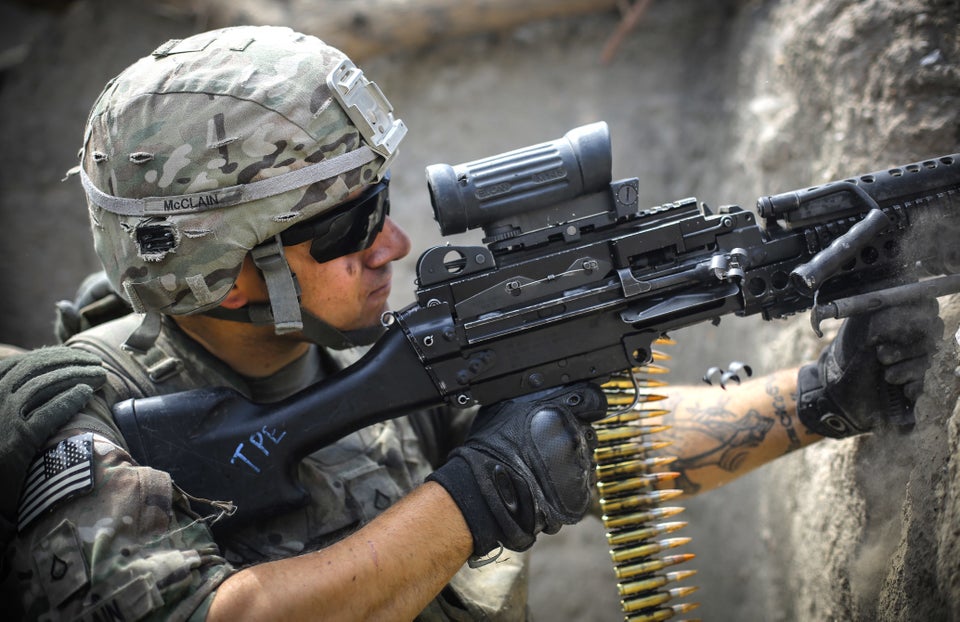 What Sequestration Would Cut
Popular in the Community