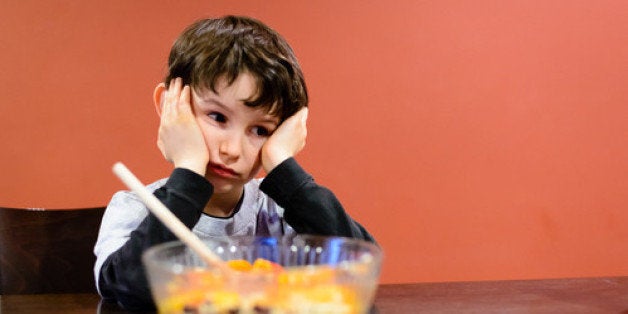 What to do when your child turns into a dreaded picky eater? You may simultaneously wonder if your child can subsist on mac n' cheese alone and whether you should serve only veggies for meals in the hope that your hungry child will eventually eat them.

Jack Maypole, M.D., member of The Goddard School Educational Advisory Board, and Associate Professor of Pediatrics, BU School of Medicine, thinks parents of picky eaters can relax. He reassuringly reminds parents that some pickiness is to be expected in young children and that it is perfectly normal for toddlers and elementary school aged children to eat only foods like nacho chips and chicken nuggets.

According to Dr. Mayplole:

While a few studies have suggested that children exposed to a broader array of foods over time tend to get their nutritional needs met, parents are still left feeling vaguely unmeasured. How do they become the family with the child who eats sushi without a second thought, or who tries cruciferous veggies without gagging?
Dr. Maypole offers some suggestions:
• For starters: No. Forced. Eating. Making a child finish a meal when they resist you, or worse, pushing food into their mouth is a battle no one will win. If it is a struggle for control, kids will ultimately eat less if it means that is there only tool: refusal. Rule #1: don't let things escalate. If feeling stressed, get help. Begin with your child's Primary Care Provider .

• Use stealth. There are scads of cookbooks about sneaking healthy bits of food in beloved staples on the dinner table. Cut broccoli in mashed potatoes, for example, or subbing in sweet potato fries as a healthier side dish can work.

• Play the dip card. Kids -- especially toddlers and preschoolers--love to dip stuff. You may be able to get more passed their lips if you offer small dishes for dipping, such as ranch dressing, ketchup, guacamole or a savory sauce. It may be messy, but more healthy foods may be consumed if used as a Tasty Condiment Vehicle (TCV).

• Hide it plain sight. I urge parents to portion plates thusly: Place two servings on a plate of a child's known favorites, such as chicken and rice. Strategically, put a "new," less-often consumed food on the plate -- e.g. peas, or say, kale chips-- that should at least be tried. If a child refuses, take it out of the rotation, and re-offer it a week or two later. This exposure may help wear them down or win them over in time. No rush, right?

Kyle D. Pruett, M.D, member of The Goddard School Educational Advisory Board, and clinical professor of Child Psychiatry at Yale School of Medicine cautions parents to avoid making mealtime into a struggle: "New foods should be simply slipped into the menu without much fanfare. Struggles with a picky eater typically lead to unhelpful pushback, and most kids grow more adventurous over time. Better to save your (limited) parental authority for safety and behavioral challenges."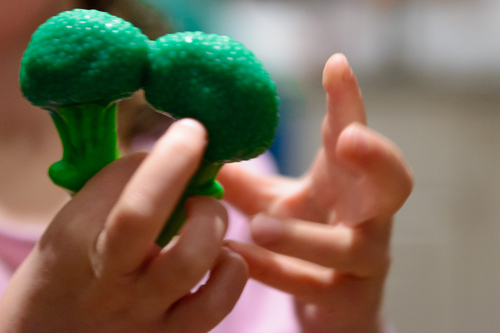 Introduce healthy food before solids with an adorable Broccoli AppeTeether

As a Mom of three, I have found a few things that work with my own picky eaters.

• Make them feel grown-up: Giving kids dishes that look like the ones you are using can make them more open to eating the same food you are eating. My kids love eating and drinking out of "real" dishes and glasses.

• A seat at the table: Many kids like to model what their parents do. This applies to eating as well so making healthy choices myself is one great way to encourage my kids to eat better. Getting kids close to the table where they can see what you are eating is a great way to ensure kids are aware of your every bite (save the decadence for naptime!).

• Although I regularly introduce new foods to my kids to encourage them to eat their veggies in order to boost their nutrition while we work on acceptance, I try to cook their favorites in healthier ways. The 100 Days of Real Food Cookbook has great, kid-friendly, preservative-free recipes for old standbys like pancakes and mac n'cheese.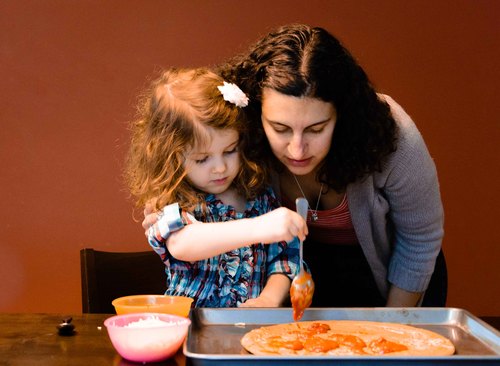 Cooking with kids can help encourage them to try healthy foods and will teach them how to cook with healthy ingredients

• A high-powered blender can work wonders for making purees and smoothies with "hidden ingredients" such as a peanut butter and jelly and sunny side up smoothies filled with fruit and easy to make. I also sneak in some frozen kale or spinach for an extra punch and my kids never notice a change in flavor. Using frozen fruit, it's also simple to make soft serve for a dessert that my kids readily accepted in place of ice cream with only one setting.
Mai Trinh, founder of Mai Health Now, health counselor and Mom of three, gets her kids a boost of nutriants with the recipe below:
Mai Go Bananas Blueberry Spinach Smoothie
1 cup baby spinach
1 ripe banana (can be frozen for added texture)
1/2 cup blueberries
1/4 cp coconut water
splash of orange juice
1 TBS almond butter (optional)
1 tsp flaxeed oil (optional)
Mix all ingredients together in a blender and blend until smooth.
Great nutrition is essential for even the pickiest of eaters. Remember that is OK to choose your battles and while you are waiting for your little one to accept new foods it's perfectly fine to sneak some fruits and veggies in to your child's diet however you can.